2022 Snapshot: Ross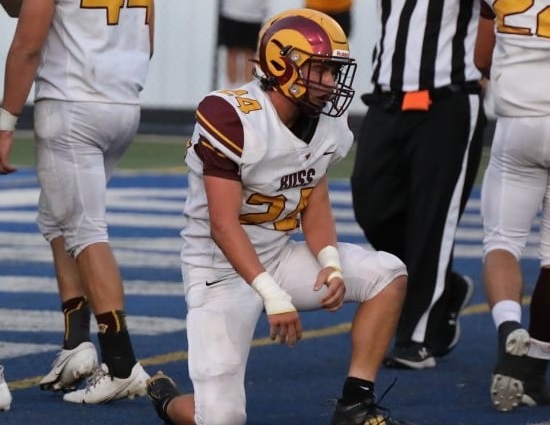 Ross LB Josh Botts (photo from Facebook: Badin Pics by Berger)
Weathering storms is sure sign that is a program garners respectability. That is just what Ross proved under head coach Kenyon Commins in 2021. A year after making it to the Division III, Region 12 championship in 2020 the Rams who returned a small senior class answered the call. They went 7-3, finished ranked fourth in the final computer rankings which allowed them to host a first-round playoff game. With nine starters back on offense and seven returning on defense from that squad expectations for the next encore and it will be at the next level up, Division II.
"We are very excited to get this season going. This is a fun group with a ton of personality as a whole. Our staff is excited about the senior leadership, work ethic and experience on both sides of the ball. A lot of young players saw time last year.  We'll continue pushing this group past their limits and then some. Hopefully they will be willing to meet the challenges of the work in front of them.," Commins states.
There are concerns about depth for Commins and his staff. Behind the starters there are a lot of young inexperienced players that may have to grow up in a hurry if thrown into the mix. With 23 victories over the last three seasons, the "next man up" understands what is expected of him.
Commins finishes up, "we pride ourselves on being blue-collared and a representation of the Ross community. This group has shown we can push them to the brink in our work room. Hopefully that work ethic pays dividends on Friday nights in the fall."
Division II, Region 8
2021 RECORD: 7-3, 4-1 SWOC
COACH: Kenyon Commins (29-22 at Ross, five years; 29-22 overall)
HONOR ROLL
Bryson Bastin, Sr, LB – One of the top defensive players in Region 8. Bastin registered 101 total tackles two-and-a-half sacks, with a forced fumble and a fumble recovery on his way OPSWA Division III Second Team All-Southwest District honors as a junior. He has 188 total tackles and 4.0 sacks in his career.

Aidan Brown, Jr, QB/RB/DB – A stud in so many ways for the Rams. Brown busted out as a sophomore amassing 978 all-purpose yards, 663 yards rushing, 173 yards passing while accounting for eight touchdowns (five rush, three pass). He was named First Team All SWOC (SP) for the work.
Josh Botts, Sr, LB – Along with Bastin, Botts will be the Rams eyes on the defensive side of the ball. He was a Second Team All SWOC selection after tallying 77 total tackles a year ago.
Ryan Iams, Sr, TE – A red zone scoring specialist. Iams had five receptions for 125 yards and four touchdowns as a junior. He was named Second Team All SWOC for his efforts.

Jaye Warren, Sr, RB – The anchor of a very skilled Ross backfield. A three-year starter whose experience in the offensive system is huge. Warren was named Second Team All SWOC as a junior. He has 1,256 all-purpose yards, 903 yards rushing, nine touchdown runs while averaging 9.92 yards per carry at the varsity level.
TOP RETURNEES
Cade Tatum, Sr, OL – The senior leader of the offensive line. The 5-foot-11, 280-pound Tatum helped the Rams average 300.8 yards per game rushing in 2021.
Trace Kirby, Jr, OL – A returning starter who helped clear the way or the Rams offense to find the end zone 29 times rushing last fall.
Justin Pence, Jr, OL – Back for another year as a starter, Pence is anchor on the o-line.
Riley Caldwell, Jr, RB/DB – A valuable commodity on both sides of the ball. Caldwell ran for 709 yards, had five rushing touchdowns and 16 total tackles in the secondary as a sophomore.
Sully Spencer, Sr, K – A big time special team's weapon who has the capability of hitting 50-plus yard field goals. Spencer connected on 6/8 three-pointers and had touchbacks on 31 of his 50 kickoffs as a junior.
Frankie Gifford, Sr, DL – The senior leader of the defensive line. A healthy Gifford gives the Rams great push in the trenches.
Austin Farris, Jr, DL – Had a breakout sophomore campaign with 52 total tackles. Farris has all-conference abilities.
Derrick Rack, Jr, DL – Will be a force rushing the quarterback. Rack had 19 total tackles and a pair of sacks last fall.
Kyle Becker, Sr, DB – Teams with Hansel to provide experience in the secondary. Becker was in on 37 total tackles and had an interception as a junior.
Jack Hansel, Sr, DB – Back for his second season as a starter. Hansel recorded 30 total tackles in 2021.
NEWCOMERS
Blake Holmes, So, TE/LB – Saw varsity reps as a freshman.
Oliver Severance, So, QB/WR/DB – Will be the Rams backup quarterback but it may be hard to keep Severance off the field.
Mason Smith, So, WR – The coaching staff is looking for Smith to make an impact on the offensive side of the ball.
PLAYOFF HISTORY
(nine appearances, 3-9) – 2021, 2020, 2019, 2011, 2009, 2001, 1997, 1995, 1993
Fri – 08/19/22 – WILMINGTON (3-7 in 2021) – 7:00 PM
Fri – 08/26/22 – at Monroe (8-3) – 7:00 PM
Fri – 09/02/22 – VALLEY VIEW (5-6) – 7:00 PM
Fri – 09/09/22 – at Dunbar (4-4) – 7:30 PM*
Fri – 09/16/22 – BADIN (14-1) – 7:00 PM
Fri – 09/23/22 – at Northwest (3-7) – 7:00 PM
Fri – 09/30/22 – at Talawanda (2-7) – 7:00 PM
Fri – 10/07/22 – at Harrison (4-6) – 7:00 PM
Fri – 10/14/22 – EDGEWOOD (9-3) – 7:00 PM
Fri – 10/21/22 – MOUNT HEALTHY (6-5) – 7:00 PM
*at Welcome Stadium (Univ. of Dayton)