2022 Snapshot: Wilmington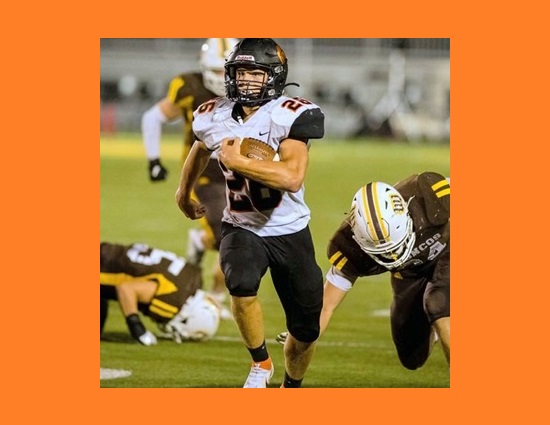 Wilmington RB Thad Stuckey (photo from Hudl.com)
There hasn't been much to smile about lately if you are a Wilmington football fan. The Hurricane haven't had a winning campaign since 2017. They haven't beaten a team that has finished a season above .500 since knocking off Washington Court House on September 27th, 2019. With new head coach Ryan Evans, Sr. taking the reins the program looks to change its fortunes.
Righting the ship won't be easy for Evans, Sr. and his players. The Hurricane play in a conference and division (SBAAC American) that features the defending Division IV state champions (Clinton-Massie) and a Division III regional runner-up (Western-Brown) which is led by a 2021 Ohio Mr. Football finalist (Drew Novak). It's going to take a ton of dedication, devotion and hard work to reach the goal of getting back to winning ways.
The 2022 schedule is tough in the beginning and at the end. The good news is that opportunity knocks versus quality teams. Taking care of business against foes they expect to be better than, is a must. Separating from the pack takes Wilmington up a tier. It would be a great accomplishment if Evans Sr. and the Hurricane can get that done.

Division III, Region 12
2021 RECORD: 3-7, 2-3 SBAAC American
COACH: Ryan Evans, Sr. (0-0 at Wilmington, first year; 0-0 overall)
HONOR ROLL
Thad Stuckey, Sr, RB – The centerpiece of the Wilmington offense. Stuckey amassed 1,162 all-purpose yards, 955 yards rushing, had 14 receptions for 2017 yards and 11 touchdowns (nine rush, two rec) as a junior. He earned First Team All-SBAAC American honors for his work. Stuckey has 1,628 yards rushing and 15 touchdowns (13 rush, two rec) in his career.
Josh Snell, Sr, RB/LB – A two-time Second Team All-SBAAC American selection Snell has all-district talent. He has four career sacks and three takeaways (two INTs, one FR) in his career.
Darrick Perdue, Sr, DL – One of the top pass-rushers in the conference. Perdue was named Second Team All-SBAAC American as a junior. He has 10 career sacks at the varsity level.

OTHER RETURNEES
Adrien Cody, Sr, ATH – Will be a major factor in all three phases of the game. He was in on 25 total tackles and averaged 29.8 yards on six total returns as a junior.
Seth Corwin, Sr, OL – Will be looked upon to provide leadership on the offensive line.
NEWCOMERS
Juniors WR/CB Mikey Brown, OL Chris Stewart and QB Aiden Price should contribute immediately. Look for Price to be one of the league's breakout performers.

PLAYOFF HISTORY
(four appearances, 1-3) – 2020, 2009, 2005, 2003
2022 SCHEDULE
Fri – 08/19/22 – at Ross (7-3 in 2021) – 7:00 PM
Fri – 08/26/22 – MIAMI TRACE (7-4) – 7:00 PM
Fri – 09/02/22 – at Mount Healthy (6-5) – 7:00 PM
Fri – 09/09/22 – CHCA (1-8) – 7:00 PM
Fri – 09/16/22 – AIKEN (3-5) – 7:00 PM
Fri – 09/23/22 – BATAVIA (1-8) – 7:00 PM
Fri – 09/30/22 – at Goshen (1-9) – 7:00 PM
Fri – 10/07/22 – NEW RICHMOND (4-5) – 7:00 PM
Fri – 10/14/22 – at Western Brown (11-3) – 7:00 PM
Fri – 10/22/22 – at Clinton-Massie (14-1) – 7:00 PM
LEAGUE FOE WOES
Since joining the SBAAC in 2017 Wilmington is a combined 2-13 versus SBAAC American rivals New Richmond (0-5), Clinton-Massie (0-5) and Western Brown (2-3) including 10 straight losses to those foes. They have a 20.2-point average margin of loss while allowing 41.7 points in those affairs.