2022 Snapshot: Loveland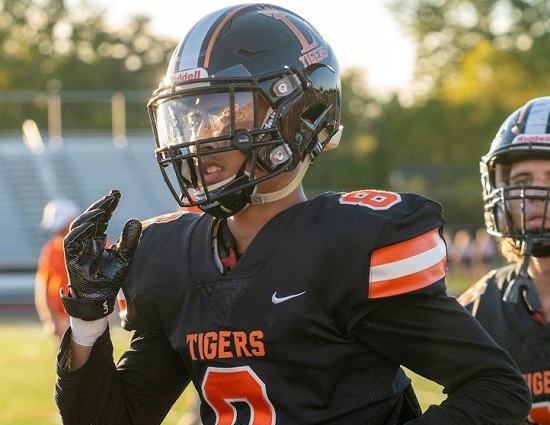 Loveland CB Julius Vorbroker (photo from Twitter: @photo_varsity/Carter Pendlum)
Despite going 2-8 a year ago, Loveland comes into this campaign really liking the direction it is headed in. The Tigers are ready to pounce knowing that they can play with the best after losing to the eventual Division II state champs, Winton Woods 19-13 in overtime, in the 2021 regular season finale. It was a confidence builder that this team will ride into 2022.
"Our players know how to compete and clearly understand the work it takes to be successful. They have bought into the process: Work hard and enjoy it all. We feel good about the progress we have made as a program, but we must get over that hump this year and find ways to win. That's done with details and being consistent," head Andy Cruse firmly states.
The Loveland defense returns seven starters. The Tigers have depth, the d-line is a strength and they are a group that can create turnovers (created 13 in 2021, the most since 2016) and limit big plays. Still, they need to play far better than the team that allowed 40.2 points per game last fall if they are to have the school's first winning season since 2015.
Loveland was in seven of 10 games in the fourth quarter last season. The offense lacks experience at the skill positions. That is a concern for Cruse. "That group will have to prove themselves early, finding ways to win at the end of games."
The Eastern Cincinnati Conference is a beast. Getting into the upper echelon is quite the accomplishment. Loveland is out to prove they can get that done.
Division II, Region 8
2021 RECORD: 2-8, 2-6 ECC
COACH: Andy Cruse (3-24 at Loveland, three years; 3-24 overall)
TOP RETURNEES
Ethan Freeland, Sr, SS – A smart player who will be a four-year starter. Freeland can play any of the Tigers safety spots. He has 77 total tackles, two forced fumbles and an interception in his career.
Noah Kline, Sr, OL – The 6-foot-5, 290-pound Kline is a strong and smart offensive lineman. He has played center past two years and will be a three-year starter.
Ben Svitkovich, Sr, OL/DL – The strongest player on team. The athletic Svitkovich started every game last year at right tackle and played some defensive end.
Tristen Greatorex, Sr, DL/LB – A tough and physical player. Greatorex was highly productive at 3-technique last year.
Hayden Foster, Jr, OL – Started eight games as a sophomore. Foster has the characteristics you like in a lineman – great feet and a "nasty" attitude.
Julius Vorbroker, Jr, WR/CB – Has high football IQ and great ball skills. Vorbroker started every game as a sophomore at cornerback and had 20 total tackles, two interceptions and forced fumble. He will play some offense this year and is also a good return man.
Colton Endicott, Jr, RB – A strong downhill runner who can take it the distance on any play. Endicott carried the ball 50 times for 212 yards, had seven receptions for 121 yards, 563 all-purpose yards and a pair of touchdowns (one rush, one rec) as a sophomore.
Drew Holman, Jr, DE – Gained valuable varsity experience as a sophomore and got better as the year went along. At 6-foot-3 and 230-pounds Holman is poised for a great junior campaign. He had 23 total tackles and a sack in 2021.
NEWCOMERS
Look for senior QB Jake Svitkovich, 6-foot-3, 200-pound sophomore LB/TE Max Carver along with juniors CB Kolby King and WR Brayden McCaleb to make big contributions for the Tigers this fall. Svitkovich has been in the system for three years and should have a great season taking over an offense that averaged 30.5 points per game in 2021.
PLAYOFF HISTORY
(five appearances, 6-4) – 2020, 2013 (State Champion), 2002,2000, 1986
2022 SCHEDULE
Fri – 08/19/22 – MIDDLETOWN (1-8 in 2021) – 7:00 PM
Fri – 08/26/22 – ANDERSON (9-3) – 7:00 PM
Fri – 09/02/22 – at Milford (7-5) – 7:00 PM
Fri – 09/09/22 – at Kings (1-1) – 7:00 PM
Fri – 09/16/22 – LEBANON (3-7) – 7:00 PM
Fri – 09/23/22 – at Walnut Hills (2-9) – 7:00 PM
Fri – 09/30/22 – TURPIN (6-5) – 7:00 PM
Fri – 10/07/22 – LITTLE MIAMI (4-7) – 7:00 PM
Fri – 10/14/22 – at Winton Woods (13-3) – 7:00 PM
Fri – 10/21/22 – WEST CLERMONT (2-9) – 7:00 PM