2022 Snapshot: Turpin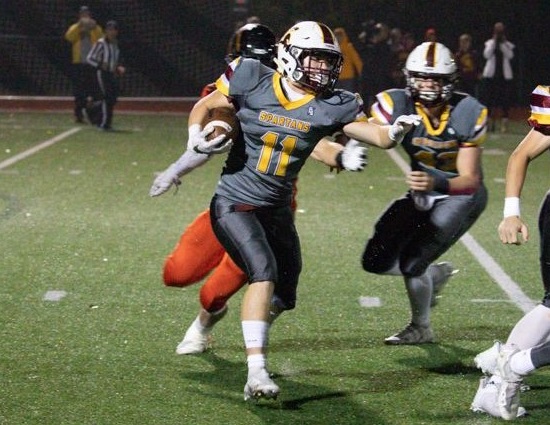 Turpin RB Luke Jilek (photo by James Bates/TriStateFootball.com)
Start strong and finish strong will be a major emphasis for Turpin this upcoming season. Achieving that goal will take some major effort and focus after the team graduated 95% of its offensive production that racked up 5,419 yards and 51 touchdowns a year ago.
The Spartans flew out of the gate at 6-1 last fall only to drop their final four tilts to teams that finished the year a combined 40-7 (Anderson, Kings and twice to state champion Winton Woods). It was a brutal gauntlet down the stretch, to say the least.
"We will be young and not a lot of experience returning but the standard is the standard at Turpin.  We have a hard-working senior class that will lead this team. Some young players will have to grow up very fast this year," head coach Kent McCullough states.
"The 2022 schedule is spaced out better but has Kings and Winton Woods in the first four weeks. We need to start fast with a young group," McCullough laments.
The opportunity to be special is there. It will be up to the Turpin players to rise up to the challenge.
Division II, Region 8
2021 RECORD:  6-5, 4-4 ECC
COACH:  Kent McCullough (31-18 at Turpin, five years; 70-44 overall, 11 years)
HONOR ROLL
Cameron Hull, Jr., Sr, OL/DL – The most experienced and productive player returning for the Spartans. Hull Jr. is one of the best O-linemen in the ECC. He was named Second Team All-ECC as a junior.

OTHER RETURNEES
Cody Hurst, Sr, TE/DE – Started 11 games at defensive end last fall and had 28 total tackles, one-and-a-half sacks, six tackles for losses, two forced fumbles and two fumble recoveries.
George Machenheimer, Sr, slot – Small, but is lightning in a bottle. Machenheimer had 12 receptions for 117 yards and a touchdown catch a year ago.
Charlie Feltman, Sr, DB – The leader of the Turpin secondary. Feltman tallied 41 total tackles (23 solo), had a forced fumble and four fumble recoveries as a junior.
Clark Helgason, Sr, QB/H-back – Will be competing for the starting quarterback job. Helgason played 11 games at H-back and had some reps under center in 2021. He finished with 35 receptions for 306 yards.
Luke Jilek, Jr, RB – Will be the go-to-guy out of the backfield for the Spartans. Jilek had 422 all-purpose yards, 16 receptions and three rushing touchdowns as a sophomore.

NEWCOMERS
The coaching staff is hoping that juniors OL Ashton Isaacs and OL Aiden Isaacs can fill voids up front, sooner rather than later. Sophomore WR Trace Jallick could make a real splash in the passing attack.
PLAYOFF HISTORY
(13 appearances, 12-13) – 2021, 2020, 2019, 2016, 2015, 2012, 2011, 2010, 2009, 2008, 2007, 2006 (Regional Champion), 1995
2022 SCHEDULE
Fri – 08/19/22 – at Oak Hills (0-10 in 2021) – 7:00 PM
Fri – 08/26/22 – KINGS (11-1) – 7:00 PM
Fri – 09/02/22 – at Little Miami (4-7) – 7:00 PM
Fri – 09/09/22 – at Winton Woods (13-3) – 7:00 PM
Fri – 09/16/22 – WEST CLERMONT (2-9) – 7:00 PM
Fri – 09/23/22 – LEBANON (3-7) – 7:00 PM
Fri – 09/30/22 – at Loveland (2-8) – 7:00 PM
Fri – 10/07/22 – WALNUT HILLS (2-9) – 7:00 PM
Fri – 10/14/22 – at Anderson (9-3) – 7:00 PM
Fri – 10/21/22 – MILFORD (7-5) – 7:00 PM