2022 Snapshot: Kings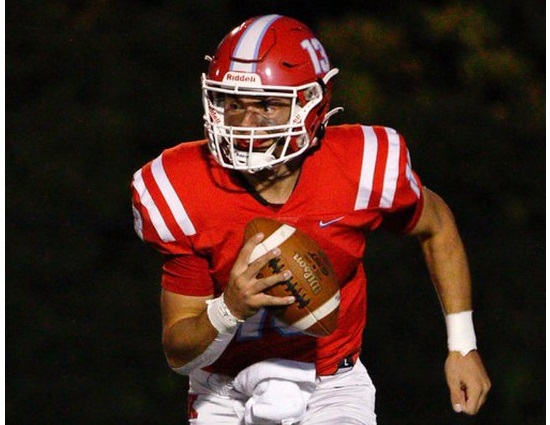 Kings QB Will Kocher (photo from Twitter: @ KFBknights)
With 16 starters returning from a team that finished the regular season undefeated in 2021, Kings will be a force to be reckoned with. There is still some work to be done, however. The Knights would like to avenge last years second round playoff loss to eventual state champion Winton Woods (team they beat in the regular season) and bring home the school's first ever regional title.
"We are hungry to prove last season was not a fluke. We are counting on passion and heart to lead us," head coach Alex Garvin states.
When you look at Kings they don't "WOW" you in the eye test. Watch them play and you can't help but walk away very impressed by what they do on the field.
The Knights are a veteran, experienced. They won't beat themselves with silly errors. They make the big plays in the clutch. For those reasons Kings will be a tough team to take down on any given Friday night in 2022.
Division II, Region 8
2021 RECORD: 11-1, 8-0 ECC
COACH: Alex Garvin (24-6 at Kings, three years; 24-6 overall)
HONOR ROLL
Will Kocher, Sr, QB – The reigning ECC Offensive Player of the Year is a dual threat running and throwing the ball. Kocher, who is back for his third year as a starter threw for 2,539 yards, ran for 638 yards and accounted for 36 touchdowns (24 pass, 12 rush) on his way to being named OPSWA Division II Second Team All-Ohio, ECC Offensive Player of the Year and TriState Football Cincinnati Offensive Player of the Year Finalist in 2021. He has amassed for 4,427 yards of total offense (3,418 pass, 1,009 rush) and accounted for 51 touchdowns (31 pass, 20 rush) in a Knights uniform.
Michael Mussari, Sr, WR – A breakout junior campaign saw Mussari emerge as one of the area's top receivers. He caught 45 balls for 822 yards with 12 touchdowns receptions on his way to OPSWA Division II Second Team All-Ohio honors.
Nick Hoying, Sr, LB – The leader of the Knights defense. Hoying was in on 62 total tackles, with six sacks, four forced fumbles and an interception last season. His efforts earned him OPSWA Division II Second Team All-Ohio honors.
Eli Aruri, Sr, OL – What Aruri lacks in size he makes up for with desire. He was named OPSWA Division II Honorable Mention All-Ohio as a junior.
Jake Cameron, Sr, WR/CB – A valuable asset in all three phases of the game. Cameron had 41 receptions, 651 yards receiving, five touchdown catches, a punt return for a touchdown, 32 total tackles and four interceptions as a junior. He was named First Team All-ECC for his tireless work.

Hunter Jones, Sr, LB – A disruptive force in opposing backfields. Jones recorded 44 total tackles, had nine sacks and two interceptions including a pick-six against Loveland last fall. He earned First Team All-ECC honors for the effort.
Cody Powell, Sr, OL – A returning starter on an offensive line that helped Kings average 377.3 yards of total offense and find the end zone 52 times. The 250-pound Powell was a Second Team All-ECC selection as a junior.
Justin Berg, Sr, DL – Helped hold down the fort in the trenches for a Knights defense that held opponents to just 14.0 points per game. Berg tallied 20 total tackles with two sacks and a fumble recovery on his way to Second Team All-ECC accolades.
OTHER RETURNEES
Jay Holubetz, Sr, RB – A Versatile option out of the backfield. Holubetz has 965 all-purpose yards (605 rush, 260 rec, 100 ret), 23 receptions and nine touchdowns (eght rush, one rec) in his career.
NEWCOMERS
A trio of sophomores WR Nate Lyman (SO, WR), DL/LB Kato Meissner, RB/LB Pat Holubetz and junior DL Carson Krepps will look to break into a deep Knights rotation. Holubetz saw action in four games as a freshman.
PLAYOFF HISTORY
(16 appearances, 16-16) – 2021, 2020, 2108, 2016, 2015, 2014, 2013, 2011, 2010, 2008, 2007, 2005, 2004, 2003, 2002, 1999
2022 SCHEDULE
Fri – 08/19/22 – SYCAMORE (6-6 in 2021) – 7:00 PM
Fri – 08/26/22 – at Turpin (6-5) – 7:00 PM
Fri – 09/02/22 – at Walnut Hills (2-9) – 7:00 PM
Fri – 09/09/22 – LOVELAND (2-8) – 7:00 PM
Fri – 09/16/22 – at Milford (7-5) – 7:00 PM
Fri – 09/23/22 – at West Clermont (2-9) – 7:00 PM
Fri – 09/30/22 – WINTON WOODS (13-3) – 7:00 PM
Fri – 10/07/22 – LEBANON (3-7) – 7:00 PM
Fri – 10/14/22 – LITTLE MIAMI (4-7) – 7:00 PM
Fri – 10/21/22 – at Anderson (9-3) – 7:00 PM