2022 Snapshot: Sycamore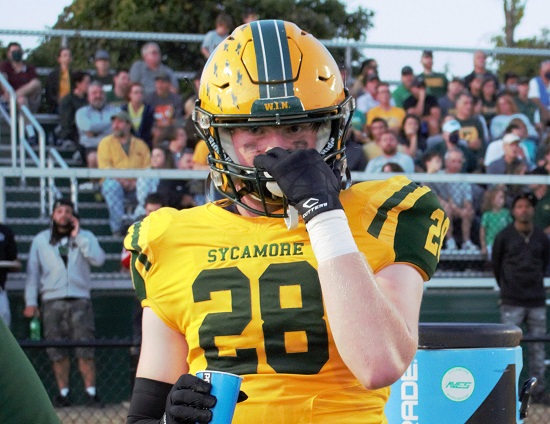 Sycamore TE Dylan Dye (photo by Greg Shoemaker/TriStateFootball.com)
They will be flying under the radar but don't underestimate Sycamore this fall. The Aviators soar into 2022 with momentum and confidence on their wings. Sycamore closed out last season with three wins in their last four games before it all came to an end with a two-point loss to league rival Princeton in round two of the playoffs. One thing is for sure, this squad will put up a dogfight every Friday night.
"We may lack some varsity level experience and overall size but I am pleased with our commitment to the offseason program," head coach Scott Dattilo states.
Sycamore's biggest challenge will be replacing the productivity it got from last year's GMC Offensive Player of the Year, William Ingle. Look for Dattilo's crew to get the job done by committee. The Aviators are at their best when the run opens the door to the passing game.
Defensively, expect Sycamore to be opportunistic creating turnovers. The Aviators had 25 takeaways last season. Players that accounted for nine of those are on this roster.
The schedule is loaded. Sycamore will face three teams that won 11 games a year ago. Two of those in the first three weeks. The Aviators may take some lumps early on. Don't focus on their record, by the time the playoffs start Sycamore will be far better than they were in September.
Division I, Region 4
2021 RECORD: 6-6, 4-4 GMC
COACH: Scott Dattilo (103-67 at Sycamore, 16 years; 120-81 overall, 19 years)
HONOR ROLL
Dominic Mangano, Sr, OL – Will be called upon to be the leader and anchor of an inexperienced offensive line. Mangano was a Second Team All-GMC selection as a junior.
OTHER RETURNEES
Eugene Harney, Jr, DB – Had an excellent varsity debut in 2021. Harney tallied 61 total tackles, forced a fumble and had three interceptions.
Nathan Malone, Sr, ILB – One of the Aviators leaders on defense. Malone was in on 37 total tackles and had three takeaways (two FR, one INT) as a junior.
Dylan Dye, Sr, TE – A big target and blocker at 6-foot-4 and 230-pounds. Dye had seven receptions for 95 yards a year ago.
Gio Garrett, Jr, WR – One of the hidden gems at receiver in Cincinnati. With two seasons left look for Garrett to really shine. He had 14 receptions for 226 yards and two touchdowns as a sophomore.
NEWCOMERS
Elijah Hill, Jr, DB – Part of a secondary that will be one of the Aviators strengths in 2022. Hill had 15 total tackles and a fumble recovery in six games as a sophomore.
Jackson NiBlack, Sr, DB – The talented defensive back has all-conference potential. NiBlack registered 16 total tackles and an interception in six tilts last season.
Michael Johnson, Sr, DE – The coaching staff is expecting big things from Johnson in the trenches as a senior. The Aviators will need his leadership up front.

PLAYOFF HISTORY
(nine appearances, 5-9) – 2021, 2020, 2018, 2017, 2016, 2012, 2011, 2007, 2006, 1996
2022 SCHEDULE
Fri – 08/19/22 – at Kings (11-1 in 2021) – 7:00 PM
Fri – 08/26/22 – OAK HILLS (0-11) – 7:00 PM
Fri – 09/02/22 – LAKOTA WEST (11-2) – 7:00 PM
Fri – 09/09/22 – at Fairfield (6-5) – 7:00 PM
Fri – 09/16/22 – COLERAIN (5-6) – 7:00 PM
Fri – 09/23/22 – at Middletown (1-8) – 7:00 PM
Fri – 09/30/22 – LAKOTA EAST (7-4)– 7:00 PM
Fri – 10/07/22 – at Mason (4-7) – 7:00 PM
Fri – 10/14/22 – PRINCETON (11-2) – 7:00 PM
Fri – 10/21/22 – at Hamilton (2-7) – 7:00 PM