2022 Snapshot: Oak Hills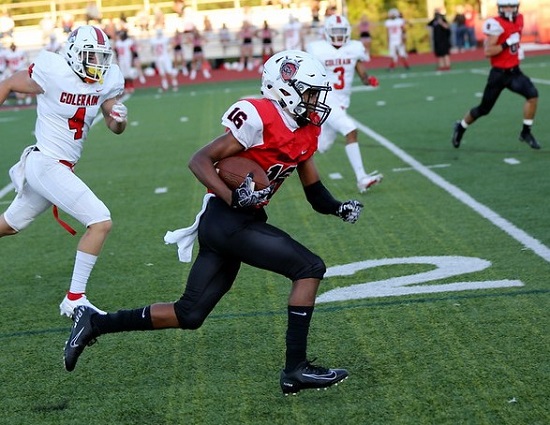 Oak Hills WR Jacob Day (photo by Don McGinnis)
Life has been bittersweet for Oak Hills in the last two season under head coach Justin Roden. The Highlanders have won just two games but have made the playoffs twice for Roden. Now the program looks to make a big leap forward and keep its postseason streak alive.
"Our quarterback and most of our 2021 offense and defense are back. We have a great incoming freshman class and return a number players who played significantly last season," Roden states.
That veteran core must do a better job of putting points on the board and keeping opponents out of the end zone. Oak Hills averaged 13.7 points per game while allowing 37.8 points per contest a year ago. To be better in those area's, Roden's squad must improve team speed and its depth.
The schedule will show the Highlanders no mercy with a September stretch that has them facing Lakota West, Fairfield, Colerain and Princeton over a four week period. How Oak Hills fares after that gauntlet will tells us plenty about the strides this team has made.
Division I, Region 4
2021 RECORD: 0-11, 0-8 GMC
COACH: Justin Roden (2-18 at Oak Hills, two years; 54-53 overall, nine years)
HONOR ROLL
Jaxon Schreiber, Sr, QB – An underrated signal-caller in Southwest Ohio. Schreiber threw for 1,470 yards, ran for 184 yards, and accounted for 18 touchdowns (10 pass, eight rush) as a junior. He was named OPSWA Division I Honorable Mention All-Southwest District for his efforts.
Jacob Day, Sr, slot/WR – An explosive player that came of age in 2021. Day caught 42 balls for 432 yards, had four touchdown receptions and amassed 778 all-purpose on his way to Second Team All-GMC accolades.
OTHER RETURNEES
Seth Burke, Sr, OT – The anchor of the Oak Hills offensive line. The 6-foot-4, 320-pound Burke will play on Saturday's and possibly even at the FBS level.
Luke Barkley, Sr, ILB – One of the leaders of the defense. Barkley has 72 total tackles in his career.
Brady LaGreca, Sr, DB – Blossomed last fall in the Highlanders secondary. LaGreca tallied 45 total tackles, forced two fumbles and snared three interceptions.
Kyle Toon, Sr, WR – A key component in the Oak hills passing attack. Toon has 48 receptions, 576 receiving yards, and three touchdown catches at the varsity level.
Nathan Fulton, Sr, TE – A healthy Fulton will be a huge plus for the offense. He had three receptions for 45 yards as a junior.
Demar Parker Jr., Jr, RB – Should be one of the GMC's breakout performers in 2022. Parker Jr. ran for 390 yards and a touchdown as a sophomore.
Jimmy Breeze, Jr, DL – Was rock solid in his varsity debut. Breeze was in on 26 total tackles, had two sacks and forced a fumble recovery last season.
NEWCOMERS
Junior C Mikey Davis and sophomore ATH Max Supe are expected to come in and contribute immediately for the Highlanders. Senior OLB Daniel Bibent a transfer from Elder will add depth in the middle of the defense.
PLAYOFF HISTORY
Oak Hills (three appearances, 0-3) – 2021, 2020, 1999
2022 SCHEDULE
Fri – 08/19/22 – TURPIN (6-5 in 2021) – 7:00 PM
Fri – 08/26/22 – at Sycamore (6-6) – 7:00 PM
Fri – 09/02/22 – at Mason (4-7) – 7:00 PM
Fri – 09/09/22 – at Lakota West (11-2) – 7:00 PM
Fri – 09/16/22 – FAIRFIELD (6-5) – 7:00 PM
Fri – 09/23/22 – COLERAIN (5-6) – 7:00 PM
Fri – 09/30/22 – at Princeton (11-2) – 7:00 PM
Fri – 10/07/22 – HAMILTON (2-7)– 7:00 PM
Fri – 10/14/22 – at Lakota East (7-4) – 7:00 PM
Fri – 10/21/22 – MIDDLETOWN (1-8) – 7:00 PM