2022 Snapshot: Walnut Hills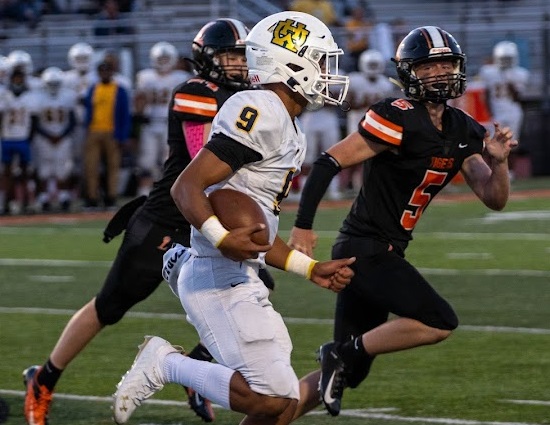 Walnut Hills QB TJ Nelson (Photo by Carter Pendlum, Loveland)
It's been a decade since Walnut Hills finished above .500, but second-year head coach James Crook is looking to right the ship on Victory Parkway and flirt with a winning record in a tough Eastern Cincinnati Conference. Despite going 2-8 in the regular season and thanks to an expanded playoff bracket, the Eagles made the playoffs for a second year in a row last season for the first time in school.
"Our strength is our defense, as we have multiple returning starters from last season," Crook said.
The Eagles defense was middle-of-the-pack last season, but should improve as many of the starters return with experience facing an ECC that featured an undefeated Kings team in the ECC and only giving up 21 points to eventual state champion Winton Woods. Despite ECC top tackler Isaiah Williams graduating, the Eagles return the 10th top tackler in the conference in Makan Sacko. The defense should take a huge step forward in stopping the high-octane offenses at the top of the ECC.
The entire success of the Walnut Hills season will depend on the progress of the offense. The Eagles' 144 points scored landed the Eagles in the bottom in that category in the ECC. However, TJ Nelson returns as the starting quarterback to lead Walnut after passing for 1,481 yards and eight touchdowns. Nelson is also explosive on his legs, rushing for 503 yards and nine touchdowns. His biggest weapon also returns in the form of Javion Bostic. Bostic tallied more than 100 yards receiving four times last season, including 235 yards against ECC champion Kings.
There are reasons to be hopeful in Evanston. The Eagles have the makings of a sleeper team if things go their way. If the players and the coaching staff take the necessary steps forward, we could see Walnut as a mainstay in the playoffs.
Division I, Region 4
2021 RECORD:  2-9, 1-7 ECC
COACH: James Crook (2-9 at Walnut Hills, one year; 2-9 overall)
HONOR ROLL
Isaiah Birl, Sr, ATH – Held double-digit offers before recently committing to Army. Birl saw the most action on offense as a running back, rushing for 370 yards and three touchdowns. Like the rest of the team, defense was his strength last season. He tallied 55 total tackles, two forced fumbles, and five fumble recoveries. His performance led to his selection to the OPSWA Division I Second Team All-Southwest District as a defensive back.
Javion Bostic, Sr, WR – A dynamic player on offense and defense. He led the entire time in receiving, recording 40 receptions for 819 yards and five touchdowns. On the other side of the ball, he had 43 total tackles. Bostic landed on the OPSWA Division I Honorable Mention All-Southwest District list.
TJ Nelson, Jr, QB – Started as a sophomore and passed for 1,481 yards and eight touchdowns. Nelson did damage on the ground as well, rushing for 503 yards and nine touchdowns. Selected as Second-Team All-ECC as a sophomore.

OTHER RETURNEES          
Makan Sacko, Sr, DE/LB – Top returning tackler from 2021 defense. Sacko's 68 tackles were top 10 in the ECC. His best game came against eventual state champion Winton Woods, where he recorded 11 total tackles.
Christian Courtney, Sr, OL – After losing multiple players on the offensive line, Courtney will be called upon to be a leader on the offensive line.
Israel Bradford, Jr, CB – Expect Bradford to raise some eyebrows on the defensive side of the ball. As a sophomore, Bradford had 22 total tackles and one interception, which he returned for 58 yards.
Jack Sammarco, Jr, TE – Another weapon at Nelson's expense, Sammarco's 6-foot-6, 225-pound frame provides the Eagles with a strong tight end in the receiving game. As a sophomore, Sammarco pulled in 17 receptions for 167 yards.
Zion James, Jr, DB – In seven games last year, James recorded 39 total tackles as a sophomore, adding to the seven he tallied in 2020.
PLAYOFF HISTORY
(three appearances, 0-3) – 2021, 2020, 2010
2022 SCHEDULE
Th – 08/18/22 – at Withrow (9-2 in 2021) – 7:00 PM
Fri – 08/26/22 – WINTON WOODS (13-3) – 7:00 PM
Fri – 09/02/22 – KINGS (11-1) – 7:00 PM
Fri – 09/09/22 – at West Clermont (2-9) – 7:00 PM
Fri – 09/16/22 – ANDERSON (9-3) – 7:00 PM
Fri – 09/23/22 – LOVELAND (2-8) – 7:00 PM
Fri – 09/30/22 – at Milford (7-5)– 7:00 PM
Fri – 10/07/22 – at Turpin (6-5) – 7:00 PM
Fri – 10/14/22 – at Lebanon (3-7) – 7:00 PM
Fri – 10/21/22 – LITTLE MIAMI (4-7) – 7:00 PM