Schedule Sneak Peek: Withrow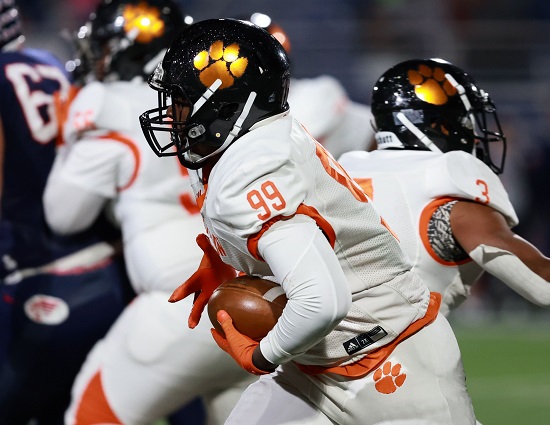 Withrow DL Deandre Woolens (photo by Shelby Frieszell/TriStateFootball.com)
In 2013, Withrow left the Cincinnati Metro Athletic Conference (CMAC) and joined the Eastern Cincinnati Conference (ECC). The move didn't go as planned.  The Tigers never had a winning season and went a combined 7-31 (.184 winning %) in ECC play, in their six years in the league.
Withrow returned to the CMAC in the Covid year of 2020 and never got on track going 1-6. Last fall the Tigers broke out with one of the best campaigns in school history going 9-2. They captured the programs first ever playoff win behind a defense that allowed just 5.0 points per game and recorded six shutouts.
Withrow is rewarding its great season with of the most ambitious non-conference schedules the school has ever seen. The Tigers start off with two Division II foes, Walnut Hills and Springboro. Then they follow that up by hosting 2021 Division III state runner-up Badin and seven days later the 2021 Division II state runner-up Akron Hoban. The teams that Withrow will play were a combined 58-48 (.574 winning %) in 2021.

Here is a look at the 2022 Withrow schedule:
Th – 08/18/22 – WALNUT HILLS (2-9 in 2021) – 7:00 PM
Fri – 08/26/22 – at Springboro (5-5) – 7:00 PM
Fri – 09/02/22 – BADIN (14-1) – 7:00 PM
Th – 09/08/22 – AKRON HOBAN (12-4) – 7:00 PM
Fri – 09/16/22 – at Trotwood-Madison (4-6) – 7:00 PM
Sa – 09/24/22 – at Taft (9-3) – 1:00 PM
Fri – 09/30/22 – AIKEN (3-5) – 7:00 PM
Sa – 10/08/22 – at Woodward (2-7) – 1:00 PM
Fri – 10/14/22 – at Western Hills (1-6) – 7:00 PM
Fri – 10/21/22 – HUGHES (6-2) – 7:00 PM
WITHROW TIGERS
Division II, Region 8
2021 RECORD: 9-2, 3-1 CMAC
COACH: Kali Jones (13-15 at Withrow, three years; 19-29 overall, five years)
PLAYOFF HISTORY (five appearances, 1-5) – 2021, 2020, 2013, 2007, 2004
FINAL TAKE: There are many voids to fill on offense. Opportunity knocks for a new group of Tigers especially at the skill positions. Senior leader OL Evan Browner and the offensive line needs to open holes like they did a year ago. Withrow averaged 233.0 yards per game and 8.8 yards per carry. Eight players that had runs of 30-yards or more.
The defense will need to take center stage during the non-conference portion of the schedule. The unit is led by returning starters, seniors FB/DL Deandre Woolens, OL/DL Nazir Williams, DE Sulaiman Willis, LB Keandre Rogers-Heard, WR/DB Zion Shaw along with junior stud speedster DB Terhyon Nichols. Junior transfer, LB Zaire Washington who has started the last two years at Sycamore makes the Withrow defense deep and dangerous. Woolens who had 11.0 sacks in 2021 has offers from Akron, UA-PB, Central Michigan, Jackson State and Toledo. Nichols offers include Akron, Boston College, Central Michigan, Cincinnati, Eastern Kentucky, Eastern Michigan, Georgia Tech, Kent State, Kentucky, Michigan State, Minnesota, Notre Dame, Pitt, Tennessee, Utah State and West Virginia.
Withrow is one of the top 16 teams in Region 8, talent-wise, but securing one of the 16 playoff berths is not going to be easy. The Tigers must win at least a couple of their games against upper echelon opponents to stay in the postseason hunt. We expect Withrow to be playing in Week 11 after a grueling trek to get there. The Tigers will be a very dangerous and battle-tested squad if they find their way into the tournament.