2022 Snapshot: Woodward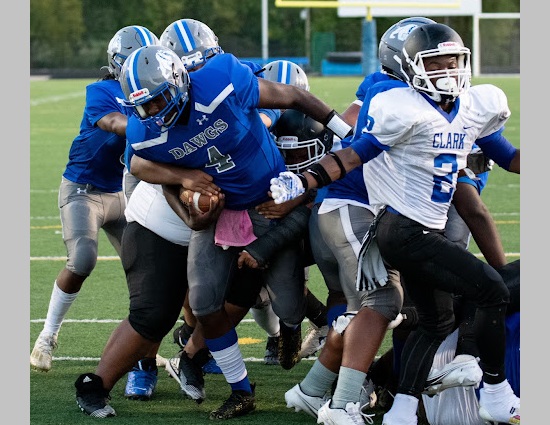 Woodward QB/TE/DE Joseph Leonard (photo by Michael Ames Photography)
There hasn't been a whole lot of football success at Woodward but that is about to change. The Bulldogs haven't had a winning season since 2015 and the program's only playoff appearance was 14 years ago. Enter new head coach, Jeremy Pflug who believes he has just found one of Cincinnati's hidden gems.
This is the fourth stop for Pflug as a head coach. He has turned Landmark Christian, Aiken and CCPA into winners, going an impressive 30-games over .500 in seven years at those schools. He is the perfect man to turn Woodward around.
"I believe that we have the potential to send shockwaves throughout the city. We are looking to compete for the league championship immediately, get into the playoffs and challenge in Region 12. This team has the makeup to do so," Pflug states.
The Bulldogs have depth in the trenches and at all the skill positions. That's a great foundation to build upon.
"We have dynamic athletes and the makeup of a team that can do a lot of damage in Division III. We brought in a solid staff that can make instant changes to put our dynamic athletes in positions to succeed," Plug says.
Being a factor in Division III, Region 12 is a tall order. In 2021, the Region's #15 seed was Alter and #14 was Trotwood-Madison, that's tough. One thing Pflug needs Woodward to latch on to is, "learning how to win immediately." If the Bulldogs figure that out, they will be a menace come November.
Division III, Region 12
2021 RECORD: 2-7, 1-4 CMAC Red
COACH: Jeremy Pflug (0-0 at Woodward, first year; 50-20 overall, seven years)
HONOR ROLL
Donte Ferrell, Jr, WR/S – The most dynamic wide receiver in the CMAC. Ferrell will look to expand on his 2021 season. As a sophomore, he had 22 receptions for 563 yards (25.6/rec) with eight touchdown catches. The effort earned Ferrell First Team All-CMAC Red honors.
Kevin Jeter, Jr, OL/DL – Stout, strong and tough to handle up front. Jeter will create havoc the entire 2022 season. The 6-foot-2, 300-pound lineman was named Second Team All-CMAC Red as a sophomore.
Joseph Leonard, Sr, QB/TE/DE – The team Leader who is a strong and athletic force. The 6-foot-3, 215-pound Leonard threw for 728 yards and accounted for eight touchdowns (six pass, two rush) on his way to Second Team All-CMAC Red accolades in 2021.
Jay Pruitt, Sr, LB – A veteran presence in the middle of the Woodward defense. Pruitt was a Second Team All-CMAC Red selection as a junior.
|
OTHER RETURNEES
Jay'Quan Bostic, Jr, QB/WR/DB – A dynamic athlete who will be utilized all over the field. Bostic threw for 212 yards, had two touchdown tosses and four receptions for 74 yards a year ago.
Andy Bly, Jr, OL/LB – Despite being just a junior, Bly is the leader and anchor of the offensive line.
NEWCOMERS
Senior WR Damarion Hughes along with junior's RB/S Jeremiah Hughes and WR Ru Mills are expected to make major contributions for the Bulldogs. They will add depth at the skill positions.
PLAYOFF HISTORY
(one appearance, 0-1) – 2008
2022 SCHEDULE
Fri – 08/19/22 – at Columbus South (7-4 in 2021) – 7:00 PM
Fri – 08/26/22 – SHRODER (4-3) – 7:00 PM
Fri – 09/02/22 – at Bethel-Tate (9-2) – 7:00 PM
Fri – 09/09/22 – at Bourbon County (KY) (5-6) – 7:00 PM
Fri – 09/16/22 – at Trimble County (KY)(2-8) – 7:00 PM
Fri – 09/23/22 – WESTERN HILLS (1-6) – 7:00 PM
Fri – 09/30/22 – HUGHES (6-2) – 7:00 PM
Fri – 10/07/22 – WITHROW (9-2) – 7:00 PM
Fri – 10/14/22 – AIKEN (3-5) – 7:00 PM
Fri – 10/22/22 – at Taft (9-3) – 6:30 PM