2022 Snapshot: Ludlow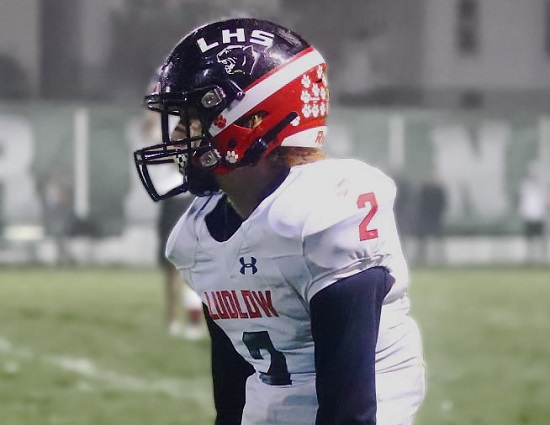 Ludlow WR/DB Jaxson Rice (photo by Glenn Helton Sports)
It's time to start a new streak at Ludlow. The Panthers are coming off back-to-back losing seasons for the first time since 2012-13 (those two seasons ended a streak of nine consecutive losing campaigns). With growing pains behind them this team looks to bust out in the win column.
"We have been young past two years. Now we have a good core of juniors and seniors," head coach Greg Taphouse states. That veteran presence should make a difference in close affairs. Ludlow went 1-3 in games decide by eight points or less last season.
"We return our entire line but we don't have a quarterback," Taphouse says. Whomever the Panthers settle on as their signal-caller, he will have solid options to throw to.
Closing out games is a must if Ludlow wants to take a leap forward. At the Class 1A level there is very little margin for error. The Panthers will need to play disciplined and pay attention to detail. Take care of that business and Rigney will be rockin' on Friday nights.
Class 1A, District 4
2021 RECORD: 3-8, 2-1 Class 1A, District 4
COACH: Greg Taphouse (31-25 at Ludlow, five years; 31-25 overall)
TOP RETURNEES
Jaxson Rice, Sr, WR/DB – A huge asset for Ludlow in all three phases of the game. Rice had 27 receptions, 580 yards receiving, six touchdown catches, 65 total tackles, three tackles for losses, a fumble recovery and an interception in 2021.
Tommy King, Sr, WR/DB – A key member of the secondary and receiving corp. King had 14 catches for 169 yards, 38 total tackles, four fumble recoveries as a junior.
Ben McMillen, Sr, OL/DL – Provides senior leadership on both sides of the line. McMillen was in on 23 total tackles and had a pair of sacks as a junior.
Danny Richardson, Sr, OL/DL – Back for a second season as a starter. Richardson will fill line positions on both sides of the ball. He registered 24 total tackles and had a sack last fall.
Ethan Powell, Jr, WR/DB – Back for his third year as a letterman. Powell has seen a ton of snaps heading into his junior campaign. He is part of an excellent defensive backfield.
Matt Brock, So, OL/DL – The future looks bright for this rising star. Brock tallied 33 total tackles and a sack in his varsity debut as a freshman.
2022 SCHEDULE
Fri – 08/19/22 – at Gallatin County (3-7 in 2021) – 7:00 PM
Fri – 08/26/22 – LOCKLAND (OH) (4-5) – 7:00 PM
Fri – 09/02/22 – BYE
Fri – 09/09/22 – at Paris (4-7) – 7:00 PM
Fri – 09/16/22 – CARROLL COUNTY (7-5) – 7:00 PM
Fri – 09/23/22 – BISHOP BROSSART (12-1) – 7:00 PM
Fri – 09/30/22 – at Mason County (9-4) – 7:00 PM
Fri – 10/07/22 – NEWPORT CENTRAL CATHOLIC (9-4) – 7:00 PM
Fri – 10/14/22 – at Bellevue (1-10) – 7:00 PM
Fri – 10/21/22 – DAYTON (5-7) – 7:00 PM
Fri – 10/28/22 – at Holy Cross (4-8) – 7:00 PM