2022 Snapshot: Lockland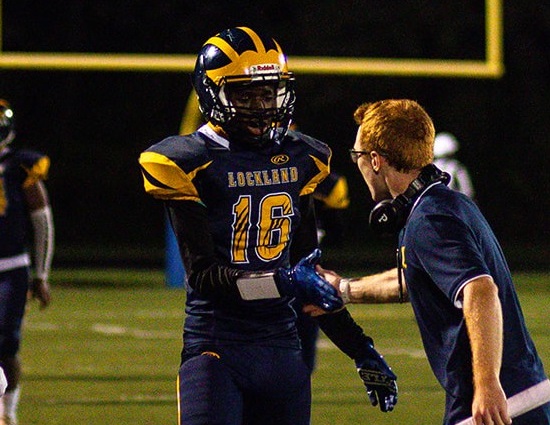 Lockland WR/DB Baba Diallo (photo courtesy of Lockland Football)
Even though they have had losing records the past two campaigns Lockland is on the cusp of being special. The Panthers have key components that have been in the playoffs the past two seasons and finished second in the MVC Gray a year ago. This squad will have their goals set high and they have the talent to attain them.
Those lofty sights are focused on Lockland winning its division, hosting a first-round postseason game, and bringing home the program's first ever playoff victory. The Panthers won't lack for motivation knowing they fell to reigning MVC Gray champion, Cincinnati Country Day by seven points last fall.
In order to take things to the next level Lockland must do a better job defensively. They allowed 46.8 points per contest in their five losses in 2021. Getting off the field and letting the Panthers offense strut their stuff is a must. The offense has the TNT to be very explosive. This side of the ball should be highly entertaining.
Like most small school's depth is an issue. Lockland will have to avoid the injury bug. If injuries do occur the best thing about the Panthers is that they have versatile players at the skill positions. They may be equipped to handle that storm better than other teams. Which could be a plus come November. Now, t's just a matter of getting it done on the field for Lockland.
Division VII, Region 28
2021 RECORD: 4-5, 3-1 MVC Gray
COACH: Michael Tudor (4-5 at Lockland, one year; 4-5 overall)
HONOR ROLL
George Steele, Sr, DB – Expect Steele to be a candidate for MVC Gray Defensive Player of the Year. He was named First Team All-MVC Gray as a junior in his first year at the varsity level.
Michael Minton, Sr, OL – A leader up front on offense. The 5-foot-10, 265-pound Minton was an Honorable Mention All-MVC Gray selection in 2021.
Ci're Smith, Jr, OL/DL – A pleasant surprise in 2021, look for Smith to take his game to the up a level over the next two seasons. The 6-foot-1, 275-pound lineman was named Honorable Mention All-MVC Gray as a sophomore.
BaBa Diallo, Jr, WR/DB – Expect big numbers on both sides of the ball for Diallo. He was in on 16 total tackles, had an interception and a pair of touchdown receptions on his way to Second Team All-MVC Gray honors in 2021.
Damien Dawson, So, RB/DB – Look for Lockland to show case every one of Dawson's gifts. He gave a glimpse of what he could do in all phases of the game as a freshman. Dawson threw for 410 yards, had six touchdown passes, two rushing scores, averaged 26.0 per kickoff return, averaged 24.1 yards per punt return and recorded 16 total tackles on his way to Second Team All-MVC Gray honors.
Aliou Diallo, So, WR/DB – The sky is the limit for this young playmaker. Diallo earned Second Team All-MVC Gray accolades as a freshman after tallying 23 total tackles, snaring an interception, and hauling in two touchdown catches.
OTHER RETURNEES
Peyton Hicks, Sr, OL/DL – Teams with Minton and Smith to form a veteran and dependable o-line. Expect Hick to make his presence felt on defense as well.
Cody Willis, Sr, QB – All the signs point to a breakout performance this fall. A healthy Willis might just be the best quarterback in the MVC Gray.
PLAYOFF HISTORY
(nine appearances, 0-9) – 2021, 2020, 2011, 2010, 2009, 2008, 2007, 1993, 1992
2022 SCHEDULE
Fri – 08/19/22 – READING (7-3 in 2021) – 7:00 PM
Fri – 08/26/22 – at Ludlow (KY) (3-8) – 7:00 PM
Fri – 09/02/22 – at Hughes (6-2) – 7:00 PM
Fri – 09/09/22 – at Aiken (3-5) – 7:00 PM
Fri – 09/16/22 – WILLIAMSBURG (7-5) – 7:00 PM
Fri – 09/23/22 – at MVCA (3-8) – 7:00 PM
Fri – 09/30/22 – CLARK MONTESSORI (1-6) – 7:00 PM
Fri – 10/07/22 – ST. BERNARD-ELMWOOD PLACE (3-6) – 7:00 PM
Fri – 10/14/22 – at Cincinnati Country Day (4-5) – 7:00 PM
Fri – 10/21/22 – NEW MIAMI (2-7) – 7:00 PM