Schedule Sneak Peek: Trotwood-Madison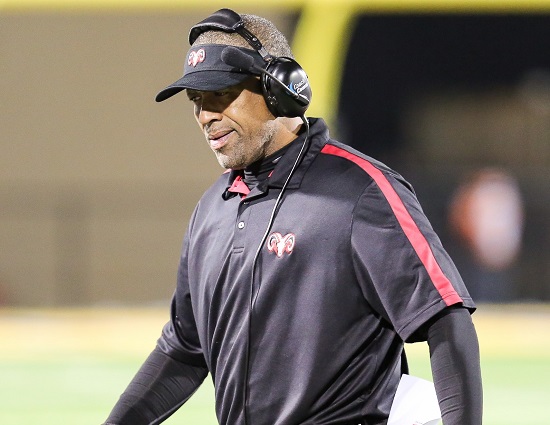 Trotwood-Madison head coach Jeff Graham (photo by Scott Reed)
If there was ever a team that was snake-bit and lost its mojo because of Covid over the past two years it would be Trotwood-Madison. The Rams are ready to put the past behind them and vault into the playoffs for a 14th consecutive season. It won't be easy for the independent school who is at the mercy of the scheduling gods.
Trotwood-Madison went 4-6 in 2021. They started 0-4 versus larger schools Winton Woods, Fairmont, Harrison and Withrow. The Rams were shutout in three of those affairs. The Rams haven't beaten a team that has finished a season above .500 since defeating Mansfield on December 6th, 2019, to win the Division III state championship.
The Trotwood-Madison Class of 2024 is loaded with talent and have taken their lumps as freshmen and sophomores. Now they look to turn the tables and become the ones who dish out the pain. This group of Rams juniors includes QB Tim Carpenter III who has offers from Akron, Ball State, BGSU, Central Michigan, Eastern Kentucky, UMass, Miami (OH) and Toledo. Classmate DB Mike Smith holds offers from Akron, BGSU, Duke, UMass, Miami (OH), South Carolina State & Toledo. The cupboard is far from being bare.
The teams that Trotwood-Madison will play were a combined 62-46 (.574 winning %) in 2021. The first five games on the slate are versus schools that were a combined 47-17 (.734 winning %) a year ago. To make life more difficult the Rams will face Division II state champion Winton Woods and Division I state runner-up Springfield in that span. The back half of the schedule lightens up with five tilts, all against Dayton Public League foes. They were a combined 15-32 (319 winning %) a year ago.
Here is a look at the 2022 Trotwood-Madison schedule:
Fri – 08/19/22 – at Winton Woods (13-3 in 2021) – 7:00 PM
Fri – 08/26/22 – FAIRMONT (6-5) – 7:00 PM
Fri – 09/02/22 – at Springfield (13-2) – 7:00 PM
Th – 09/08/22 – ALTER (6-6) – 7:00 PM
Fri – 09/16/22 – WITHROW (9-2) – 7:00 PM
Fri – 09/23/22 – at Belmont (2-6) – 7:00 PM
Fri – 09/30/22 – at Ponitz (4-6) – 7:00 PM
Fri – 10/07/22 – DUNBAR (4-4) – 7:00 PM
Fri – 10/15/22 – MEADOWDALE (5-4) – 7:00 PM
Fri – 10/21/22 – at Thurgood Marshall (0-8) – 7:00 PM
FINAL TAKE: Trotwood-Madison had young teams that did not get the snaps they needed to grow and flourish on Friday nights over the past two campaigns. Now they are a veteran and tested group. The win-loss record come October 22nd might not look great, but this will be a very good Rams teams that no one will want to face in the playoffs.
Because of the rigorous schedule it is possible that Trotwood-Madison could start 0-5 and be the best winless team that the state has ever seen. Five wins should get the Rams into the postseason. Seven victories probably means that they will be hosting a playoff game in Week 11.
PLAYOFF HISTORY (17 appearances, 43-14) – 2021, 2020, 2019 (State Champion), 2018, 2017 (State Champion), 2016 (State runner-up), 2015 (Regional Champion), 2014 (Regional Champion), 2013 (State Runner-up), 2012 (State Runner-up), 2011 (State Champion), 2010 (State Runner-up), 2009, 2007, 2006, 2002,1981 (State Runner-up)