2022 Snapshot: Little Miami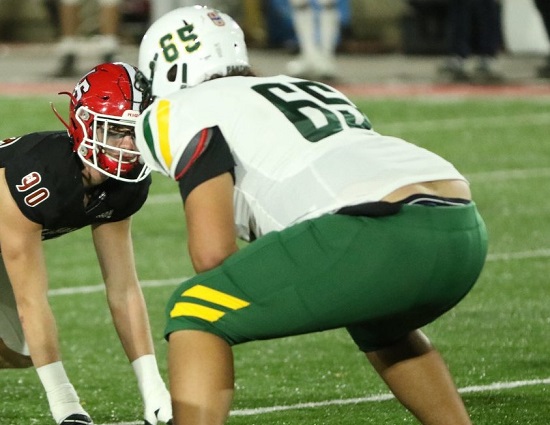 Little Miami OL Aidan Whittington (photo courtesy of ScoutingOhio.com)
Team chemistry will be a big focus for Little Miami this year as they make another run at the playoffs. The Panthers have an opportunity to make the playoffs for the fifth straight year, a feat many have become used to after the 26-year postseason drought was ended in 2018.
Little Miami is on the younger side looking to make an impact in the field with grit and hard work. "We have a lot of talent and our team will be young. We will compete in everything we do giving relentless effort, being mentality tough, and playing together as a team," says head coach Caleb Jones. The fourth-year coach looks to improve upon his 15-17 record behind a young core that can make some noise in the ECC.
The Panthers will kick off their 2022 campaign at Mount Healthy on Thursday, August 18th.
Division II, Region 8
2021 RECORD:  2-9, 1-7 ECC
COACH: Caleb Jones (15-17 at Little Miami, three years; 15-17 overall)
HONOR ROLL
Brayden Bischoff, Sr, WR/DB –The two-way threat racked up 667 yards on 40 receptions with eight touchdowns last year while making 37 total tackles and recording an interception as a junior. He was named to the OPSWA Division II Honorable Mention All-Ohio Team.
Aidan Whittington, Sr, OL – A towering 6-foot-6, 290-pound force of nature will give his young quarterback plenty of time to work with in the pocket.

OTHER RETURNEES
Jayden Wayne, Sr, WR – An experienced senior looking to be a leader on the defensive side of the ball. As a junior Wayne recorded 49 total tackles bringing his career total to 105 total tackles.
Grant Maupin, Sr, WR/DB – In his junior year the wide receiver collected 12 receptions totaling 195 yards and a touchdown while coming up with an interception on defense. He can also be a threat to throw the ball as he has experience under center putting up a 57.1% completion rate last year.
Sam Dooley, Sr, OL – A returning starter on the o-line. The 6-foot-3, 285-pound Dooley is a leader up front. He has an offer from Centre College.
Elisha Jones, Jr, WR – The third leading receiver last year posting 20 receptions for 290 yards. Jones looks to make a jump forward during his junior campaign. 
Tristan Kornaker, Jr, DL – Will look to be a problem for opposing teams. Kornaker made 17 total tackles and forced a fumble during his junior year.
Ethan Dowden, So, DL – This young gun will be haunting offensive lineman for years to come. He showcased his abilities as a freshman making 19 total tackles and recorded two sacks.
Eli Schoellman, So, LB – Another impressive sophomore who made 24 total tackles as a freshman.
NEWCOMERS
Senior DL AJ Fredrick, juniors OL Alex LaWarre, OL/DL George Forester, LB Grant Gies, WR/DB Jayden Scott, OL/DL Caleb Juillerat, OL/DL Mason Juillerat, OL Oliver Wagoner, QB TJ Blackburn, RB Will Rom, RB Wyatt Albers along with sophomores LB Brayden Daugherty, QB/WR Case Miller, WR/DL Trevor Miller, OL/DL DC Clutter, LB Jackson Shepherd and RB/LB Rhys Jones will get the opportunity to earn Friday night snaps during the preseason. Rom ran for his first varsity touchdown in last year's opener against Goshen.
PLAYOFF HISTORY
(five appearances, 3-5) – 2021, 2020, 2019, 2018, 1992.
2022 SCHEDULE
Th – 08/18/22 – at Mount Healthy (6-5 in 2021) – 7:00 PM
Fri – 08/26/22 – WEST CLERMONT (2-9)– 7:00 PM
Fri – 09/02/22 – TURPIN (6-5)– 7:00 PM
Fri – 09/09/22 – at Lebanon (3-7) – 7:00 PM
Fri – 09/16/22 – WINTON WOODS (13-3) – 7:00 PM
Fri – 09/23/22 – MILFORD (7-5)– 7:00 PM
Fri – 09/30/22 – ANDERSON (9-3) – 7:00 PM
Fri – 10/07/22 – at Loveland (2-8) – 7:00 PM
Fri – 10/14/22 – at Kings (11-1) – 7:00 PM
Fri – 10/21/22 – at Walnut Hills (4-7) – 7:00 PM