2022 Snapshot: Milford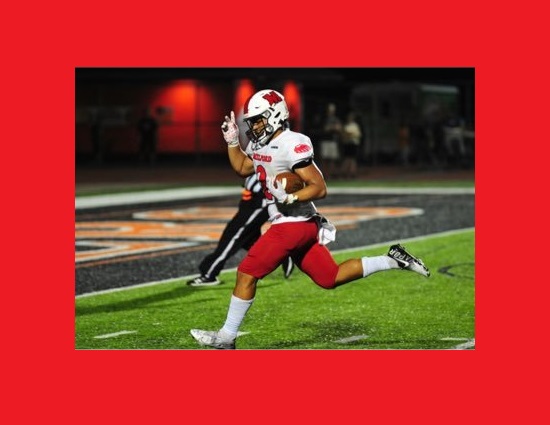 Milford RB/LB Tofa Luani (photo from Twitter: @TofaLuani2)
Finishing in the top half of the Eastern Cincinnati Conference is quite an accomplishment and the Milford Eagles did just that in 2021, making the playoffs for the fourth time in the last five years. The Eagles will look to move even further up the standings and win more than one playoff game led by the newly minted 200-victory coach Tom Grippa.
"I believe that we will have a very competitive team," Grippa said. "We lost four offensive linemen and replacing them could be an issue. But we will have a very strong defense with many key returning starters."
With the ECC going to a nine-game conference schedule, it doesn't do any favors for Milford. The one conference team left off last year's schedule was Kings, who went undefeated in the regular season. The conference also boasts the Division II state champions in Winton Woods. In addition, the Eagles will again be challenged in non-conference play by SWOC powerhouse Edgewood, whose high-powered offense scored 455 points last season. In last year's matchup, Milford dominated the Cougars, 41-14.
Led by leading tackler senior Nick Skally and junior Tofa Luani, who recorded four-and-a-half sacks in 2021, the Milford Eagles will field a formidable defense that could challenge and push the top teams in the ECC.
Division I, Region 4
2021 RECORD:  7-5, 5-3 ECC
COACH: Tom Grippa (31-22 at Milford, five years; 206-123 overall, 31 years)
HONOR ROLL
Tofa Luani, Jr, RB/LB – Luani returns as one of the more versatile athletes in the area, having rushed for 585 yards and 19 touchdowns last season. He is also a stalwart on defense, tallying 45 total tackles and four-and-a-half sacks. Luani was named Second Team All-ECC and Third Team All-TSF (ATH) for his work.
Nick Skally, Sr, LB – Skally was the leading Eagle tackler in 2022, recording 77 total tackles and three-and-a-half sacks. He was named to the Second Team All-ECC last fall.

OTHER RETURNEES
Austin Hardin, Sr, QB – Hardin returns under center as a starter for a third year. Over his career, Hardin has passed for 2,734 yards and 24 touchdowns.
Natwan Webster, Sr, RB – Milford's leading rusher from 2021, Webster com es back after rushing for 774 yards and seven touchdowns. He more than doubled his rushing yards and tripled his touchdowns from his sophomore year.
Jacob Smith, Sr, FS – Smith's 60 total tackles in 2021 were good enough for fifth on the team. He also forced a fumble and gathered an interception. Smith has 110 tackles in his career.
Sawyer Copp, Sr, RB/DB – The third part of the three-headed rushing attack, Copp gained 458 yards on the ground and found the end zone four times. He also caught 13 passes for 91 yards.
Scott Arnold, Sr, OL – The 6-foot-3, 285-pound Arnold will be one of the anchors on the offensive line. He has an offer from Wilmington.
Luke Ray, Sr, WR – Ray will be an important asset for Hardin in the passing game, having caught 25 passes for 323 yards in 2021. He will need a big year for Milford's offense to click in a tough ECC.
PLAYOFF HISTORY
(five appearances, 2-5) – 2021, 2020, 2018, 2017, 1986
2022 SCHEDULE
Fri – 08/19/22 – EDGEWOOD (9-3 in 2021) – 7:00 PM
Fri – 08/26/22 – LEBANON (3-7)– 7:00 PM
Fri – 09/02/22 – LOVELAND (2-8) – 7:00 PM
Fri – 09/09/22 – at Anderson (9-3)– 7:00 PM
Fri – 09/16/22 – KINGS (11-1) – 7:00 PM
Fri – 09/23/22 – at Little Miami (4-7) – 7:00 PM
Fri – 09/30/22 – WALNUT HILLS (2-9) – 7:00 PM
Fri – 10/07/22 – WINTON WOODS (13-3) – 7:00 PM
Fri – 10/14/22 – at West Clermont (2-9) – 7:00 PM
Fri – 10/21/22 – at Turpin (6-5) – 7:00 PM