2022 Snapshot: Beechwood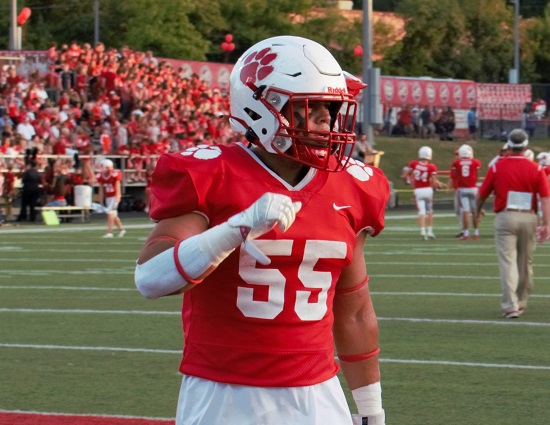 Beechwood OL/DL Xavier Campbell (photo by Greg Shoemaker/TriStateFootball.com)
Years from now history will look back at the Beechwood football program and marvel at it's amazing on field accomplishments during this era. The Tigers head into 2022 on a 23-game winning streak, with back-to-back Class 2A state championships, five state titles in the last six years and 16 crowns overall for the school including the last seven under current head coach Noel Rash.
The bar for encore performances has been set on the highest of notches in Fort Mitchell, or so we think. Rash has a way of getting them most out of his Tigers year-after-year. He challenges them to take their games to the next level. More often than not, they deliver for him.
"These young men are talented, but none of that will matter if we do not have the mental toughness needed to carry us through the offseason and each week of the season. We must continue to develop the TEAM attitude and selflessness so vital to championship teams. We must embrace the grind!" Rash states.
Beechwood returns seven players from a defense that allowed just 6.9 points per game in 2021. The Tigers gave up just 13 defensive touchdowns (five pass, eight rush). They were a big reason the team finished undefeated for the first time under Rash.
The Beechwood defense will lead the way early in the year. The offense will look to fill big vacancies and answer questions especially at quarterback where they lose one of the best the state has seen over the past decade in Cam Hergott. The Tigers passing game may take some time to gel, but Mitch Berger, Liam McCormack and Torin O'Shea have combined for 23 touchdown receptions. Zander Riegler, Berger and O'Shea have 27 rushing scores between them. They will ease the load for the new signal-caller.
The core of experienced players has seen it all. This veteran group will not be rattled by any situation they come up against and that will be a plus in the postseason. Develop depth to go along with this strong senior class and Beechwood is going to have another sustained playoff run.
Class 2A, District 6
2021 RECORD: 15-0, 3-0 Class 2A, District 6; KHSAA Class 2A State Champions
COACH: Noel Rash (180-46 at Beechwood, 16 years; 180-46 overall)
HONOR ROLL
Mitch Berger, Sr, RB/LB – One of the most complete players south of the Ohio River. Berger found the end zone 17 times (10 rush, seven rec) while racking up 1,068 yards from scrimmage (508 rush, 560 rec) as a junior. He was named First Team All-NKY on both sides of the ball (for a second straight year). Berger was also an Honorable Mention ALL-TSF (ATH) selection and a TriState Football Kentucky Offensive Player of the Year finalist. As a sophomore Berger was a TriState Football Kentucky Defensive Player of the Year finalist.
Xavier Campbell, Jr, OL/DE – A strong and durable force. First Team All-NKY (for a second straight year). Campbell reclassified himself and came back as a sophomore in 2021. He had 12 sacks and a pair of fumble recoveries for the undefeated state champion Tigers. He earned First Team All-NKY (DL) for a second straight year) as well as Second Team ALL-TSF (DL) and TriState Football Kentucky Defensive Player of the Year finalist. Campbell heads into 2022 with 17.5 sacks and five takeaways (four FRs, one INT) in 38 career games.
Torin O'Shea, Sr, FB/DL – A grinder in the trenches on defense and a closer on offense. O'Shea is coming off an outstanding junior campaign in which he was named Second Team All-NKY (DL) after helping the Tiger hold foes to just 79.5 yards rushing (3.0/carry) per contest. In 39 varsity games, O'Shea has nine touchdowns (six rush, three rec) on 47 offensive touches.
OTHER RETURNEES
Austin Waddell, Sr, OL/LB – Back for his third year as a starter on both sides of the ball. Waddell was a key member on a defense that gave up eight points or less 12 times with five shutouts in 2021.
Liam McCormack, Sr, WR/DB – Will be the Tigers number one target at receiver. McCormack had a pair of interceptions on defense as a junior. He has 32 receptions for 500 yards and eight touchdowns in 40 varsity games.
Landon Aylor, Sr, RB/DB – A vital cog in a very experienced secondary that held opposing quarterbacks to a 49.9% completion rate in 2021. Aylor also had a pair of takeaways.
Bomani Hughes, Sr, RB/LB – Back for his second season as a starter. Hughes has played in 35 games in his career.
Carson Craycraft, Sr, WR/DB – A returning starter in a secondary that held the opposition to 74.1 yards per game passing a year ago. Craycraft has three interceptions at the varsity level.
Landon Johnson, Sr, FB/LB – Teams with Berger, Waddell and Hughes to make a very formidable and veteran linebacking crew. Johnson could also have his moments to shine on offense this fall.
Konner Huljak, Sr, OL/DL – A huge asset on both sides of the line. The 5-foot-10, 232-pound Huljak has played in all 27 of the Tigers games the past two seasons.
Zander Riegler, Sr, RB/LB – Made the most of his first year in a Tigers uniform and should expand on it as a senior. Riegler ran for 320 yards averaged, 8.0 yards per carry and found the end zone six times in 2021.

2022 SCHEDULE
Sa – 08/20/22 – at Fairdale (7-6 in 2021) – 7:30 PM
Fri – 08/26/22 – PAINTSVILLE (6-6) – 7:30 PM
Fri – 09/02/22 – at Somerset (2-9) – 7:30 PM
Fri – 09/09/22 – SIMON KENTON (2-9) – 7:30 PM
Fri – 09/16/22 – at Covington Catholic (9-4) – 7:00 PM
Fri – 09/23/22 – BYE
Fri – 09/30/22 – DIXIE HEIGHTS (7-5) – 7:30 PM
Fri – 10/07/22 – HOLY CROSS (4-8)– 7:30 PM
Fri – 10/14/22 – LLOYD (3-7) – 7:30 PM
Fri – 10/21/22 – at Newport (4-8) – 7:00 PM
Fri – 10/28/22 – at Newport Central Catholic (9-4) – 7:00 PM
POSTSEASON POWERHOUSE
In the postseason, over the last 15 years under Rash, Beechwood, is a combined 57-9 (seven of those losses were to Mayfield) for an .864 winning %, with seven state titles and 14 trips to the state semi-finals (final four).