2022 Snapshot: Simon Kenton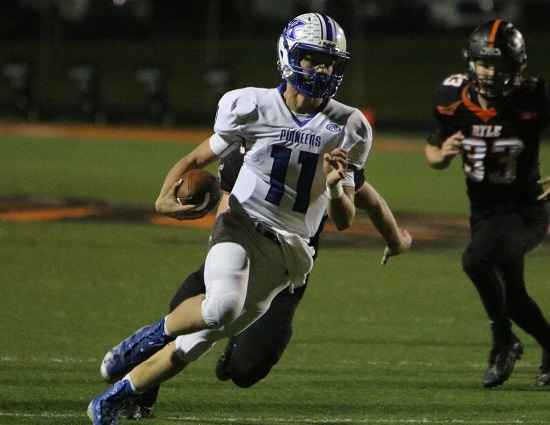 Simon Kenton QB Chase Crone (photo by Dan Bieneke/TriStateFootball.com)
It has been a rough couple of years at Simon Kenton. The Pioneers head into 2022 having had back-to back losing seasons for the first time since 2003-04. The program's only head coach in the 21st century, Jeff Marksberry is also gone. He is replaced by the man who proceeded him at the school from 1997-99, Roy Lucas, Jr. With nine starters returning on offense and seven coming back on defense, Simon Kenton is set up to get back on the winning warpath that has been so commonplace over the past two decades.
Getting back over .500 isn't going to be easy for the Pioneers. The 2021 combined record of Simon Kenton's opponents was 84-41 (.683 winning %). They will face seven teams that won at least seven games including four foes that had 11 victories or more.
The Simon Kenton offense is going to be highly entertaining. They must stay healthy, depth has yet to develop beyond the tier one players. The Pioneers are really going to be able to showcase all of their talent on this side of the ball as long as they aren't consistently trailing by double-digits in the second half of games.
Success starts on defense for the Pioneers. Over the last 15 games dating back to October 24th, 2020, Simon Kenton has allowed 42.3 points per contest while giving up 50-plus point five times. The Pioneers are 2-13 in that span. The team can't rely on the offense winning games 45-42 on a regular basis. Accountability on the defensive side of the ball is a top priority.
Class 6A, District 6
2021 RECORD: 2-9, 1-3 Class 6A, District 6
COACH: Roy Lucas Jr. (8-22 at Simon Kenton, three years, 69-88 overall, 14 years)
HONOR ROLL
Chase Crone, Sr, QB – The leader of the Simon Kenton offense. Crone is one of the area's most productive players. He was named NKY Top 26 as a junior and the Class 6A, District 6 Player of the Year as a freshman. Crone has amassed 7,230 yards of total offense (5,210 pass, 2,020 yards rush) and accounted for 68 touchdowns (39 pass, 29 rush) in his career.
Chase Williams, Sr, WR – Emerged as one of the top receivers south of the Ohio River in 2021. Williams caught 59 balls for 800 yards and six touchdowns. He was named Second Team All-NKY for his efforts. On defense, he had 21 total tackles and an interception.
Aba Selm, Jr, OL – There have been some outstanding linemen to come out of Simon Kenton and this junior is well on his way to throwing his name into that group. The 6-foot-4, 295-pound Selm was named Second Team All-NKY as a sophomore. He picked up his first Division I offer in March from Eastern Kentucky.
OTHER RETURNEES
Jayden Lawson, Sr, RB/S – One of the top running backs in Northern Kentucky. Lawson, who is back for his third season as a starter, has run or 1,804 yards, hauled in 17 receptions for 225 yards and found the end zone 23 times (20 rsuh, three receptions) in a Pioneers uniform.
Jake Puthoff, Jr, OL – The 6-foot-3, 280-pound junior is back for his second year as a starter up front.
Kaleb Russell, Sr, OL – The 6-foot-3, 295-pound lineman returns for his second year as a starter.
CJ Heflin, Sr, C – The 6-foot-3, 250-pound center is back for his second year as a starter on the o-line.
Nathan Beiber, Sr, OL – The 6-foot-3, 280-pound senior is one of five returning starters on the offensive line.
Jackson Galbraith, Sr, WR – Will have some big moments as a senior with so many other Pioneers weapons garnering attention. Galbraith hauled in 10 receptions for 176 yards and two touchdowns last all.
Josh Bowling, Sr, LB – Will go down as one of the best linebackers in school history if he has another season like 2021. Bowling tallied 123 total tackles, had a sack, forced two fumbles and recovered fumble. He has 200 total tackles, nine tackles for losses and four sacks at the varsity level.
Josh Brophy, Sr, DE – Fared well in his debut as a starter last fall. Brophy was in on 32 total tackles, had a sack and a fumble recovery.
Aiden Harris, Sr, DE – Will look to get into the backfield more often after a solid junior campaign. Harris tallied 40 total tackles and had five tackles for losses a year ago.
Mark Ober, Jr, LB – Back for a second season as a starter. Ober registered 52 total tackles and five tackles for losses in 2021.
Lucas Ferment, Sr, DB – Will be called upon to lead a young defensive backfield. Ferment recorded 35 total tackles with two takeaways (one FR, one INT) as a junior.

NEWCOMERS
The Pioneers hope seniors DB Brayden Ross along with juniors WR/DB Nathan Kitchens, DB Luke Scheiber and DB Corey Frantz can provide much needed help in the secondary. Kitchens showed promise on both sides of the ball with five receptions, 11 total tackles and an interception a year ago. Classmate LB Kaleb Bleier is primed for a breakout 2022 campaign.
The offense will add depth with sophomore RB Durrell Turner as well as juniors OL/DL Cohen Schmidt and WR Carter Blades. Turner teamed with Lawson could make the Simon Kenton backfield one of the most potent in Northern Kentucky.
2022 SCHEDULE
Fri – 08/19/22 – at Oldham County (8-3 in 2021) – 7:30 PM
Fri – 08/26/22 – at Highlands (5-6) – 7:00 PM
Fri – 09/02/22 – SOUTHWESTERN (11-2) – 7:30 PM
Fri – 09/09/22 – at Beechwood (15-0) – 7:30 PM
Fri – 09/16/22 – BYE
Fri – 09/23/22 – CONNERSVILLE (3-9) – 7:30 PM
Fri – 09/30/22 – CORBIN (12-1) – 7:30 PM
Fri – 10/07/22 – at Dixie Heights (7-5) – 7:00 PM
Fri – 10/14/22 – at Campbell County (1-10) – 7:00 PM
Fri – 10/21/22 – RYLE (9-4) – 7:00 PM
Fri – 10/28/22 – WOODFORD COUNTY (13-1) – 7:30 PM