2022 Snapshot: West Carrollton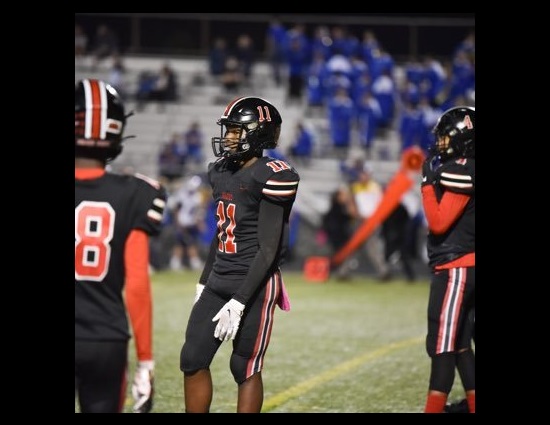 West Carrollton WR/DB Dexter Pitts (photo courtesy West Carrollton football)
There is a lot of work to do and attitudes to be changed at West Carrollton for new head coach Chris Mobley. The Pirates have been mired in anonymity for more than a decade. West Carrollton heads into 2021 having lost 10 straight contests. The Pirates haven't beaten an OHSAA sanctioned team that has finished a regular season above .500 since besting Springfield Shawnee on September 4th, 2009. A span of 126 games.
"Participation is up and the "buy in" has been really good so far since I've been here. We will be young but extremely hard working. The kids are excited about our new spread scheme. Quarterback Logan Cloyd has a lot of playmakers to use on offense," Mobley states.
West Carrollton will build upon its team speed. The Pirates staff is hoping it can offset the squad's inexperience.
Gaining confidence early on, in the season, will be no easy chore for Mobley's young Bucs. The combined 2021 record of the first four teams on the West Carrollton schedule was 34-14 (.708 winning %). Pirates fans have some patience and some comfort in knowing that this program will be heading in the right direction by years end.
Division II, Region 8
2021 RECORD: 0-9, 0-8 MVL Valley
COACH: Chris Mobley (0-0 at West Carrollton, first year; 26-29 overall, six years)
TOP RETURNEES
Logan Cloyd, Sr, QB – A first year starter in 2020. Cloyd should be able to excel in the new spread scheme. On top of passing, the 6-foot-3, 235-pound quarterback will get his fair share of carries as he isn't afraid to run downhill.
Kanden Gibbs, Sr, LB – The Pirates returning leading tackler who will anchor the defense. Gibbs has a nose for the ball and is very physical. He is a scholar student (4.06 GPA) who has excellent leadership skills and is cerebral on the field.
Aret Kadiri, Sr, DB – Back for his third year as a starter. That experience has Kadiri confident going into 2022. He does a great job of using his speed and length in coverage. Kadiri is starting to generate Division I college interest.
Antonio Robinson, Jr, WR/DB – All signs point to a breakout season for Robinson. He will be one of the primary people touching the ball for the Pirates offense. Robinson was a full-time starter last year at defensive back.
Dexter Pitts, Jr, RB/LB – A full time starter at linebacker and safety as a sophomore. Pitts will also see time at running back this season.
Chylan Ingram, So, WR/DE – Played mostly defensive end as a freshman and will do the same this fall. He will also compete for a starting wide receiver position. The 6-foot-5, 205-pound Ingram has the potential and size to end up being a big-time recruit.
NEWCOMERS
Bradyn "Moose" Lurry, Sr, WR/DB – Moose moved to Ohio during the end of last season, so he didn't get a chance to play much. Lurry has put in a ton of work this offseason. He is very electric with the ball in his hands and will play in the slot position opposite of playmaker Robinson.
Raishawn Riley, Sr, WR/DB – A starter from the basketball team that is giving football a shot. With his size at 6-foot-3, 210-pounds and skill set he will be a welcome addition to a potentially explosive West Carrollton offense.
Cole Gable, Jr, OL/DL – 6-foot-3, 265-pound Gable will be a first-year starter and leader of the offensive line group.
Durrell Pope, Fr, RB/WR – This incoming freshman is the most explosive athlete in the program. Pope will line up at wide receiver, running back and help in the return game. He is very comparable to Moeller receiver, Tennel Bryant.
PLAYOFF HISTORY
(three appearances, 1-3) – 2020, 2009, 2005
2022 SCHEDULE
Fri – 08/19/22 – MIAMISBURG (6-5 in 2021) – 4:30 PM
Th – 08/25/22 – at Piqua (12-1) – 7:00 PM
Fri – 09/02/22 – STEBBINS (6-5) – 7:00 PM
Fri – 09/09/22 – TIPPECANOE (10-3) – 7:00 PM
Fri – 09/16/22 – at Butler (3-7) – 7:00 PM
Fri – 09/23/22 – GREENVILLE (2-8) – 7:00 PM
Fri – 09/30/22 – at Sidney (5-6)– 7:00 PM
Fri – 10/07/22 – TROY (6-4)– 7:00 PM
Fri – 10/14/22 – at Xenia (5-5) – 7:00 PM
Fri – 10/21/22 – at Fairborn (1-7) – 7:00 PM