2022 Snapshot: East Central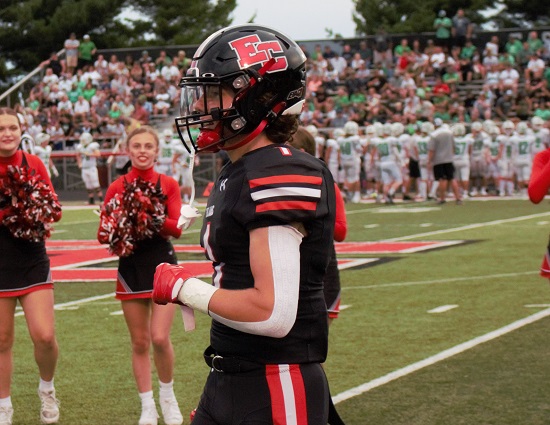 East Central WR/RS Eli Aston (photo by Greg Shoemaker/TriStateFootball.com)
It just feels like East Central is going to win another state title sooner rather than later. Whether its this year, next year or both the Trojans have the right mix of talent to make special things happen in St. Leon. The beauty of the program is that they will play anyone, anytime, anywhere. This squad is not in awe any foe and is eager confront all obstacles put in front of them.
"Our strength will be playing stout defense and getting the ball into our play-makers hands on offense. Our linebackers and defensive linemen should be solid," head coach Jake Meiners states. "We are going to continue to challenge ourselves with our regular season schedule so that we are prepared to hopefully make another deep playoff run."
There are some questions but nothing that is too truly concerning to Meiners. "We graduated our entire defensive secondary and four out of our five offensive linemen. The good news is that we have a lot of guys ready to step in and fill those roles. We will have some intense position battles this offseason."
The schedule will test East Central with five of its first six opponents posting winning records a year ago. The other contest is on the road against rival Harrison. After that stretch, the record may not reflect how good the Trojans really are heading into Week 7 but expect this team to be a Class 4A postseason force.
Class 4A, District 23
2021 RECORD: 10-3, 3-0 Class 4A, Sectional 23
COACH: Jake Meiners (29-7 at East Central, three years; 29-7 overall)
HONOR ROLL
Eli Aston, Sr, WR/RS – An electric athlete who is dangerous wherever he lines up. Aston led the Trojans with 44 receptions for 752 yards and nine touchdown catches. As a return specialist, Aston averaged 33.7 yards per kickoff return, 13.4 yards per punt return with two kickoff and two punt returns for touchdowns. He finished 1,626 all-purpose yards and 16 total touchdowns (nine rec., three rush, two KR, Two PR) on his way to IFCA Class 4A Junior All-State Team (WR) and First Team All-TriState Football (RS) honors.
Cole Burton, Jr, QB – A young talent with a live arm who is a fantastic leader. Burton had a great sophomore season throwing for 1,749 yards with 19 touchdown tosses and only four interceptions. Burton also ran for 162 yards and six touchdowns. He was named Class 4A All-EIAC for his efforts.
Louis Gray, Sr, DL – Will anchor East Central d-line again after a successful junior campaign. Gray had 66 total tackles, four tackles for losses, forced two fumbles, and recovered two fumbles including a scoop-and-score. He was named Class 4A All-EIAC (DL) for his work.
Ryan Brotherton, Jr, WR/ATH – A matchup problem for most teams because of his length. Brotherton is a dynamic receiver and can be very effective running the ball as well. As a sophomore, Brotherton amassed 1,126 all-purpose yards (619 rush, 452 rec), had 23 receptions and found the end zone 14 times (eight rush, six rec) on his way to Class 4A All-EIAC (HB) accolades.

OTHER RETURNEES
Josh Ringer, Jr, RB/ATH – Missed most of 2021 with an ankle injury but made it back for the playoffs. Ringer still ended up leading the Trojans in rushing with 678 yards. He can hurt teams from multiple positions on the field. Just how good can Ringer be? In 13 varsity games before his junior year begins, Ringer has run for 1,392 yards with 16 rushing touchdowns and 1,598 all-purpose yards.
Noah Schneider, Jr, OL – A big "cat" at 6-foot-2 and 275-pounds, who has great strength. Schneider will anchor the Trojans o-line this season after a very productive season and a sophomore.
NEWCOMERS
Seniors OL Patrick Schneider, OL Jacob Sedgebeer, DL Christian Garrison, DB Jeremy Proctor (SR/DB), juniors DB Chase Bellman, LB AJ Garrison, LB Brayden Rouse, DL Eli Ertel and sophomore DB Carson Pieczonka are ready to crack the starting lineup and make an impact from the opening kickoff versus Lawrenceburg.
PLAYOFF HISTORY
(89-36 overall)
Sectional Champions (20) – 2020, 2018, 2017, 2016, 2015, 2010, 2009, 2005, 2003, 2002, 2000, 1998, 1996, 1994, 1993, 1992, 1989, 1987, 1985, 1980
Regional Champions (8) – 2017, 2016, 2015, 2003, 1998, 1994, 1993, 1985
State Champions (2) – 2017, 1994
2022 SCHEDULE
Fri – 08/19/22 – LAWRENCEBURG (11-2 in 2021) – 7:30 PM
Fri – 08/26/22 – at Harrison (OH) (4-6) – 7:30 PM
Fri – 09/02/22 – at Moeller (OH) (11-4) – 7:00 PM
Fri – 09/09/22 – FRANKLIN COUNTY (6-4) – 7:00 PM
Fri – 09/16/22 – BATESVILLE (6-5) – 7:00 PM
Fri – 09/23/22 – at South Dearborn (7-4) – 7:00 PM
Fri – 09/30/22 – at Connersville (3-9)– 7:00 PM
Fri – 10/07/22 – GUERIN CATHOLIC (3-8) – 7:30 PM
Fri – 10/14/22 – RONCALLI (12-1) – 7:30 PM
Fri – 10/21/22 – TBD: IHSAA Sectional 23 Playoffs
RACKING UP THE VICTORIES
Nine times in the last 13 years East Central has won 10 games or more. The Trojans have 11-plus wins in five of their last seven seasons. They are a combined 75-18 (.806 winning %), in that span.