Dayton Round-Up: Unbeaten Elks Knockout Northmont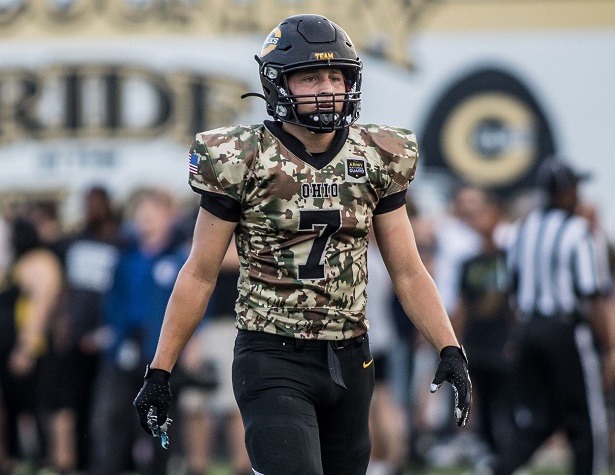 Centerville WR/DB Nic Bruder (photo by Shelby Frieszell/TriStateFootball.com)
In a battle that was supposed to be a defensive struggle the Centerville offense stole the show. The Elks racked up 413 yards of total offense including 319 behind the arm of quarterback Drake Wells. The junior threw for three scores and ran for another. The passing yards and passing touchdowns  were career bests for Wells.
Senior Nic Bruder had four receptions for 105 yards and two touchdown catches for the victors. Sophomore Jamar Montgomery had a breakout game with career highs of six receptions and 94 receiving yards.
The Northmont defense came into the contest having given up just 13 points and riding the wave of three straight shutouts. The Centerville defense has been even better allowing just 5.2 points per game with no one scoring more than 14 on them. The unbeaten Elks have handed Northmont and Gahanna Lincoln their only losses on the season.
SCORING BY QUARTERS
Northmont 6-0-0-0-6
Centerville 9-14-7-7-37
SCORING PLAYS
C: Nic Bruder 71 pass from Drake Wells (Jackson Courville kick)
N: Cahke' Cortner 9 run (kick failed)
C: Team Safety
C: Bryce Cowgill 19 pass from Wells (Courville kick)
C: Wells 1 run (Courville kick)
C: Bruder 8 pass from Wells (Courville kick)
C: Emable Wakilongo 1 run (Courville kick)
RECORDS: Northmont (4-1, 1-1); Centerville (5-0, 2-0)
UP NEXT: Northmont is at Miamisburg (2-3, 0-2); Centerville is at Springboro (3-2, 2-0)
Here are some other scores from Dayton area teams in action in Week 4:
GWOC
WAYNE 48, MIAMISBURG 26 – Zachariah Williams found the end zone five times on 21 carries for 105 yards. The senior has 578 yards and nine touchdowns rushing on the year.
SPRINGFIELD 49, BEAVERCREEK 17 – Springfield quarterback Bryce Schondelmyer went 17-18 for 343 yards with six touchdown passes. The senior has thrown for 605 yards with nine scoring tosses and no interceptions.
SPRINGBORO 21, FAIRMONT 19
MVL
TIPPECANOE 45, STEBBINS 7 – For a second straight week Tippecanoe running back Xavier Jones runs for four touchdowns. The junior also added a career high 217 yards on the ground as the Red Devils remain unbeaten. Jones has 603 yards and 10 touchdowns rushing on the season.

BUTLER 29, WEST CARROLLTON 14
XENIA 55, GREENVILLE 21
TROY 40, FAIRBORN 7
PIQUA 42, SIDNEY 6
GCL CO-ED – League finishes the non-conference portion of the schedule a combined 21-9.
McNICHOLAS  24, ROGER BACON 14
CARROLL 44, TALAWANDA 37
ALTER 24, NORTHWEST 20
BADIN 23, ROSS 0
EDGEWOOD 35, CHAMINADE JULIENNE 21
SWBL
MONROE 34, OAKWOOD 20 – Junior quarterback Ryan Miles ran for a career high 263 yards on 13 carries with a pair of touchdowns as Monroe improved to 3-2. It was the seventh time and third straight contest that the junior has run for more than 100 yards in a game. Miles has 550 yards and eight touchdowns rushing. He is averaging 9.8 yards per carry.
VALLEY VIEW 56, MADISON SENIOR 0
EATON 31, WAYNESVILLE 21
BELLBROOK 35, FRANKLIN 7
BROOKVILLE 35, CARLISLE 6
DPS – The league is a combined 3-21 through five weeks.
PONITZ 37, THURGOOD MARSHALL 34
COLUMBUS EAST 28, BELMONT 0
FORT LORAMIE 34, DUNBAR 22
SUMMIT COUNTRY DAY 16, MEADOWDALE 10
2022 Dayton Round-Ups
WEEK 4: Wildcats Ward Off Wayne
WEEK 3: Piqua Perfect, Trounces Troy
WEEK 2: Bellbrook Belts the Burg
WEEK 1: Elks Roar on Road