Dayton Round-Up: Wildcats Ward Off Wayne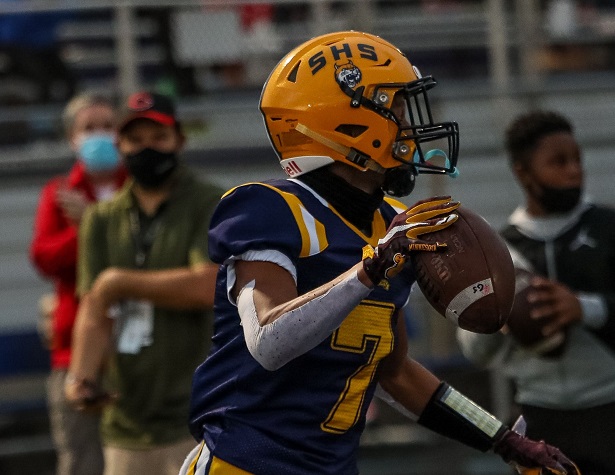 Springfield WR Anthony Brown (photo by Shelby Frieszell/TriStateFootball.com)
Senior quarterback Bryce Schondelmyer threw three first half touchdown passes and the Springfield defense would shine after intermission in an impressive victory over Wayne in the GWOC opener.
Schondelmyer found his classmates Daylen Bradley twice and Shawn Thigpen on scoring strikes, right before halftime as Springfield built a 21-7 advantage that would hold up, the rest of the night. Schondelmyer finished the evening going 21-29 for 262 yards with the three touchdown passes and no interceptions. His fantastic trio receivers did their usual damage. Bradley had six receptions for 55 yards. Thigpen reeled in three balls for 46 yards. Kentucky commit Anthony Brown led all receivers with seven receptions and 108 yards.
As good as their passing offense was, the Wildcats pass defense trumped that performance holding Wayne to just 67 yards passing on 9-32 attempts. The Springfield secondary was super! The Wildcats held Wayne star receiver Roosevelt Mukes III to one yard on one catch. Mukes III came into the game with 23 receptions for 371 yards and three straight contests of 110+ yards receiving. Junior Aaron Scott came up with his third interceptions in the last two games for the victors.
SCORING BY QUARTERS
Wayne 7-0-0-0-7
Springfield 7-14-0-0-21
SCORING PLAYS
W: Teaunn Hunter 12 pass from Tyrell Lewis (Luke Daulton kick)
S: Daylen Bradley 2 pass from Bryce Schondelmyer (Samuel Fralick kick)
S: Bradley 14 pass from Schondelmyer (Fralick kick)
S: Shawn Thigpen 5 pass from Schondelmyer (Fralick kick)
RECORDS: Wayne (3-1); Springfield (3-0)
UP NEXT: Wayne hosts Miamisburg (2-2); Springfield is at Beavercreek (2-2)
Here are some other scores from Dayton area teams in action in Week 4:
GWOC
NORTHMONT 28, FAIRMONT 0 – The Northmont (4-0, 1-0) records its third straight shutout and handing Fairmont (3-1, 0-1) its first loss of the year. The Thunderbolts have been outstanding on defense allowing just 3.2 points per game, a miniscule 69.2 yards of total offense per game (52.0 pass, 17.2 rush) with 12 takeaways. Another defensive battle awaits with Centerville (4-0, 1-0) on Friday. The Elks are giving up just 5.0 points per contest.
SPRINGBORO 49, BEAVERCREEK 10 – Springboro (3-1, 1-0) junior Willizhaun Yates has five touchdowns (four rush, one rec) on 28 offensive touches and is averaging 102.7 yards rushing and 8.8 yards per carry over the last three tilts.

CENTERVILLE 17, MIAMISBURG 0
MVL
XENIA 28, PIQUA 0 – The shocker of the night. Piqua (3-1, 2-1) had not given up a point and score 50-plus points in all three of its wins. Xenia (4-0, 3-0) makes a statement with its second straight shutout. The Buccaneers are giving up just 5.7 points per contest. Trei'Shaun Sanders posts his fourth straight rushing performance of 150-plus yards with three scores on the ground upping his season total to 11.
TIPPECANOE 64, WEST CARROLLTON 0
FAIRBORN 36, GREENVILLE 35
TROY 17, STEBBINS 7
SIDNEY 12, BUTLER 6
GCL CO-ED
CHAMINADE JULIENNE 50, HUGHES 46 – Ina game that saw each team find the end zone seven times Chaminade Julienne (3-1) never trailed on its way third straight victory. All 482 of the Eagles yards and their seven touchdowns came on the ground. Senior Josiah Payne ran for 134 yards and three scores. Sophomore Aiden Lowrey had a game high 168 yards rushing for the victors. He now has 503 yards and is averaging 11.2 yards per carry on the season. Chaminade is averaging 365.2 yards per game on the ground with 18 touchdowns.
BADIN 42, ROGER BACON 0
BISHOP HARTLEY 40, McNICHOLAS 31
TROTWOOD-MADISON 26, ALTER 24
NORTHWEST 40, CARROLL 7
EDGEWOOD 10, FENWICK 0
SWBL
BROOKVILLE 36, MONROE 22 –
WAYNESVILLE 44, MADISON SENIOR 14
VALLEY VIEW 38, OAKWOOD 3
FRANKLIN 34, CARLISLE 18
BELLBROOK 24, EATON 14
DPS – The league is a combined 2-17 through two weeks.
BETHEL-TATE 49, PONITZ 15
ROSS 42, DUNBAR 7
MOUNT HEALTHY 71, THURGOOD MARSHALL 0
TAFT 51, MEADOWDALE 0
2022 Dayton Round-Ups
WEEK 3: Piqua Perfect, Trounces Troy
WEEK 2: Bellbrook Belts the Burg
WEEK 1: Elks Roar on Road