VOTE: Player of the Week – Week 9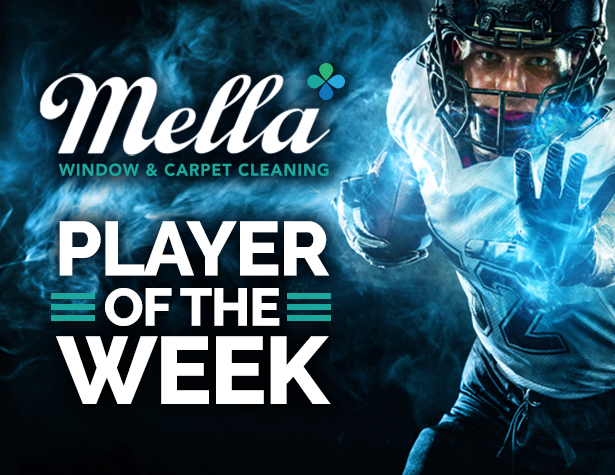 TriStateFootball.com is proud to present the Mella Window & Carpet Cleaning Player of the Week for the 2022 regular season. Players will be nominated from the Cincinnati, Northern Kentucky and Eastern Indiana areas throughout the season.
Each week a group of nominees will be selected from a large list of some of the area's top performances and will be included in an online voting poll to determine a winner. The poll will launch weekly on Sundays. Voters can vote once per hour, per IP address (we track it on the back end so cheating will result in votes being voided) through Wednesday at 12:00 PM Eastern weekly.
Once a player has won, they are ineligible to be nominated a second time. Players can only be nominated up to a max of three times during the course of the season.
All of the season winners will be recognized and receive a plaque at the TriStateFootball.com Year in Review Show in February of 2023 (more details announced once season concludes).
+++
Take advantage of this internet special at Mella Window & Carpet Cleaning:
+++
Max Autry, Madeira, Sr,. WR/DB – contributed on both sides of the ball with 114 yards of total offense and a touchdown on just eight touches while adding an interception return for a TD and five total tackles on defense as the Mustangs remained unbeaten with a 37-0 win over Taylor.
Logan Chesser, Clinton-Massie, So., RB – netted 132 yards and three scores on just 14 rushing attempts as Clinton-Massie doubled up New Richmond, 42-21.
Tavionne Crosby, Edgewood, Sr., RB – rushed 20 times for 135 yards and two touchdowns to help lead the Cougars in a 30-7 victory over Ross.
Charles Hawkins, Taft, Jr., RB – finished with 136 yards and a touchdown on 13 carries as Taft won 39-0 versus Hughes.
CJ Hester, Wyoming, Sr., RB – records fell on Friday as he finished with 225 yards and seven touchdowns on 24 carries in the Cowboys' 65-0 rout of Finneytown.
Justin Hill, Winton Woods, Jr., DB – came up with a 80-yard pick six vs. Loveland as the Warriors won 33-7.
Sean Krueckeberg, Mason, Sr., LB – had two interceptions in Comets' 30-7 win over Fairfield.
Charlie Noon, Highlands, Sr., WR – return a kick 64 yards for a TD on special teams while adding 93 yards of total offense on 11 touches as the Bluebirds beat CovCath for the first time since 2015.
Jayce Parsons, Deer Park, Jr., QB – passed 91 yards and two scores and registered another 151 yards and a TD on the ground as the Wildcats knocked off Indian Hill in a CHL battle, 38-37.
Justin Re, Elder, Sr., WR – registered 107 yards and two touchdowns on three catches as Elder took down Bishop Chatard, 21-16.
Luke Runyon, Newport Central Catholic, Sr., RB/S – contributed 123 yards and two touchdowns of total offense on just seven touches and added a pick and 3.5 tackles on defense to help the Thoroughbreds knock off Dayton, 54-0.
Davontae Ryan, Holy Cross, Jr., WR/DB – finished with four catches for 117 yards and two scores as the Indians outlasted Newport, 26-22.
Griffin Scalf, Anderson, Sr., QB – completed 22-of-24 passes for 396 yards and five touchdowns as the Raptors rolled past Turpin, 62-20.
Jackson Smith, Walton-Verona, Jr.,, QB – threw for 121 yards and three scores on 13-of-20 passing and rushed 14 times for 69 yards and a TD to help the Bearcats beat Shawnee, 28-0.
Connor Yeager, Clermont Northeastern, So., DE – came up big on defense with three fumble recoveries, including one for a touchdown, in the Rockets' 50-22 triumph over East Clinton.
Diego Yun, Northwest, Sr., QB – Passed for 258 yards and three touchdowns on 16-of-24 passing and rushed for 71 yards and another score on 11 attempts in the Knights' 54-42 win over Harrison.
*Nominate players weekly before Sunday at 9AM by emailing us.