Dayton Round-Up: Bellbrook Ekes Out 8th Straight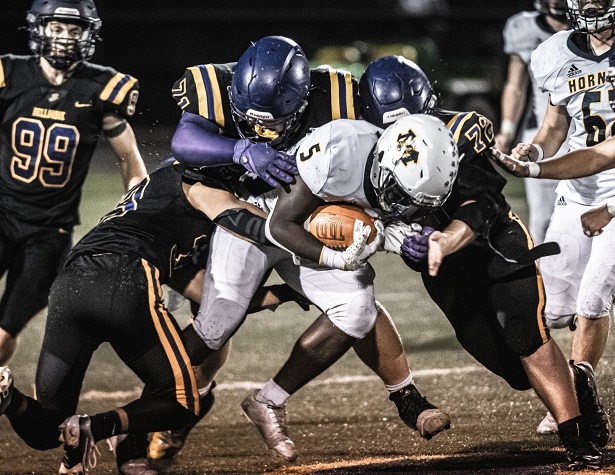 Monroe RB EJ Jyan (photo by: AJ Fullam/6s photo.com)
A defensive dogfight saw Bellbrook outlast Monroe on the strength of a late fourth quarter 26-yard field goal by sophomore Riley Ferrin. It was the eighth straight victory for the Golden Eagles and more importantly, it clinched the SWBL East championship. It marks the first time in program history that Bellbrook has won three consecutive league titles.
Elijah Brooks got the scoring started with a three-yard touchdown run and Ferrin added the extra point giving the Golden Eagles a 7-0 first quarter advantage. That lead would stand into the fourth quarter when a three-yard run by Monroe back Elijah Jackson hit paydirt and an extra point by Bryce Reynolds tied it up.
Minutes later Ferrin would hit the game winner. It was his fourth field goal of the year. Bellbrook was held to 173 yards on offense. Brooks had a season low 63 yards on the ground after seven straight 100-plus yard rushing performances. The Golden Eagles defense was stellar again holding an opponent to 14 points or less for the eighth time in nine contests this season.
Monroe played well enough to win but unfortunately, the scoreboard will not reflect that. Jackson ran for 59 yards and his 15th touchdown of the season. On defense he had 10 total tackles (six solo) and two tackles for losses.
SCORING BY QUARTERS
Monroe 0-0-0-7-7
Bellbrook 7-0-0-3-10
SCORING PLAYS
B: Elijah Brooks 3 run (Riley Ferrin kick)
M: Elijah Jackson 3 run (Bryce Reynolds kick)
B: Ferrin 26 FG

RECORDS: Monroe (6-3, 4-2); Bellbrook (8-1, 6-0)
UP NEXT: Monroe is at Eaton (5-4, 3-3); Bellbrook is at Valley View (8-1, 6-0)
Here are other scores and news from Dayton area teams in action in Week 9:
GWOC
SPRINGFIELD  39, MIAMISBURG 0 – Since losing to Fairmont four weeks ago Springfield (7-1, 5-1) has shown no mercy on opponents. The Wildcats are 3-0 since that loss having outscored those foes by a combined 131-24. Junior Da'Shawn Martin had eight receptions for 115 yards and a pair of second quarter touchdown catches as Springfield blanks Miamisburg (4-5, 2-4).  Senior Anthony Brown chipped in with five receptions for 99 yards and a score. It was the 30th touchdown of Brown's career and 25 receiving.
CENTERVILLE 7, FAIRMONT 0
WAYNE 17, SPRINGBORO 13
NORTHMONT 42, BEAVERCREEK 0
MVL
TIPPECANOE 63, FAIRBORN 27 – Junior Evan Liette had a night to remember as Tippecanoe (8-1, 7-1) continued its excellent campaign taking care of business against Fairborn (1-8, 1-7). Liette had touchdown receptions of 41, 55 and 59-yards as well as a 55-yard scoring run on his only carry. He finished the evening with 231 all-purpose yards on six touches (four receptions for 162 yards) and four trips to the end zone. Red Devils quarterback Liam Poronsky went 6-8 for 208 yards, the three scoring strikes to Liette and a pair of rushing touchdowns.

TROY  61, GREENVILLE 13
XENIA 64, WEST CARROLLTON 20
PIQUA 24, BUTLER 0
STEBBINS 34, SIDNEY 27
GCL CO-ED
CHAMINADE JULIENNE 36, McNICHOLAS 29 – CHAMINADE JULIENNE 36, McNICHOLAS 29 – Josiah Payne ran for a career high 234 yards as Chaminade Julien (5-4, 2-2) edged past McNicholas (5-4, 2-2). The Eagles only threw on pass (incomplete) in the game and churned out 414 yards on 65 rushes. Quarterback Jonathan Peltier had three rushing scores and Donaven Cummings added two more rushing touchdowns for the victors. The trio of Payne (813-8), Peltier (643-8) and Cummings (530) have combined to run for 1,986 yards and 23 touchdowns on the year.
BADIN 14, FENWICK 6
ALTER 22, CARROLL 21, OT
SWBL
BROOKVILLE 36, OAKWOOD 15
BELLBROOK 10, MONROE 7
VALLEY VIEW 38, EATON  17
FRANKLIN 39, WAYNESVILLE 37
CARLISLE 38, MADISON SENIOR 24
DPS
DUNBAR 60, THURGOOD MARSHALL 36 – Jayvian Graves ran for four touchdowns and 145 yards as Dunbar (3-6, 3-0) won for the third time in its last four games after starting the year 0-5. The junior also threw for 105 yards. Classmate Dai'Vontay Young churned out 122 yards and two touchdowns on the ground. The Wolverines finished the night with 367 yards rushing.
TROTWOOD-MADISON 44, MEADOWDALE 0
PONITZ 20, BELMONT 7
2022 Dayton Round-Ups
WEEK 8: Firebirds Stay Hot, Burn Wayne
WEEK 7: Badin Bests Alter Again
WEEK 6: Fairmont Stuns Springfield
WEEK 5: Unbeaten Elks Knockout Northmont
WEEK 4: Wildcats Ward Off Wayne
WEEK 3: Piqua Perfect, Trounces Troy
WEEK 2: Bellbrook Belts the Burg
WEEK 1: Elks Roar on Road