Dayton Round-Up: Badin Bests Alter Again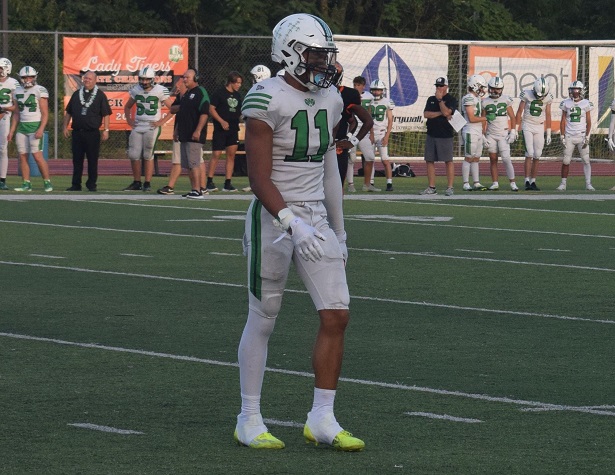 Badin WR/DB Braedyn Moore (photo by Autumn Duncan/TriStateFootball.com)
Everything was clicking for the Badin offense as they beat Alter for the fifth time in their last six meetings. The Rams churned out 473 yards on 45 offensive plays and junior quarterback Alex Ritzie threw four first half touchdown passes as the visitors built a 28-7 halftime and never looked back. It was a resounding statement to the rest of GCL-Coed squads that the balance of power in the league is firmly planted in Hamilton.
Ritzie went 19-24 for 288 yards and a career high four touchdowns passing. He now has 1,379 yards passing with 16 touchdown tosses and no interceptions in his first year as a starter.
Badin senior Carter Russo carried the ball 13 times for a personal best 152 yards and a touchdown. Classmate Braedyn Moore had five receptions for a career high 118 yards receiving and a pair of scores. The University of Cincinnati commit has had at least three catches in 14 straight games.
Alter freshman Noah Jones recorded modest but first step career highs with 85 yards passing and 84 yards rushing. The future looks very promising for this young Knights star.
Since the beginning of 2020, Badin is a combined 29-2. In that span, the Rams have allowed just 8.5 points per game, held 25 foes to 14 points or less, with 15 of those teams having been held to seven points or fewer and eight shutouts.
SCORING BY QUARTERS
Badin 14-14-0-14-42
Alter 7-0-0-7-14
SCORING PLAYS
B: Carson Cheek 30 pass from Alex Ritzie (Nick Warner kick)
A: Michael Russ 8 pass from Gavin Connor (Tony Arcuri kick)
B: Braedyn Moore 39 pass from Ritzie (Warner kick)
B: Quin Brennan 26 pass from Ritzie (Warner kick)
B: Moore 44 pass from Ritzie (Warner kick)
B: Zach Yordy 1 run (Bud Miyahara kick)
A: Noah Jones 16 run (Arcuri kick)
B: Carter Russo 49 run (Miyahara kick)
RECORDS: Badin (7-0, 2-0); Alter (4-3, 1-1)
UP NEXT: Badin hosts Chaminade Julienne (4-3, 1-1); Alter is at Fenwick (5-2, 1-1)
Here are some other scores from Dayton area teams in action in Week 7:
GWOC
WAYNE 49, NORTHMONT 14 – For the first time in his career Wayne (5-2, 3-1) quarterback Tyrell Lewis threw for more than 100 and ran for 100 yards in a game. The sophomore amassed 317 yards of total offense (215 pass, 102 rush) and accounted for five touchdowns (three pass, two rush) as the Warriors picked up their third straight victory.
SPRINGFIELD 56, SPRINGBORO 14
CENTERVILLE 37, BEAVERCREEK 6
FAIRMONT 10, MIAMISBURG 7
MVL
SIDNEY 56, WEST CARROLLTON 26 – Junior quarterback Tucker Herron threw for career highs of 252 yards and five touchdowns (four in the first half) for Sidney (3-4, 3-3) who broke a two-game skid.
PIQUA 56, GREENVILLE 3 – A week after running for a career high 204 yards, Piqua (6-1, 5-1) junior Ky Warner finds the end zone five times on the ground while picking up another 187 yards on 15 carries as the Indians top the 55-point mark for the fifth time this season.
XENIA 35, BUTLER 20
TIPPECANOE 21, TROY 7
STEBBINS 35, FAIRBORN 21
GCL CO-ED
CHAMINADE JULIENNE 45, CARROLL 7
McNICHOLAS 21, FENWICK 14
SWBL
VALLEY VIEW  49, CARLISLE 13 – Senior Jacob Clark amassed 238 all-purpose yards on 14 touches with a kickoff return, a punt return and a rushing touchdown as Valley View (6-1, 4-0) kept rolling with its fifth straight win.
BROOKVILLE 40, EATON 22
BELLBROOK 42, MADISON SENIOR 0
WAYNESVILLE OAKWOOD
MONROE FRANKLIN
DPS
DUNBAR 13, MEADOWDALE 7
BELMONT THURGOOD MARSHALL
TROTWOOD-MADISON PONITZ
2022 Dayton Round-Ups
WEEK 6: Fairmont Stuns Springfield
WEEK 5: Unbeaten Elks Knockout Northmont
WEEK 4: Wildcats Ward Off Wayne
WEEK 3: Piqua Perfect, Trounces Troy
WEEK 2: Bellbrook Belts the Burg
WEEK 1: Elks Roar on Road