Wyoming pulls out semifinal win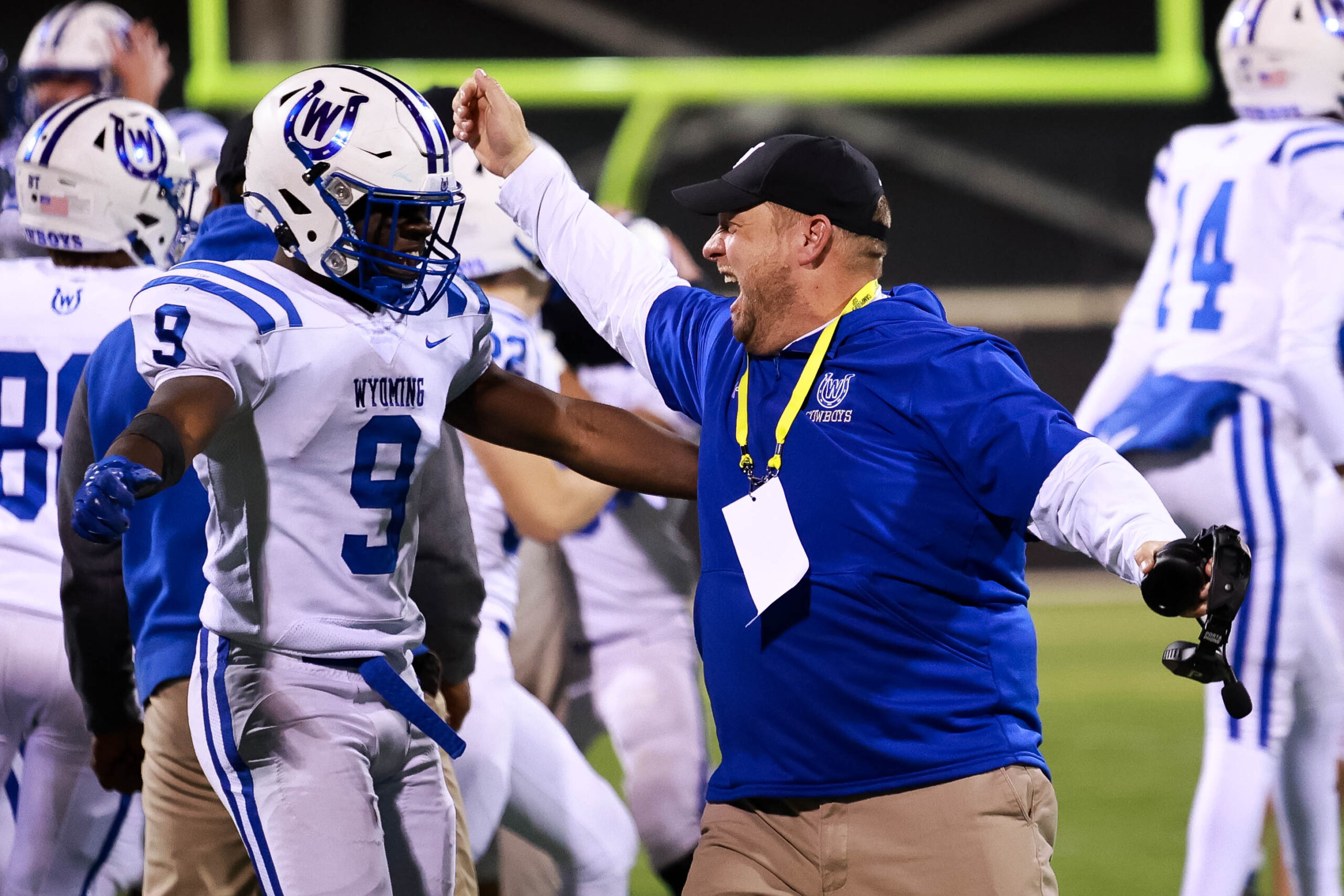 COLUMBUS, Ohio – For the fourth time in program history the Wyoming Cowboys will be playing for a state championship. This comes following the team's come-from-behind effort Saturday night in Columbus as they took down Steubenville, 32-20, in the OHSAA Division IV state semi-finals.
The two storied programs didn't disappoint in a classic matchup played at Historic Crew Stadium. The game went down to the wire and wasn't decided until junior D.J. Gray's 52-yard interception return for a score with less than a minute to play to seal the deal for Wyoming.
Aaron Hancock's team led 13-7 at the half and appeared to have the game in hand when Mr. Ohio Finalist C.J. Hester scored on a 16-yard TD pass from Quaid Hauer in the third quarter as they opened up a 19-7 lead. However, the Big Red answered with a pair of touchdown runs, capped off by a 70-yard scamper by Savier Faulks with just over eight minutes left in the contest to give Steubenville a 1-point lead.
COMPLETE PHOTOS: Wyoming vs. Steubenville
Hester, who was sidelined briefly with a lower leg injury, came back in on the ensuing drive and helped the Cowboys down the field where he finished things off with a 4-yard TD run. After a failed two-point conversion Wyoming led 25-20. The Big Red tried to answer, but the big pick six by Gray put a final nail in their coffin.
Hester failed to hit the century mark on the ground all season, but finished with 144 total yards and three touchdowns to pace the Cowboys' offense. Hauer completed 16-of-26 passes for a career-best 274 yards.
Wyoming has won two state championships (1977, 2018) and only Cleveland Glanville stands in their way of getting a third title. The two teams will face off next Saturday at Tom Benson Hall of Fame Stadium in Canton in the DIV state title game.
SCORING BY QUARTERS
Wyoming 3-10-6-13-32
Steubenville 0-7-6-7-20
SCORING PLAYS
W: Rummer 38-yard FG
S: Ostovich 1-yard RuTD (Bowers kick)
W: Rummer 36-yard FG
W: C.J. Hester 4-yard RuTD (Rummer kick)
W: Hauer 16-yard PaTD to C.J. Hester (2-pt conversion failed)
S: Ostovich 1-yard RuTD (kick failed)
S: Savier Faulks 70-yard RuTD (Bowers kick)
W: C.J. Hester 4-yard RuTD (2-pt conversion failed)
W: Gray 52-yard INT return (Rummer kick)
RECORDS: Wyoming (15-0); Steubenville (12-3)
*Stay updated on high school football updates by following @TSFootball on Twitter.