TSF 2022 Cincinnati DPOY: Jermaine Matthews Jr.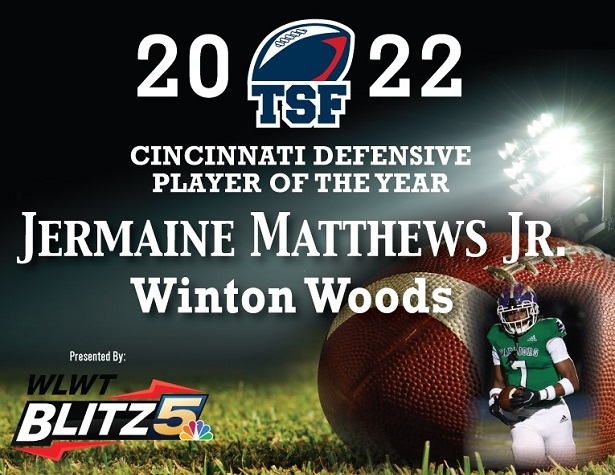 A one-man wrecking crew for the Winton Woods (12-1) defense, Jermaine Matthews Jr. was named the 2022 TriState Football Cincinnati Defensive Player of the Year, as TSF paid tribute to the area's finest from Cincinnati, Northern Kentucky, Dayton and Southeast Indiana at the Year in Review Show on Monday night, in front of a packed house at the Holy Grail in downtown Cincinnati.
The senior was in on 51 total tackles, forced four fumbles, had four fumble recoveries, six interceptions including three pick-sixes and 209 interception return yards. He was also a force on offense and special teams with a touchdown catch on four receptions, 15.7 yards on 12 punt returns and found the end zone on a punt and kickoff return. He garnered OPSWA Ohio Division II DPOY, First Team All-Ohio, Southwest District DPOY, ECC DPOY and First Team All-TSF accolades for his performance.
For his career, Matthews Jr. registered 95 total tackles, forced seven fumbles, recovered six fumbles, had 11 interceptions, 235 interception return yards and three pick-sixes for the Warriors. He is already enrolled at Ohio State.
The other 2022 TSF Cincinnati Defensive Player of the Year finalists were seniors Joe Ginnetti (Moeller), Malik Hartford (Lakota West), Breeon Ishmail (Princeton), Brandon Martin (Moeller), Jacob Smith (Milford) juniors Tayshawn Banks (Taft), Elias Rudolph (Taft) and sophomore Michael Mulvihill (Blanchester).
TriStateFootball.com was founded in 2005 and started its postseason awards in 2007. Brown is the third player from Winton Woods and fifth defensive back – Chris Williams (Winton Woods) in 2008, Sam Hubbard (Moeller) in 2013, Deshawn Pace (Colerain) in 2019 and Jyaire Brown (Lakota West) in 2021 to be named TSF Cincinnati Defensive Player of the Year.
TSF Cincinnati Defensive Players of the Year
2022 – Jermaine Matthews Jr. (Winton Woods)
2021 – Jyaire Brown (Lakota West)
2020 – Dontay Corleone (Colerain)
2019 – Deshawn Pace (Colerain)
2018 – Ivan Pace Jr. (Colerain)
2017 – Cris Oats (Winton Woods)
2016 – Kyle Bolden (Colerain)
2015 – Kyle Bolden (Colerain)
2014 – Elijah Taylor (Moeller)
2013 – Sam Hubbard (Moeller)
2012 – Shane Jones (Moeller)
2011 – Adolphus Washington (Taft)
2010 – Steven Daniels (St. Xavier)
2009 – Marcus Rush (Moeller)
2008 – Chris Williams (Winton Woods)
2007 – Brandon Mills (Colerain)