Team of the Week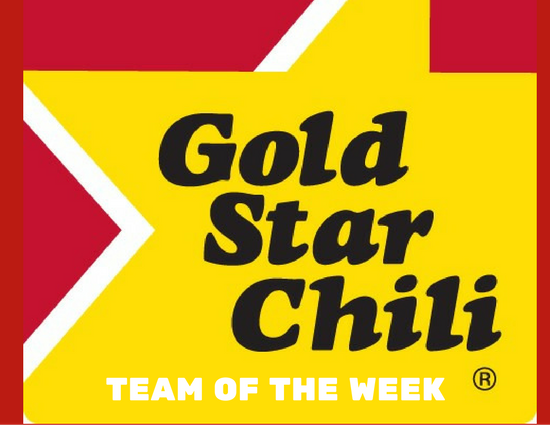 Once again this year Gold Star Chili and TriStateFootball.com partnered to present the Gold Star Chili Team of the Week during the 2017 regular season. Each week 10 schools were nominated nominated from the Tri-state area to be included in an online voting poll to determine a winner.
The poll opened up weekly on Sundays. Voters were able to vote once per hour, per IP address from Sunday through Thursday night at 6PM.
Once a team won, they were ineligible to be nominated a second time. All of the winning teams received a trophy that was presented at their school by Gold Star Chili.
Congratulations to all of this year's winning teams:
WEEK 1
WEST CLERMONT WOLVES
Defeated Princeton 28-13
WEEK 2
LITTLE MIAMI PANTHERS
Defeated Western Brown 32-0
WEEK 3
BETHEL-TATE TIGERS
Defeated Purcell-Marian 21-20
WEEK 4
LUDLOW PANTHERS
Defeated Newport 61-30
WEEK 5
EDGEWOOD
COUGARS
Defeated Harrison 28-17
WEEK 6
GOSHEN WARRIORS
Defeated Western Brown 56-0
WEEK 7
LLOYD JUGGERNAUTS
Defeated Newport 36-8
WEEK 8
SCOTT EAGLES
Defeated Bourbon County 29-20
WEEK 9
MILFORD EAGLES
Defeated Anderson 41-40
WEEK 10
LA SALLE LANCERS
Defeated Elder 13-7