TSF 2016 Kentucky DPOY: Derrick Barnes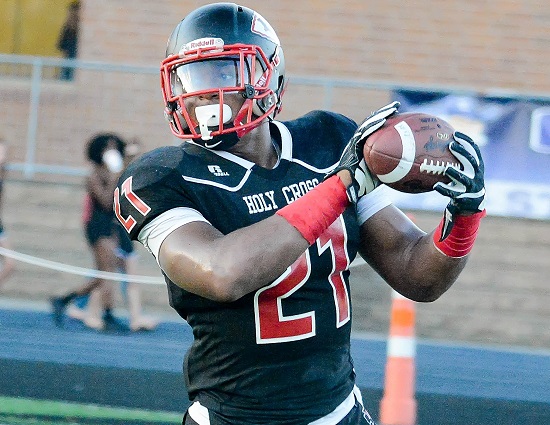 Holy Cross (10-4) senior running back/linebacker Derrick Barnes was named the 2016 TriStateFootball.com Kentucky Defensive Player of the Year as TSF paid tribute to finest from Cincinnati, Northern Kentucky, Dayton and Southeast Indiana area's high school gridiron at the Year in Review Show on Monday night at the Holy Grail, downtown Cincinnati. He was the heart-and-soul of an Indians team that made a run to the Class 2A final four. Barnes led a defense that recorded five shutouts during the regular season.
Barnes was a beast all over the field in '16. He was named the Class 2A, District 6 Player of the Year and First Team All-NKY at running back and linebacker in his final campaign as an Indian. On defense, the 6-foot-3, 243 pound Barnes was in on 126 total tackles (90 solo), forced three fumbles, recovered four fumbles and had a pair of pick sixes on his two interceptions. He was just as extraordinary on offense running for 1,567 yards with 22 touchdowns on the ground, an average of 10.4 per carry, returned a kickoff for a score and amassed 1,979 all-purpose yards. Barnes is headed to West Lafayette and will suit up for Purdue next fall.
Other finalists included four seniors – Brian Carter (Simon Kenton), Sander Rocksvag (Cooper), Hunter Ruber (Walton-Verona), Peyton Van Horn (Conner) along with juniors Justin Blackburn (Ludlow) and Alex Thurza (Scott).
TriStateFootball.com was founded in 2005 and started its postseason awards in 2007. Barnes is the 10th player to win the award and the seventh straight from a different school. Here the list of winners of this award all-time:
2016 – Derrick Barnes (Holy Cross)
2015 – Marcus Watson (Cooper)
2014 – Branden Johnson (Dixie Heights)
2013 – Nate McCoy (Gallatin County)
2012 – Cameron Fogle (Conner)
2011 – Mikel Reynolds (Boone County)
2010 – Austin Baldwin (Simon Kenton)
2009 – Brandon Roller (Highlands)
2008 – Kody Rosenhagen (Highlands)
2007 – Luke Stein (Highlands)