Khayo causes chaos for Crusaders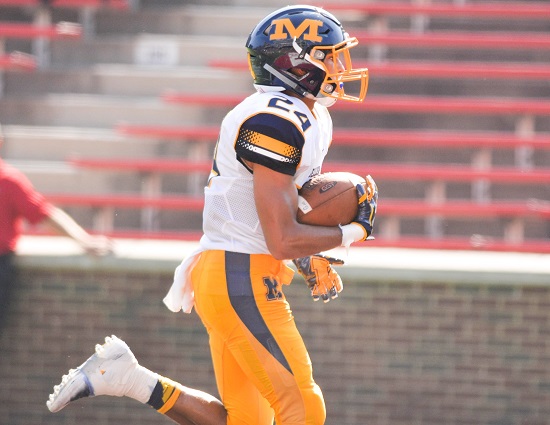 Moeller slot/RS RJ Khayo (photo by Mike Noyes/TSF)
From the first moment you see RJ Khayo you can't keep your eyes off of him. He is not your stereotypical "baby-faced manchild" Moeller player we associate with the program. In a land of giants, the 5-foot-9, 165 pound Khayo doesn't get lost. Every down, the mesmerizing talent is capable of making an "ogle-worthy" play.
Size doesn't matter with him. In 2017, Khayo will be the most respected and most feared player on the Crusaders offense.
Last fall, Khayo exploded onto the scene as a sophomore. All he did was lead Moeller in receptions (38), receiving yards (459), all-purpose yards (914) and total touchdowns (seven). On kickoff returns, he averaged 32.1 yards with two touchdowns. That production on just 6.4 touches per game earned him Division I Second Team All-Southwest District honors as a receiver and First Team All-TriState Football accolades as a return specialist in his varsity debut.
"RJ has great athleticism.  He has great feet and above average speed.  He is a guy who is hard to tackle in space," Moeller head coach John Rodenberg on Khayo's package as a player.
Those who have the good fortune to cross paths with Khayo when he is not in pads come to find out rather quickly he has a gifted personality. He is inviting, engaging and makes one just feel good about life after being around him. Coach Rodenberg sums up Khayo best. "Off the field his attitude is infectious. He is always ready to go. RJ has a great disposition about him that can get everyone going."
Khayo has a way to draw you in. A disruptive force and one-man wrecking crew on Friday nights yet a kind-hearted spirit when the spotlight is off. He is a special individual who is always on his game.