Conner faces big challenges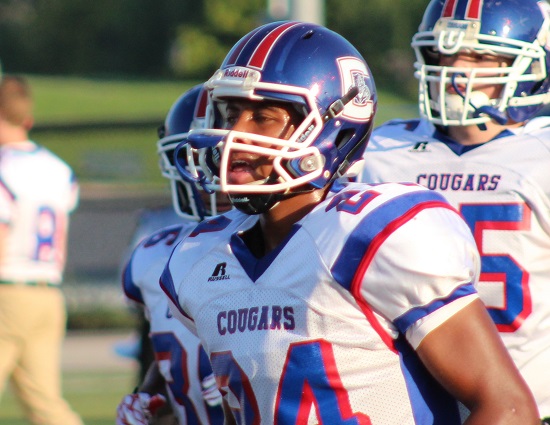 Life was tough for Conner for in 2014 and it isn't going to get any easier. The Cougars suffered their first losing season after three straight winning campaigns. Their three wins were the lowest total by the program since going 1-9 in 2007. Moving up to Class 6A this fall and a killer schedule are the obstacles that lie ahead for this team. The road to a championship and a deep playoff run is going to these players playing at a level or even two higher than they played at a year ago.
Conner has quality and experience at the skill positions. They will be exciting to watch and the more the ball is in their hands the better it will be for their chances to be successful. For that to happen, the Cougars defense has to come up with more takeaways and create more three and outs. He 32.0 points per game they allowed last season must improve in order for this team to be in a position to win. The defensive unit did improve last year after starting at 0-4 and giving up 50.0 points in those losses Conner allowed just 21.8 over the last seven weeks and never allowing more than 35 points in an affair.
Class 6A, District 5
2014 RECORD: 3-8, 2-2 Class 5A, District 5
COACH: Dave Trosper (45-34 at Conner, seven years, 58-69 overall, 12 years)
TOP RETURNEES
Isaiah Ebarb, Sr, RB/ WR/DB – Finding a way to get the ball into the hands of Ebarb on offense is a top priority. A First Team All-NKFCA at defensive back as a junior Ebarb is one of the most electrifying players in Northern Kentucky. He finished last season with 1,174 all-purpose yards (558 on kick/punt returns) had 30 receptions for 393 yards, was in on 34 total tackles and came away with five interceptions while finding the endzone five times in '14.
Tyler Arnold, Sr, RB/LB – A vital cog on the offense Arnold is a threat catching and running the ball out of the backfield. He had 22 receptions for 188 yards, ran for 261 more and scored six touchdowns as a junior (four rushing, two receiving) as a junior.
Tanner Nyers, Sr, WR/DB – Look for Nyers to play a bigger role in the passing game after hauling in 20 balls for 244 yards and three touchdowns in '14.
Kyler Padgett, Sr, QB – One of northern Kentucky's most pleasant surprises in 2014 Padgett threw for 1,941 yards, ran for 655 yards while accounting for 25 touchdowns (17 passing, eight passing).
Cody Buckler, Jr, WR/DB – An asset on both sides of the ball Buckler had 12 receptions for 236 yards and two touchdowns for the Cougars offense. On defense Buckler was in on 57 total tackles and came up with three takeaways (two interceptions, one fumble recovery) as a sophomore.
Peyton Weil, Jr, LB – Weil was a beast for the Cougars in his first year as a starter. He recorded 82 total tackles and 10.5 sacks.
NEWCOMERS
Coach Trosper would like to see a trio of sophomore's in WR Matt Simpson, QB Cooper Gullion and OL/DL Peyton Knippenberg step up and contribute like Weil and Buckler did in their same shoes a year ago. Senior Ian Collier is an athlete that will add depth on both sides of the ball in the backfield and at linebacker.
2015 SCHEDULE
The Cougars opponents were a combined 75-47 in 2014. Six of Conner's foes won at least eight games and only two had losing records. The intensity
THE CARDIAC COUGARS
Over the past three years 18 of Conner's 35 games have been decided by seven points or less. The Cougars are 10-8 in those contests.
POUNDED ON THE GROUND
In Conner's four losses to begin '14 they allowed 456 yards per loss. The Cougars gave up 283 yards of that total on the ground. They also yielded 19 rushing touchdowns in that span. To compound the pain Conner also saw those opponents throw eight touchdown passes in those contests.