Cooper worthy of jump to 6A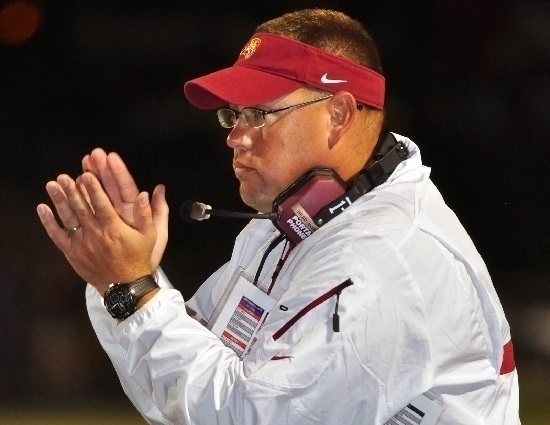 The reward for Cooper making the Class 5A final four a year ago was a bump up to Class 6A in 2015. If ever there was a team that could handle the transition it would be this Jaguars squad. Cooper will play in a district with other Boone County rivals Conner and Ryle as local flavor will boost the intensity of those affairs.
"Defense should be a major strength for us. We return all but one starter and we will also get two of our top defensive players back from injuries they sustained early in the season," head coach Randy Borchers says. The Cooper defense gave up just 17.9 points during the regular season and bettered that in the playoffs allowing just 15.0 in four tilts.
Offensively the Jaguars will be solid once again. "We should have a strong running game with both of our leading rushers back. We will also return four of our five interior linemen. Our top three receivers back from last year but we need to find a quarterback that can get them the ball but more importantly can manage the game. We will have depth at all positions this year with most players having significant playing time at the varsity level in 2014," Borchers states.
There will be bumps along the way but more often than not Cooper will respond to adversity in a positive manner with a veteran group that has learned how to win. The Jaguars present problems for the opposition on both sides of the ball and that is going to make them a tough out on Friday nights.
Class 6A, District 5
2014 RECORD: 9-5, 3-1 Class 5A, District 5
COACH: Randy Borchers (39-42 at Cooper, seven, 46-56 overall, nine years)
TOP RETURNEES
Running back Torey Cordell-Armstrong emerged as the Jaguars workhorse out of the backfield. He ran for 1,752 yards and 16 touchdowns to earn Second Team All-NKFCA honors as a junior. Jaden Jackson chipped in with 455 yards and three scores as a sophomore. Jackson's classmate Dante Hendrix led the team with 46 receptions for 551 yards, amassed 1,117 all-purpose yards while finding the endzone eight times (five receiving). The senior trion of Chad Michels, Tyson Jackson and Nathan Brown combined for 44 catches for 649 yards and six touchdowns in '14. Making sure that those skills player get their holes to run through will be offensive line returnee's, Marcus Watson, Kyle Sand, Dalton Mitchell and Sander Rocksvag.
Watson is the centerpiece of the defensive line. He was in on 113 total tackles (68 solo), registered seven sacks, recovered three fumbles had an interception and a safety as a junior. His work earned him First Team All-NKFCA honors a year ago. Joining him will be Mitchell who had five sacks last fall and Eliot Smith, who is back from injury. Smith has six career sacks over the past two campaigns. Linebackers Seth Keller and Aiden Keller have a nose for the ball. The duo combined for 126 total tackles and five interceptions as juniors. In the secondary Cole Hicks and Justin Parks return. Hicks had three interceptions in just two games before getting hurt in '14.
NEWCOMERS
Bryce Leroy, Jr, S/LB – Leroy came on late last season and finished the year with 22 total tackles. He will have an even larger impact on the defense as a junior.
Justin Schlarman, So, QB/S – Schlarman moved up from the freshman team at mid-season ended up with 50 total tackles. Don't be surprised if Schlarman ends up as Cooper's quarterback to start his sophomore campaign.
2015 SCHEDULE
Don't expect Cooper to get through 2015 unscathed as coach Borchers philosophy is to load up on tough non-conference opponents during the regular season in order to get his squad ready for playoff football. Highlands, Lexington Catholic and Bryan Station have been added to the schedule. The Jaguars will face one state champion (Highlands-4A) and three state runner-ups (Dixie Heights-6A, LexCath-4A, NewCath-2A) from a year ago.
TAKEAWAY CENTRAL:
Cooper forced 29 turnovers (12 fumble recoveries, 17 interceptions) in 2014. Players who combined for 16 of the 17 interceptions are back.
NO STRANGERS TO THE ENDZONE
Players who scored 41 of Cooper's 49 touchdowns a year ago return. Cordell-Armstrong and Hendrix combined for 24 of those scores in '14.