Simon Kenton becomes a big winner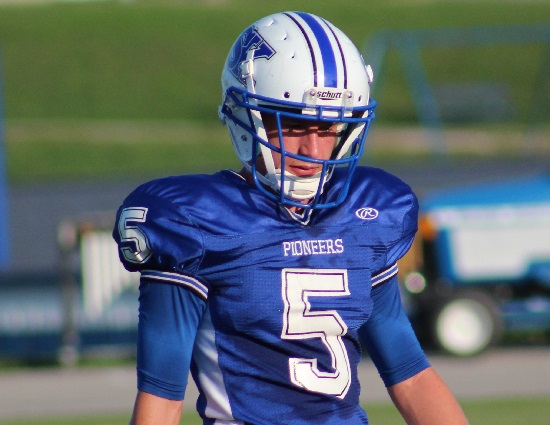 Simon Kenton was one of the last eight Class 6A teams standing last season before being shut out, 24-0 at Dixie Heights.
The Pioneers have won 32 games the past three years but have had each of those campaigns stall in the quarterfinal round.
Simon Kenton appears poised for another deep run in the playoffs, led by quarterback Cameron Racke, who has already played in 20 games despite being a junior this fall.
Class 6A, District 6
2014 RECORD: 11-2, 3-1 Class 6A
COACH: Jeff Marksberry (100-74, 16th season).
TOP RETURNEES
Cameron Racke, Jr., QB – As a sophomore, Racke was 146-for-222 passing for 1,897 yards and 21 touchdowns while throwing just six interceptions. He also ran the ball 109 times for 524 yards and eight TDs. Racke has already logged 20 games and will be a junior this fall.
Dillon Powell, Sr., RB – Powell rushed 208 times for 1,519 yards and 16 touchdowns in 2014. He also caught 14 passes for 267 yards and a pair of scores.
Logan Scott, Sr., WR – Scott caught 13 passes for 225 yards and three scores last season. He was third on the team in receiving yards in 2014 and is tops among returners.
David Sandlin, Sr., OL – Sandlin is the lone returning starter on the offensive line, but the two-year starter is a proven force. He is 6 feet and 280 pounds and has started 26 straight games at guard.
Trent Kincaid, Jr., DB – Kincaid tied for the most interceptions among any Northern Kentucky player last season with seven. His compete level is extremely high.
Tucker Mueller, Sr., DL – Mueller recorded 87 tackles, including 10 sacks last season. He is six feet tall and 260 pounds.
Blake Powell, Sr., DL – Powell notched 51 tackles, including four for a loss in 2014.
Jacob Harney, Sr., SS – As a junior, Harney rolled up 69 tackles.
NEWCOMERS
Logan Kriedenweis, Jr., WR – The six-foot, 170 pounder gained some experience as a wide out last season, catching five passes for 40 yards.
Brian Carter, Jr., OLB – At 6-feet-2 and 200 pounds, Carter is extremely athletic and could impress this fall.
Tanner Green, Jr., WR/slot – Green was a quarterback as a sophomore (he was 6 of 9 for 31 yards in relief of Racke), but it appears that role is filled. He's 6-feet-2 and 200 pounds, and provides Simon Kenton another solid skill position player on a team expected to have plenty of depth in that area.
Josh Morrison, Sr., TE/OL – Morrison is 6-feet-3 and 220 pounds on a team that lost four of its starters on the offensive line, so blocking skills are in high demand.
Markie Rider, Jr., ILB – Rider was injured most of last season but played well in his lone game, a playoff win vs. Lexington Lafayette. Two more linebackers that could make an impact for the Pioneers are senior Dalton Finnell and junior Casey Cornett.
Blake Clark, Sr., OL – Clark is 6-feet-3 and 285 pounds, and he will be a welcome addition to an offensive line that lost four starters from 2014.
Colton Williams, So., OL – Williams is already 6-feet-5, 255 pounds, and he could be an impact offensive lineman for the next three years.
2015 SCHEDULE
The most notable addition to Simon Kenton's schedule is Highlands. The teams will meet in Independence on Sept. 25. The Pioneers open the season at home against Louisville Christian followed by a road trip to Lexington Bryan Station. Simon Kenton wraps up the regular season against a rejuvenated Scott team in Taylor Mill.
NONE SHALL PASS
Simon Kenton held its 2014 opponents to just 976 passing yards, or just 75.1 per game. The Pioneers' pass defense was a key reason they allowed just 14.7 points per game.
GREAT RACKE
As a sophomore, Racke completed 65.8 percent of his passes and was picked off on just 2.7 percent of his attempts. He has made 20 starts and is just 10 yards shy of 2,000 for his career.