Young Camels looking to earn humps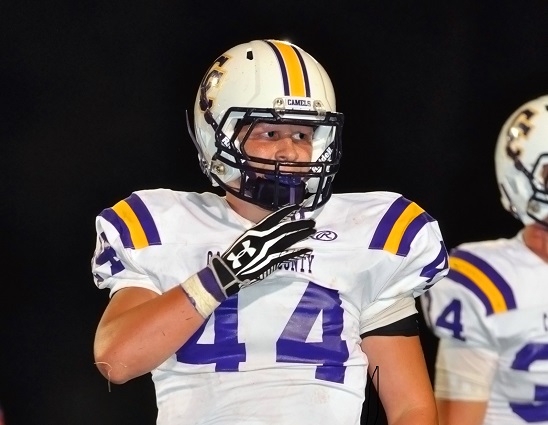 Campbell County head coach Stephen Lickert is about to throw his pups into the wolves. A "green" Camels team will have their work cut out for them this fall as a brutal schedule and growing pains await Lickert's troops. "We will be young but talented. We will grow through the year and be ready for the districts and playoffs," Lickert says.
Size and youth will be obstacles that the Camels have to deal with. Campbell County will offset those hurdles with speed, athleticism and a high football IQ according to Lickert. One thing is for sure this program no longer takes a backseat to anyone under the guidance of this head coach.
Class 6A, District 6
2014 RECORD: 6-5, 1-3 Class 6A, District 6
COACH: Stephen Lickert (24-22 @ Campbell County, four years, 62-60 overall, 11 years)
TOP RETURNEES
The focal point of the Campbell County offense is senior quarterback Carson Plessinger. He is the only accomplished returning skill position player returning for the Camels. Plessinger ran for 1,083 yards, threw for 639 yards while accounting for 23 touchdowns (15 rushing, eight rushing). Classmates in RB Jimmy Garland, WR Andrew Crowder and WR Gunner Froehlicher will all look to make an impact running and catching the ball. Junior Cooper Gray is a rising star that will see time at receiver and possibly under center. Up front seniors TE Eric Bingham, OT Michael Trout and C Jacob Newberry are all experienced and will be called upon to step up their leadership roles.
The defense was hit hard by graduation. Junior LB Tanner Hamilton and SS Christian Cummins are the only proven commodities on this side of the ball.
NEWCOMERS
There will be opportunities aplenty for a host of young Camels including a trio of sophomores OL Austin Terry, RB/LB Alex Dowds and DL Brent Mills that coach Lickert believes can contribute right away. The bloodlines run deep for junior WR/SS Ethan Kremer who looks to be the next member of the Kremer clan to excel at Campbell County. Adding depth in the secondary will be Eric Dean and Noah Sell.
2015 SCHEDULE
The combined 2014 record of the Camels eight non-conference opponents was 62-37. To say that Campbell County has a tough road ahead would be an understatement. Post-season football may not be nearly as big of a challenge to mentally prepare for as the first five weeks of the regular season will be.
BUILDING A WINNER
Only twice in the last 11 seasons has Campbell County had a sub .500 record. However the Camels have lost at least four games in every one of those years.