Valentino is a versatile asset for Badin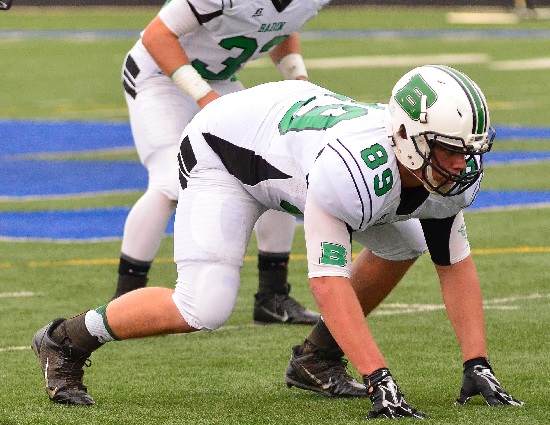 Badin has rolled up 18 wins in the past two seasons, and one of the a key staples on those successful Rams teams has been Dominic Valentino.
Valentino, a senior-to-be, was named the GCL Central Defensive Player of the Year, and he was an Ohio Division V Special Mention last season, playing tight end and defensive end.
Defensively, Valentino recorded 52 total tackles, including 2 1/2 sacks, and he also forced a fumble last season. He tallied 7 1/2 sacks and a pair of forced fumbles as a sophomore.
He caught seven passes for 82 yards and a pair of touchdowns in 2013, and he stepped up with 30 receptions for 272 yards and five TDs last year.
Valentino caught a touchdown pass in each of the Rams' final three regular season games, all vs. key conference opponents.
Valentino enters his final season at Badin with 354 receiving yards and seven scores on offense and 98 total tackles including 10 sacks defensively.
FINAL TAKE: Despite their recent success, Valentino and the Rams have finished second behind McNicholas each of the past two seasons and was ousted by West Jefferson in the playoffs both years.
Badin's quarterback, top rusher and top receiver were all juniors in 2014, and with a third-year starter in Valentino at the end of the offensive line, the Rams should be able to score plenty of points.
With Valentino's pass-rushing prowess, Badin held opponents to just 86.3 yards per game in the air and look to be a force vs. the pass again this fall.
Valentino is beginning to see college offers, including Austin Peay, The Cincinnati Enquirer reported earlier this week.