Union to become Morgan's town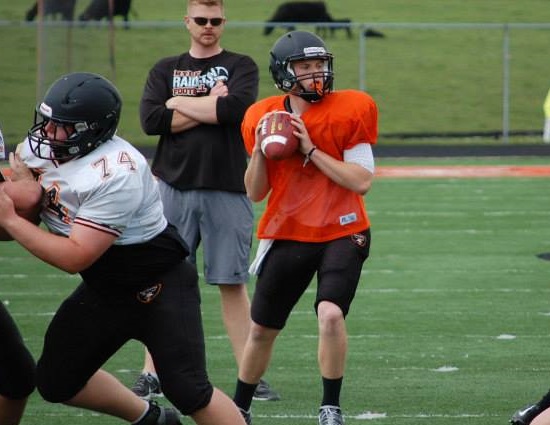 The Ryle offense will get a huge boost this fall as one of its own returns to Union, Kentucky. Transfer Tanner Morgan is back after spending the last two seasons as the quarterback at Class 1A, Hazard. "My years at Hazard were great and I really enjoyed them, but I needed to be back home. I thank everybody at Hazard for what they did for me but this was the best thing for me personally and my family. Also, I believe Ryle is the best fit for me academically and athletically with its great coaches and teammates" Morgan told TSF earlier this week.
The 6-foot-2, 204 pound Morgan was outstanding in his two campaigns as the starter at Hazard. The team went a combined 21-5 and never lost to a team that didn't finish the season with at least 10 wins with the youngster under center. Morgan threw for 4,882 yards with 56 touchdown passes and just 16 interceptions for the Bulldogs. What make all of this even more eye-popping is that Morgan did all of this damage as a freshman and sophomore. That effort and performance has led to his first offer from Wake Forest.
Handling the jump from Class 1A to Class 6A is a concern because of the speed that the game is played at. "I believe the only change is that all the teams (Ryle faces) will have athletes at almost every position. I feel like I have already adjusted a lot to the speed with spring ball because we have a lot of great athletes at Ryle," Morgan said.
The good news for Morgan is that he won't have to worry about having the added pressure of carrying the load all by himself with the Raiders offensive unit. He will have plenty of help with running back Colin England who ran for 1,144 yards as junior and other weapons like Mitchell Bateman, Aaron O'Hara and the return of Lex McGregor at the skills positions.
The potent Ryle offensive attack in 2015 should be enough to propel the program to its first winning season since '11. The Raiders fans are going to be in for a treat as Ryle promises to light up the scoreboard with a diverse and exciting brand of football this fall.