LaSalle's Larkin commits to Bearcats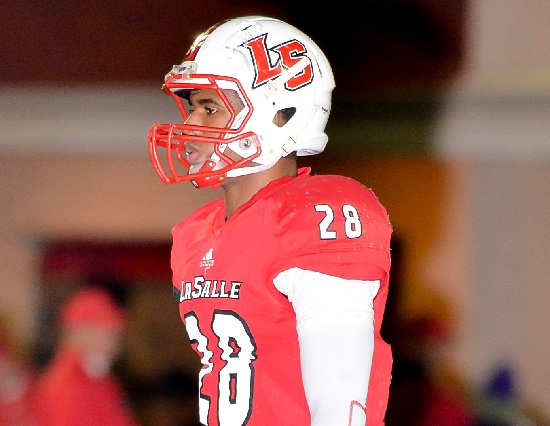 LaSalle running back Jeremy Larkin will stay at home to play his college football. Tom Grosechen of the Cincinnati Enquirer reported on Sunday that Larkin has made his verbal commitment to suit up for the Cincinnati Bearcats beginning in 2016.
Larkin played a large hand in LaSalle winning the 2014 Division II state title. The Lancers went 14-1 as he found the endzone 42 times (38 rushing), ran for 2,584 yards while churning out 3,246 all-purpose yards in a record setting junior campaign. He was named the AP Ohio Division II Co-offensive player of the year and TriStateFootball.com Cincinnati offensive player of the year for his efforts. Larkin goes into his final varsity season with 3,250 yards on the ground, 5,410 all-purpose yards and 57 total touchdowns in a Lancers uniform.
FINAL TAKE: Larkin is an "ankle breaker" and a special talent who elevates the game of everyone on the field with him. What sets him apart from his peers is what his does in traffic. His ability to move his feet (in seemingly any direction) in little or no space to get out of trouble is a gift that few have. He has a knack for making something out of nothing. For Cincinnati to land a local player of Larkin's stature and character is good news for a program that really hasn't had much success catching the big fish in the Queen City during head coach Tommy Tuberville's tenure.