Lockland rebounding under Raby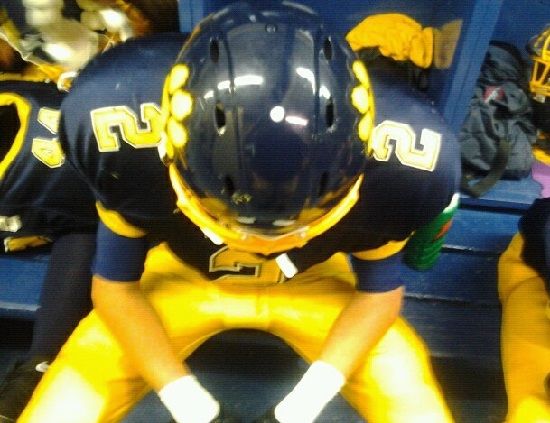 The infectious enthusiasm of Lockland head coach Adam Raby didn't take long to root itself into the psyche of his players. In his first season Raby turn around the attitude of the program and breathed new life into the Panthers after a pair of 2-8 campaigns and dwindling numbers before he arrived.
"We have improved our running game and hope to continue to pound the ball down the field. Defensively we got back to making plays and flying to the ball with our team speed. We only lost five guys from last year so we are very young and looking forward to what these guys can do." a pleased Raby said.
There is still work to be done for the Panthers. With such a young squad in 2014 Lockaland mus overcome mental mistakes. "We took ourselves out of too many drives with stupid penalties last year. We struggled understanding the small details to the games and the situations in games, down and distance, the little things," Raby said.
With a more experienced group that has been through the wars Lockland should be able to take another step forward and get back to a level of excellence that had been created under former head coach Ben Hubbard who led the school to five straight playoff appearances from 2007-11. Returning to the post-season is not a far-fetched goal for a team that has shown great strides under Raby and his staff.
Division VII, Region 26
2014 RECORD: 3-6, 2-4 MVC
COACH: Adam Raby (3-6 @ Lockland, one year, 3-6 overall)
HONOR ROLL
Solomon Roundtree, Sr, RB/LB who anchored the middle of our defense last year Roundtree was a Second Team All-MVC selection as a junior. He is also a threat running and catching the ball on offense.
Jaquan Emerson, So, DE – The best thing about freshmen is they become sophomores and that's great news for coach Raby who saw Emerson earn Second Team All-MVC honors in his varsity debut.
Jacob Cromer, Sr, QB – The steady Cromer improved greatly as a game manager last fall throwing for 440 yards and running for 139 more. He was named Honorable Mention All-MVC for his work.
OTHER RETURNEES
Dearis Smith, SR, RB – Smith led Lockland in rushing as a junior and finished the year with 854 yards and seven touchdowns on the ground. He had four games of 100 or more yards rushing including three of 150 yards plus.
Otis Strawder, Sr, OL/DL – A returning starter and leader up front Strawder is an integral part of the Panthers line.
Nakje Wright, So, RB – Look for Wright to play a bigger role out of the backfield after running for 204 yards as a freshman.
NEWCOMERS
Help and depth will come on the lines with the addition of seniors Stephen McQueen, Terry Simpson and sophomore Christian Campbell. A pair of freshman, Asa Roundtree and Davion Brown will get a shot at earning their stripes in the secondary. Junior Savion Brown is a skills position player that will have some big moments in all phases of the game.
PLAYOFF HISTORY
(seven appearances, 0-7) – 2011, 2010, 2009, 2008, 2007, 1993, 1992
2015 SCHEDULE
The Panthers will take on three playoff teams from 2014, MVCA, Cincinnati Country Day and Summit Country Day. The other seven schools Lockland will face were a combined 20-47 a year ago.
RUN LIKE THE WYNN
The Lockland rushing attack is taking on the personality of its offensive coordinator DeShawn Wynn. The Panthers averaged 198.1 yards per game rushing (6.0/carry) last season. Wynn was a former standout running back at Reading High School and the University of Florida who also had a brief stint in the NFL with the Green Bay Packers.