Winning it's just what CHCA does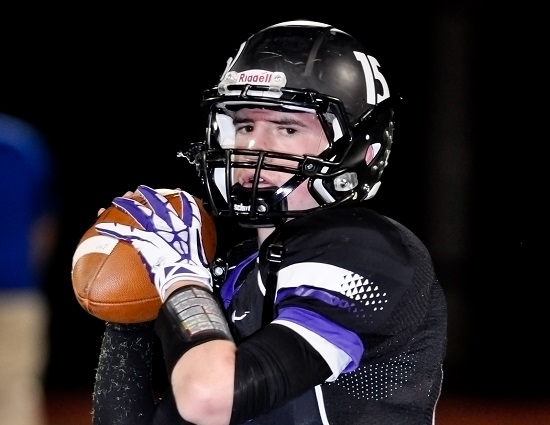 Last fall CHCA broke down a barrier that they had not been able to in head coach Eric Taylor's first six years at the school by winning the Division V, Region 18 title. Now the Eagles look to take the next step, get past perennial post-season powerhouse Coldwater and win a state championship.
The talent is in place and expectations are now replaced by results at CHCA. The players in the program understand what it takes to win. The Eagles have won 24 straight regular season games dating back to October, 2012. This is a team that will apply the pressure to everyone who comes up against them in 2015.
Focus will not be a problem. This bunch has proven they can carry out the task at hand and now looks for even bigger rewards from their blood, sweat and tears.
Division V, Region 18
2014 RECORD: 13-1, 7-0 MVC, Region 18 Champions
COACH: Eric Taylor (67-17 @ CHCA seven seasons, 74-20 overall, eight seasons)
HONOR ROLL
Prince Sammons, Sr, TE/DE – The reigning Ohio Division V defensive player of the year, Sammons has offers from just about every big time school you can imagine. The 6-foot-8, 268 pound Sammons has 15.5 sacks during his career which isn't bad considering he has only played two years of organized football in his life.
Johnny Noyen, Sr, QB – Everyone knew Noyen had the talent but no one expected him to throw for 2,513 yards and 30 touchdowns in his first year as a starter under center. He also racked up 603 yards and nine scores rushing. All of that hard work garnered him the MVC offensive player of the year, First Team All-Southwest District and Special Mention All-Ohio accolades as a junior.
Adam Baker, Jr, WR / DB – A First Team All-MVC performer as sophomore Coach Taylor feels like Baker could be the best receiver to ever don the Eagles uniform by the time his career is all said and done. Baker had 29 receptions for 621 yards (21.4/catch) and eight touchdowns last fall. He also had four interceptions as a defensive back. Three of his four 100-yard receiving games at CHCA have been in the playoffs.
James Deaton, Sr, RB/DB – One of the few small school running backs in Cincinnati that is 200 pounds and runs a 4.5 40-yard dash. Deaton ran for 825 yards, had 16 receptions for 215 yards and found the endzone (13 times (11 rushing, two receiving) as a junior. He was named First Team All-MVC for his work.
OTHER RETURNEES
Ben Collado, Jr, LB – The Collado clan just keeps churning out quality football players and Ben is the latest member of that bunch. The gifted Collado has a linebacker mentality. He was in on 97 tackles (45 solo) with three sacks and a 45-yard interception return for a touchdown as a sophomore.
Nick Noyen, Jr, OG – The younger brother of quarterback Johnny the 6-foot-2, 6-2, 260 pound Nick takes great pride in leading the way for his sibling.
Brady Pfiester, Jr, WR/LB – Already a proven commodity on defense look for Pfiester to play a much larger role on offense with the graduation of Cam Murray, Bobby Mumma and David Bechtold who combined for 105 of the Eagles 163 receptions a year ago. Pfiester had 33 tackles and an interception as a sophomore.
NEWCOMERS
Kesean Gamble, Jr, FB – The transfer from Fairfield won't be eligible until Week 6. His fresh legs and 6-foot-2, 238 pound frame will be an instant plus for the Eagles. Gamble ran for 435 yards as a sophomore in the GMC. He already has an offer from Toledo.
PLAYOFF HISTORY
(10 appearances, 11-10 overall) – 2014, 2013, 2012, 2011, 2010, 2008, 2007, 2005 (State runner-up), 2003, 2002
2015 SCHEDULE
A non-conference schedule that includes Greenview, New Richmond and Bishop Ready will get the Eagles ramped up for league play. A three week stretch in October will see them take on conference rivals Summit Country Day, North College Hill and Cincinnati Country Day (for the first time in three years). Coming out of that run unscathed is the road to another MVC title.
DEFENSE WINS CHAMPIONSHIPS
Over the last 34 games CHCA has gone 30-4 and defense has been a large reason for that success. The Eagles have recorded 14 shutouts in those 30 victories. Eight more times they have held their opponents to seven points or fewer in that span. Three of those four loses have been in the playoffs.