WCPO Player of the Week – Week 1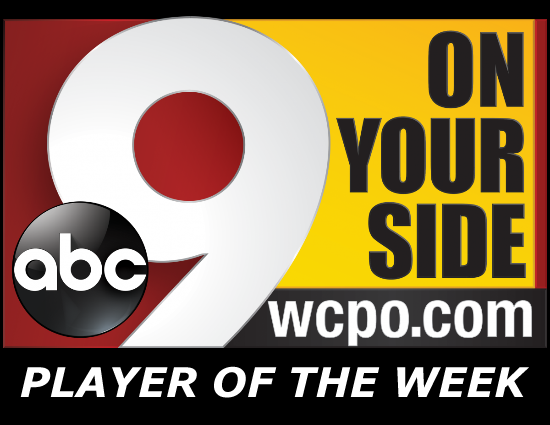 Mercy Orthopedics has partnered with WCPO 9 On Your Side and TriStateFootball.com to present the High School Football Player of the Week for the 2015 regular season. Players will be nominated from the Cincinnati, Northern Kentucky and Eastern Indiana areas.
Each week 10-14 nominees will be selected from a large list of some of the area's top performances and will be included in an online voting poll to determine a winner. The voting is open from now until Friday morning at 9:00 a.m. ET. Voters can vote once per hour, per IP address.
Once a player wins, they will be ineligible to be nominated a second time. All of the season winners will be recognized and receive a plaque at the TriStateFootball.com Year in Review Show in February at Holy Grail Banks (more details announced during postseason).
Here are the nominees from Week 1's action in the Tri-state area:
Reed Aicholz, Indian Hill, QB – He amassed 340 yards of total offense (269 passing, 71 rushing) and accounted for four touchdowns (three rushing, one passing) in the Braves' big win over New Richmond.
Nathan Brown, Cooper, QB – The senior QB threw for 194 yards, ran for 64 more and accounted for three scores (two passing, one rushing) as Cooper shutout NewCath.
Jared Dougherty, Highlands, PK – He made all five of his extra point attempts, kicked a career best 46-yard field goal and put all seven of his kickoffs in the end zone for touchbacks.
Xavier Johnson, Summit Country Day, WR/DB – Johnson had three interceptions with touchdowns catches of 36, 57 and 66-yards and an interception return for a score as the Silver Knights held on to 30-26 victory over Purcell Marian.
David Keeling, Fairfield, RB – The senior had nine carries for 119 yards and two touchdowns in Fairfield huge win over Centerville.
Anfernee Lipscomb, Gamble Montessori, QB – The junior racked up 20 carries for 289 yards with five rushing touchdowns and a 92-yard kickoff return for a score in a 38-32 versus New Miami.
David Montgomery, Mount Healthy, QB – Montgomery rushed for 214 yards and four touchdowns in the Owls' thrilling win at Sycamore.
Bailee Moore, Franklin, RB – He rushed for 214 yards and two touchdowns on 21 carries as the Wildcats beat Carlisle.
Ja'Vahri Portis, Elder, RB – Portis carried the ball 17 times for 111 yards with four touchdowns as the Panther took down rival Oak Hills.
Dillon Powell, Simon Kenton, RB – The senior rushed for 280 yards on 40 carries with three touchdowns in the Pioneers' road win at Bryan Station.
Zelwyn Robinson, Lakota West, RB – He carried the ball 11 times for 111 yards with four touchdowns as the Firebirds thumped Glen Oak.
Brett Slusher, Beechwood, RB/DB – Slusher scored five touchdowns (two rushing, two receiving, one interception return) and had a two-point conversion as the Tigers cruised past Lloyd.
Jordan Williams, Roger Bacon, RB/DB – He touched the ball 10 times and amassed 284 all-purpose yards and scored three times on a kickoff return, punt return and a run.