Miamisburg outlasts Kings 28-24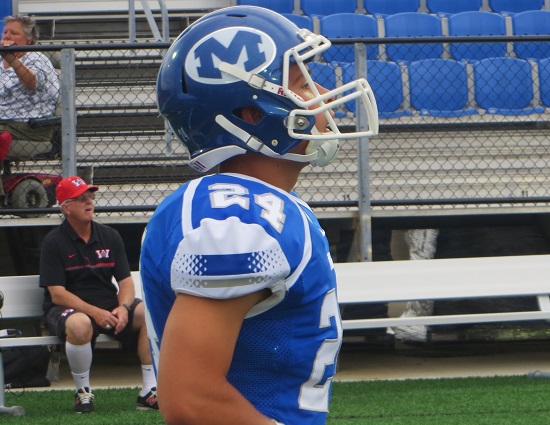 The Miamisburg Vikings (9-2) defeated the Cincinnati Kings Knights (8-3) 28-24 after a stellar back-and-forth second half.
Miamisburg grabbed a 21-3 lead with 5:01 left in the third quarter, but the Knights scored 21-straight points to storm back and jump in front.
Once they fell behind by 18 points, Kings scored on their first possession of the second half after a nine-play 74-yard drive led to a five-yard touchdown pass from quarterback Tyler Knecht to wide receiver Justin Wise.
On the ensuing kickoff, the Knights recovered the ball on Miamisburg's 26-yard line after not one Viking touched the ball.
18 seconds later, Kings scored again on the same play as their previous touchdown from Knecht to Wise, cutting their deficit to 21-17.
The two teams then went on to trade punts, but once Miamisburg's offense had another chance to extend their lead, Kings' defensive back Grant Coleman intercepted a pass from quarterback Tate Vongsy to give his team the ball on the Vikings' 32-yard line ― the interception was Coleman's 10th of the season.
Two plays later the Knights grabbed their first lead of the game when they ran a jet sweep to wide receiver Daniel Wagner and he passed a 32-yard touchdown to wide receiver Clay Spivey, making the score 28-24.
However, Kings did not stay in front for long. 15 seconds later Miamisburg's running back Tony Clark ran the ball 65 yards into the end zone to reclaim a 28-24 lead.
"I thought Tony, he just makes plays," said Vikings' head coach Steve Channell. "He's playing the whole night on defense too. So with all those carries, all those rushes, he's playing defense the whole night too on top of it. You don't see that a lot in high school football."
The Knights threatened to score on their next drive, but fumbled during the pitch on a reverse and gave the Vikings the ball back with limited time remaining.
Miamisburg's offense then went onto ice the clock and earn the playoff win.
"We didn't make it easy on ourselves," Channell said. "A tribute to our kids is that we kept playing and Tony Clark had an unbelievable run there when we were behind."
Clark ran the ball behind offensive lineman Josh Meyers, who is committed to play for the Ohio State University Buckeyes. Clark finished with 22 rushes for 225 yards and two touchdowns on the night, his fourth-straight game with multiple rushing touchdowns.
On the season he has ran for 1,196 yards and 20 touchdowns.
"Tony's unreal," Meyers said. "He's not the fastest guy, but he's so savvy, his cuts are amazing. He's just one heck of a player."
The momentum of the game changed in a flash when the Vikings went from being up 21-3, to trailing 24-21 within 10 minutes. At that point Channell told his team to just keep playing.
"[I said] we got to make plays, you guys will need to step forward at this point," Channell said. "I thought the offensive line took over there in the fourth quarter when we had to come back, led by Josh Meyers … but it was a total team situation effort to come back and win like that."
Meyers led the team by keeping his teammates calm during the heat of the moment.
"We've been in close games before, plenty of them and I know the worst thing you can do is freak out," Meyers said.
Miamisburg advances in the playoffs and will play the top-seeded Troy Trojans (10-1). Troy defeated Anderson 41-35 in their opening round matchup.
"I think we need to get better up front," Channell said. "Offensively we need to shore up some things there, get back to being able run the football effectively."
Meyers agreed with his coach, that the team needs to work on what they do best: run the ball.
"[We need to work on] probably just the basics of our offense. We're pretty simple, we've always done what we do, you know we run the ball and that's it and that's what we'll keep working on," Meyers said.