2016 EIAC 3A All-Conference Team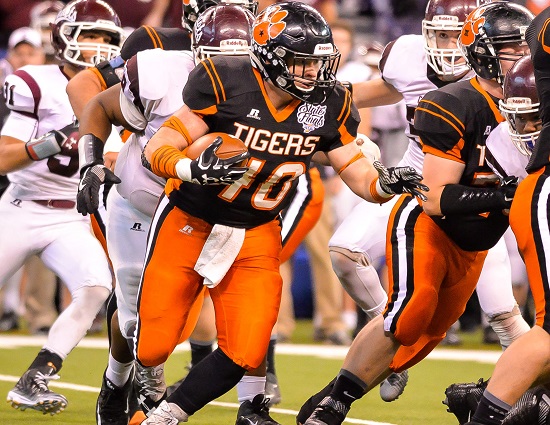 It was a big year for Lawrenceburg and they got rewarded by the league with numerous all-conference selections including the Eastern Indiana Athletic Conference 3A offensive MVP, Austin Bowling and defensive MVP, Mason Parris.
Bowling became just the ninth player in Indiana prep football history to finish with more than 3,000 yards rushing in a season. The senior ended a spectacular year with 3,165 yards and a mind-blowing 52 rushing touchdowns.
Parris was the backbone for the Tigers defense and their state runner-up finish. The junior was in on 191 tackles (102) solo, had seven sacks, 17 tackles for losses, forced five fumbles, recovered three fumbles and came up with three interceptions.
Here is a look at the 2016 EIAC 3A All-Conference Team.
OFFENSE
QB – Reid Strobl, Lawrenceburg
RB – Austin Bowling, Lawrenceburg
RB – Keith Yager, Rushville
FB – Joey Woods, Greensburg
WR – Zach Pokrzywinski, Greensburg
WR – Jordan Houze, Lawrenceburg
TE/HB – Ethan Hirt, Batesville
OL – Josh Maple, Batesville
OL – Jason Mears, Batesville
OL – Noah Boyd, Lawrenceburg
OL – Brett Miller, Lawrenceburg
OL – Tyler Turner, Rushville
DEFENSE
DL – Dylan Cain, Greensburg
DL – Cody Bauer, Greensburg
DL – Eli Gannaway, Lawrenceburg
DE – Gavin Amburgey, Greensburg
DE – Jonah Rolfes, Lawrenceburg
LB – Brett Williamson, Batesville
LB – Sam Slusher, Greensburg
LB – Mason Parris, Lawrenceburg
DB – Jake Ruberg, Lawrenceburg
DB – Ben Murphy, Lawrenceburg
DB – Nathan Kirschner, Batesville
DB – Jack Kellerman, Batesville
K/P – Isaac Sheehan, Rushville
ATH – Trey Heidlage, Batesville
Offensive MVP: Austin Bowling, Lawrenceburg
Defensive MVP: Mason Parris, Lawrenceburg