2017 Snapshot: Anderson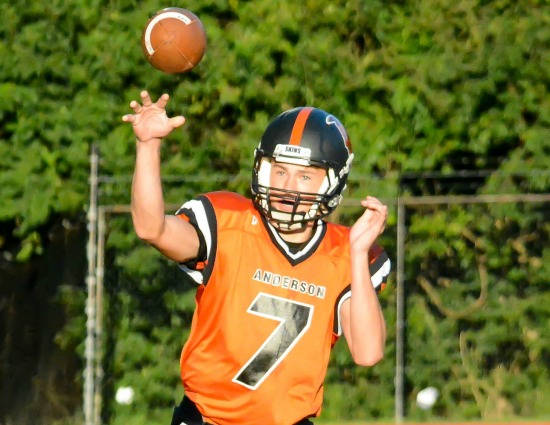 Anderson QB Jay Volpenhein (Cathy Lachmannn/TSF).
A return trip to the playoffs for the first time in seven years cured what ailed Anderson football and its fans in 2016. An offense that played at breakneck speed and lit the scoreboard up with an average of 42.6 points per contest. Eight starters return from that group. The Redskins will be a full of fireworks again on Friday nights.
The defense is a different story. Anderson allowed 31.3 points a game last fall. They gave up 38 points or more in all four of their losses. The Redskins return just three starters from that unit but there are many coming back who were part of the rotation. They will get the opportunity to forge their own identity.
"We gave up too many points in key games. We need to limit our turnovers. We gave up too many passing yards. We need to be better on defense in the red zone," head coach Evan Dreyer laments about his '17 squad.
This will be an experienced group on the field. Dreyer knows other intangibles must fall into place for this squad to get back to the playoffs. "We need great team chemistry and leadership throughout the entire season." If the players can put that all together, no one will want to face them in November.

Division II, Region 8
2016 RECORD: 7-4, 5-2 ECC
COACH: Evan Dreyer (7-4 @ Anderson, one year; 51-32 overall, eight years)
HONOR ROLL
Jay Volpenehein , Sr, QB – Volpenhein shattered school passing records as junior. He threw for 3,541 yards with 43 touchdown passes, ran for 929 yards and 10 more scores on the ground. Those numbers garnered First Team All-Southwest District, ECC Co-Offensive Player of the Year and TriStateFootball Cincinnati Offensive Player of the Year finalist accolades.
Zeke Correll, Jr, OL – A rising star Correll was a Special Mention All-Southwest District and Second Team All-ECC selection as a sophomore. The 6-foot-4, 270 pound lineman just received his first two offers from Cincinnati and Kentucky.
Kyle Blaha, Sr, RB – A rock solid junior campaign saw Blaha run for 906 yards, catch 37 passes for 336 yards and find the end zone 16 times (12 rushing, four receiving). He was named Special Mention All-Southwest District and Second Team All-ECC for his efforts.
Amadaz Jones, Sr, WR – It was a breakout junior year for Jones who caught 73 balls for 913 yards with 13 touchdown receptions. Jones has at least four receptions in every game. He was a Special Mention All-Southwest District and Second Team All-ECC selection.
Austin Watt, Sr, TE/WR – There aren't many third option receivers who put up numbers like Watt did a year ago. He finished with 49 receptions for 550 yards and eight touchdown catches. He was a Special Mention All-Southwest District and Second Team All-ECC selection.
OTHER RETURNEES
Trent Rogers, Sr, DL – A returning starter Rogers had 46 total tackles and three sacks as a junior.
Sean Schaeffer, Sr, LB – Recorded 21 total tackles and recovered a fumble as a junior.
Kyle Riley, Sr, LB – Was in on 15 total tackles and had a pick a year ago.  Zack Fickenworth, Sr, DB – Registered 15 total tackles and had an interception as a junior.
Jordan Burnam, Sr, DB – Burnam led the Redskins with five interceptions in '16.
Nate Wikins, Sr, OL – Look for a young line to lean on Wilkins for guidance early on.
NEWCOMERS
The offense has to replace two all-conference linemen. Four juniors – Brian Stone, Kevin Stone, Nick Turchiano and Nick Marcello will battle to fill those voids. Dreyer feels their classmate, Tim Swaney can make an impact at linebacker.
PLAYOFF HISTORY
(11 appearances, 12-10) – 2016, 2009, 2008 (state runner-up), 2007 (state champion), 2003, 2002, 2001, 2000, 1996, 1994, 1992
2016 SCHEDULE
The Redskins will start the year in another state as they travel three-plus hours to Ona, West Virginia (east of Huntington) to take on Cabell Midland. The usual suspects, rival McNicholas and Harrison round out the non-conference portion of the schedule. Then comes the ECC opener against Kings. This four week stretch will clearly be the most difficult and critical one of the season. There are big Harbin points to be had here.
THE NEXT LEVEL
All four of the Redskins losses a year ago were to teams that made the Division II, Region 8 playoffs. Those teams were a combined 35-11 for .761 winning percentage. The combined record of the seven squads that Anderson beat was 25-45 for .357 winning percentage. They only team they beat with a winning record was Fenwick (6-4).
BEATING THE BEST
Last fall's win over Fenwick is the only victory for Anderson versus a team that finished the season above .500 since they won at Harrison on September 13th, 2013.
OH WHAT AN O-LINE
Currently there are two former Anderson offensive linemen in the NFL. Class of 2010 graduate Andrew Norwell will enter his fourth season as the starting left guard for the Carolina Panthers. He has started 38 of 39 games after being signed as an undrafted free agent out of Ohio State. Norwell was a sophomore on the Redskins 2009 state champions. Anderson was state runner-up in his junior campaign and lost to Elder in his senior season.
Norwell's classmate on those fabulous Anderson teams was the Redskins other bookend tackle, Greg Mancz. The former University of Toledo star (48 starts for the Rockets) and 2014 Second Team All-American, Mancz became the starting center for the Houston Texans in his second season last fall. Like Norwell, Mancz went undrafted by NFL teams. Now look at the two of them.