Team of the Week: Week 4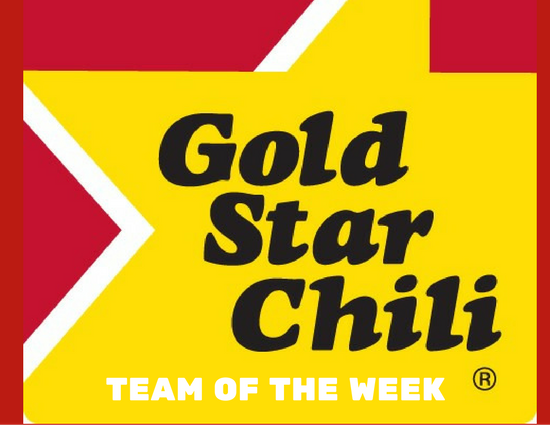 Gold Star Chili and TriStateFootball.com are partnering once this year to present the High School Football Team of the Week during the 2017 regular season. Each week 8-10 schools will be nominated from the Greater Cincinnati area to be included in an online voting poll to determine a winner.
The voting is open now until Thursday night at 6PM Eastern. Voters can vote once per hour, per IP address.
Once a team has won, they were ineligible to be nominated a second time. All of the winning teams will receive a trophy to be presented at their school by Gold Star Chili.
Taking advantage of the TSF-only deal at Gold Star this week:
$1 OFF Any Milkshake – PRINT COUPON
Here are this week's nominations:
CHCA (2-2)
CHCA scored a season-high 48 points as they blew by Holy Cross in an interstate affair.
Colerain (2-2)
The Cardinals pitched an impressive 42-0 shutout over Sycamore to win their second straight contest.
Dixie Heights (1-4)
With their 7-point win over Conner, Dixie Heights snapped a four-game losing streak.
Fairfield (2-2)
The Indians have opened up GMC play by going 2-0 after a 48-14 win over Lakota East.
Ludlow (4-0)
Ludlow is clicking on all cylinders and have now won four straigt to start the year following a 61-30 defeat of Newport.
Mariemont (3-1)
Mariemont registered a third straight victory by taking down Finneytown, 44-7.
Milford (3-1)
The Eagles opened up ECC play with a 14-7 win over Turpin.
St. Xavier (4-0)
St. Xavier won its fourth straight of the season as they knocked off Cathedral, 31-7. The Bombers have won 10 straight dating back to last season.
Taft (2-2)
The Senators pulled to .500 on the season with a big win in last week's U.S. Marines Battle of the Gridriron matchup.
Wayne (3-1)
Wayne have no problems they took down Miamisburg 56-28 in a Week 4 GWOC tilt.
You can send your weekly nominations to us on twitter @TSFootball or by email.