TSF Player of the Week: Week 4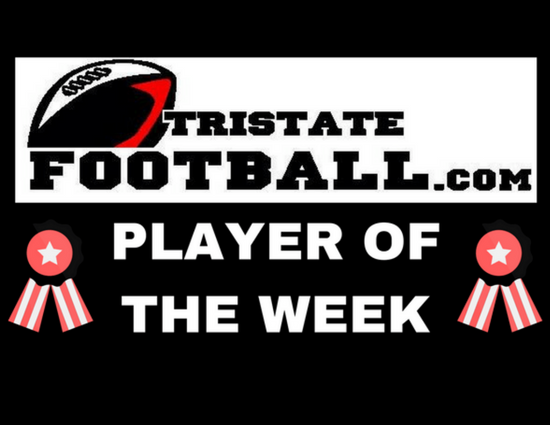 TriStateFootball.com is proud to once again present its Player of the Week for the 2017 regular season. Players were nominated from the Cincinnati, Dayton, Northern Kentucky and Eastern Indiana areas.
Each week a small group of nominees will be selected from a large list of some of the area's top performances and will be included in an online voting poll to determine a winner. The poll will launch weekly on Sundays. Voters can vote once per hour, per IP address through Thursday night at 6PM E.T weekly.
Once a player won, they will be ineligible to be nominated a second time. All of the season winners will be recognized and receive a plaque at the TriStateFootball.com Year in Review Show in February (more details announced during postseason).
Here are this week's nominations…
Tywon Berry, Dayton Christian, WR/DB – Amassed 301 all-purpose yards on 11 touches (five receptions for 201 yards) with four scores and had an interception as Dayton Christian made a statement versus MVCA, 64-29.
Justin Blackburn, Ludlow, QB/LB – Tallied five touchdowns (two passing, three rushing) in limited in action in a blowout win over Newport as the Panthers moved to 4-0.
Kyle Blaha, Anderson, RB – Amassed 224 all-purpose yards and found the end zone three times as the Redskins took out rival Kings.
Isaiah Bowser, Sidney, RB – Carried the ball 41 times for 413 yards (that is not a misprint) found the end zone six times as Sidney's 55-48 shootout victory over Xenia.
Hosea Hairston, Princeton, QB – Went 4-4 for 58 yards, had 10 carries for 114 yards, one reception for 28-yard score and accounted for four touchdowns (one passing, two rushing, one receiving) as Princeton pasted Middletown.
Kyle Kelly, NewCath, RB/LB – Had eight tackles (six solo), an interception, ran for 86 yards and a touchdowns as the Thoroughbreds posted a big victory over Christian Academy-Louisville.
Luke Lozier, Greensburg, RB/LB – Was in on nine tackles including three tackles for losses, had an interception and caught a 28-yard touchdown pass in the Pirates' win over South Dearborn.
Dawson Martin, Belmont, RB/DB – Had first-quarter touchdowns on a 49-yard punt return and 51-yard reception, finished with three catches for 89 yards and also had an interception as the Bison beat Meadowdale.
Juthan McClain, Fairfield, RB – Ran for 186 yards and two scores as the Indians knocked Lakota West from the ranks of the unbeaten.
Jack McCracken, Moeller, WR – Had four receptions of which three went four touchdowns during a seven minute stretch of the second quarter of the Crusaders victory over Lafayette (KY).
Rashad McKee, Wayne, QB – Accounted for six touchdowns (three passing, three rushing), had 33 yards through the air and 57 on the ground as the Warriors had little trouble with Miamisburg.
Ivan Pace, Jr., Colerain, RB/LB – Had four touchdowns on 12 carries for 160 yards as the Cardinals blanked Sycamore, 42-0.
Cole Pelgen, Madison Senior, LB – Registered two-and-a-half sacks and recovered a fumble as the Mohawks shutout Preble Shawnee handing the Arrows their first loss of the year.
Wade Phillips, Edgewood, RB – Racked up 276 yards on 21 totes with five touchdowns as the Cougars roared past Northwest.
Christian Poynter, Clinton-Massie, RB – Had 160 yards on 11 carries with five touchdowns doing all that damage before the third quarter had ended in the Falcons' win over Miami Trace.
Matt Shearer, Simon Kenton, QB – Went 12-15 for 291 yards and five scoring tosses as the Pioneers pummeled Cooper.
Jimmy Strunk, Goshen, RB – Had 194 yards on 14 carries and fours scores as the Warriors were too much for Norwood to handle.
Luke Tabler, Badin, CB – Tallied five solo tackle and had two interceptions, including a 36-yard pick six as the Rams toppled Purcell Marian.
Alec Vianello, Mariemont, RB – Ran for 229 yards on 20 carries and three touchdowns as the Warriors beat Finneytown.
Kaden Wenger, Beavercreek, RB – Carried the ball 36 times for 319 yards and two scores as the 'Creek won a double overtime thriller over Lebanon.
Andrew Wittrock, St. Xavier, WR – Reeled in five receptions for 166 yards including 40, 48 & 69 yard touchdown catches as the Bombers bested Indianapolis Cathedral.
You can send your weekly nominations to us on twitter @TSFootball or by email.