TSF Player of the Week: Week 2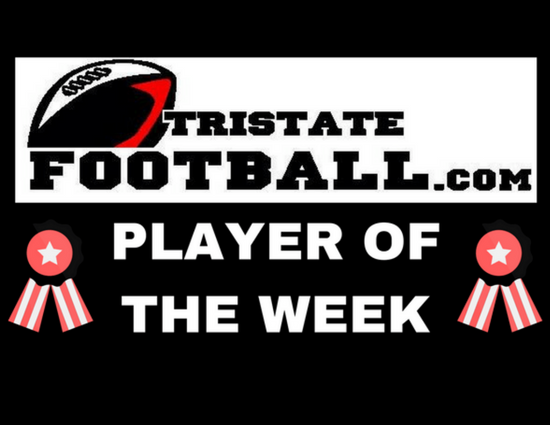 TriStateFootball.com is proud to once again present its Player of the Week for the 2017 regular season. Players were nominated from the Cincinnati, Dayton, Northern Kentucky and Eastern Indiana areas.
Each week 15-20 nominees will be selected from a large list of some of the area's top performances and will be included in an online voting poll to determine a winner. The poll will launch weekly on Sundays. Voters can vote once per hour, per IP address through Thursday night at 6PM E.T weekly.
Once a player won, they will be ineligible to be nominated a second time. All of the season winners will be recognized and receive a plaque at the TriStateFootball.com Year in Review Show in February (more details announced during postseason).
Here are this week's nominations…
Josh Anderson, New Richmond, QB – Accounted for six touchdowns (four passing, two rushing), threw for 176 yards ran for 109 yards as the Lions trounced Taylor.
Jack Dobrozi, Lakota East, RB – Had 37 carries 217 yards and five rushing touchdowns in the Thunderhawks thrilling 34-27 victory over Kings.
Alex Dowds, Campbell County, RB – Ran for 207 yards and a pair of scores as the Camels knocked off NewCath for a second straight year.
Seth Evers, Bellevue, WR/DB – Caught five balls for 155 yards with two touchdowns, had 37 yards rushing and 11 total tackles (eight solo) as the Tigers took out Bishop Brossart.
Ra'veion Hargrove, Trotwood-Madison, RB – A workman-like effort saw Hargrove grind out 205 yards with four touchdowns on 27 carries as the Rams won a nail-bier over Piqua.
Cody Hocker, Beavercreek, RB – Amassed for 321 yards of total offense (145 passing, 176 rushing) and accounted for six touchdowns (three passing, three rushing) as the Beavers bested Greene County rival Carroll.
Corey Kiner, Roger Bacon, RB – Set the school's single-game school rushing record with 302 yards and had five rushing touchdowns as the Spartans cruised past Western Hills.
Lavassa Martin, Badin, RB – Carried the ball 19 times for 169 yards and three touchdowns as the Rams improved to 2-0 after beating Talawanda.
Luke Massminster, Elder, RB – Found the end zone four times on 17 carries for 110 yards as the Panthers rolled Oak Hills for west side bragging rights.
Dakota Milligan, Carlisle, WR/DB – Threw a 55-yard touchdown pass on his only pass attempt and had seven carries for 157 yards with three more trips to the end zone as the Indians beat Miami Trace.
Mitchell Orschell, Franklin County, RB – Ran for 255 yards and five touchdowns as the Wildcats improved to 3-0 after beating Rushville.
Nick Osterman, Monroe, QB – Four of Osterman's nine completions went for touchdowns to go along with his 233 yards passing as the Hornets stung Madison Senior.
Luke Patten, Little Miami, RB – Carried the ball 30 times for 215 yards as the Panthers are out of the cage at 2-0 after taking out Western Brown.
Quincy Perrin, Scott, RB – Had seven touches for 161 yards from scrimmage (136 rushing) and three touchdowns as the Eagles were too much for Holy Cross to handle.
Donovan Shelton, Centerville, WR/RS – Returned a punt and a kickoff for touchdowns as the Elks won on the road at Lakota West.
Adryian Simmons, Reading, RB – Ran for four touchdowns with 142 yards on the ground as the Blue Devils beat Hughes.
Jay Volpenhein, Anderson, QB – Accounted for 434 yards of total offense (267 passing, 167 rushing) and ran for three touchdowns as the Redskins scalped rival McNicholas.
Brennan Wallace, Norwood, RB –Ran for 218 yard and six touchdowns as the Indians routed Woodward.
You can send your weekly nominations to us on twitter @TSFootball or by email.