Dayton Round-Up: Week 2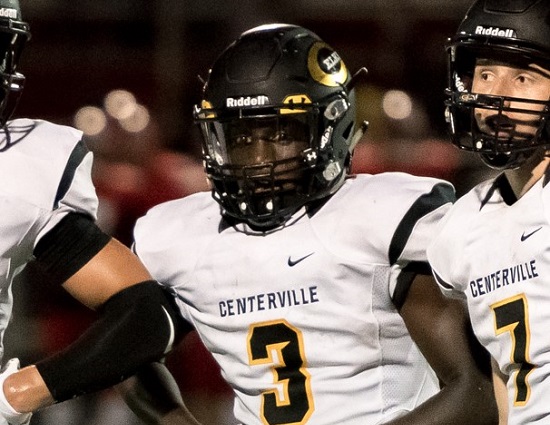 Centerville WR/RS Donovan Shelton (photo by Justin Sheldon/TriStateFootball.com)
Early on it is the GWOC National East making a statement. Four the five teams in the division are 2-0 and the other squad is Wayne. The conference is shaping up to be a powerhouse this fall in Division I, Region 3.
Here's a quick look at how the teams ranked from the Dayton area in our Ohio rankings fared in Week 2.
DIVISION I
No. 5 Wayne 17 Olentangy Liberty 0
It back to its winning ways for Wayne (1-0) as they got a confidence boost after shutting out Olentangy Liberty. Warriors QB Rashad McKee amassed 321 yards of total offense (228 passing, 93 rushing) and threw a touchdown pass. On defense, senior DE Alex Reigelsperger was in on three sacks for Wayne. The Warriors host North Clarkson from Ontario, Canada on Friday.

No. 6 Springfield 27 Princeton 24
The fast start continues for Springfield as they held off Princeton (0-2) and move to 2-0. Leonard Taylor threw for 241 yards, had rushing and a passing touchdown for the winning Wildcats. His top target was Caleb Johnson who caught 10 passes for 181 yards and a score. Next on the slate for Springfield is a home game against Lima Senior.

No. 7 Centerville 42 Lakota West 21
It took a total team effort in all phases of the game as Centerville (2-0) took out Lakota West (0-2). Elks WR/RS Donovan Shelton returned a punt and a kickoff for touchdowns. Riley Poulton also returned a block punt for a score and had a 26-yard touchdown reception for the winners. Centerville will host Pickerington North on Friday.
No. 9 Miamisburg 48 Chaminade Julienne 25
It was an efficient and methodical dissection of Chaminade Julienne (0-2) for Miamisburg who remains unbeaten. Vikings QB Tate Vongsy was 10-14 for 165 yards with three touchdown passes. Tyler Johnson was on the receiving end of all three of Vongsy's scoring tosses. He finished with eight receptions for 91 yards. Tony Clark carried the ball 13 times for 131 yards and two scores for the victors. Loveland (0-2) will travel to Miamisburg this weekend.
DIVISION II-III
No. 2 Trotwood-Madison 42 Piqua 35
Raveion Hargrove ran for 207 yards and four touchdowns as Trotwood-Madison (2-0) staved off a pesky Piqua (1-1) squad. Austin Davis threw for 284 yards and three scores for the Indians who came up just short. The Rams will play at Pickerington Central this weekend.
No. 6 Franklin 49 Edgewood 21
If you're going to beat Franklin (2-0) you better find a way to outscore them. The Wildcats are averaging 48 points per contest after two weeks. Franklin was paced by Ryan Montgomery who carried the ball 11 times for 110 yards and three touchdowns. The performance came against an Edgewood (1-1) team that returned eight starters on defense. The Wildcats travel to Piqua (1-1) in what could be one of the most highly entertaining affairs of Week 3.
No. 10 Alter 35 Thurgood Marshall 0
It didn't take long for Alter to get back into the win column after a heartbreaking one-point loss to Fairmont in the opener. The Knights completely shut down the Thurgood Marshall (0-2) offense. Alter will face Xenia (1-1) at Roush Stadium on Friday.
DIVISION IV-VII
Belmont 12 No. 4 Fenwick 0
Belmont is for real. The Bison showed they can play a little defense shutting out Fenwick (1-1) despite six turnovers. A tired Belmont defense managed to hold the Falcons to 98 total yards of offense in the game. Belmont has yet to give up a point this season. The Bison will take on Thurgood Marshall (0-2) Saturday night at Welcome Stadium.

No. 6 Valley View 24 Fort Recovery 21
A fierce fourth quarter comeback by Fort Recovery fell just short as Valley View upped its record to 2-0. The Indians cut the Spartans lead to three points with 32 seconds left in the contest. Valley View secured the ensuing onside kick and ran out the clock. Up next for Valley View is a game at Madison Senior (1-1) on Friday night.

No. 10 Oakwood 31 Milton-Union 21
Up by two points midway through the third quarter Oakwood scored the next two touchdowns and pulled away from Milton-Union (1-1). Junior RB Josh Amongero paced the Lumberjacks with 140 yards rushing, QB Brian Erbe tossed a pair of scoring tosses and DB Mauricio Herringer had a backbreaking pick six late in the fourth quarter to thwart the Bulldogs comeback. Oakwood gets another tough test this week at Carlisle (1-1).