TSF Player of the Week: Week 5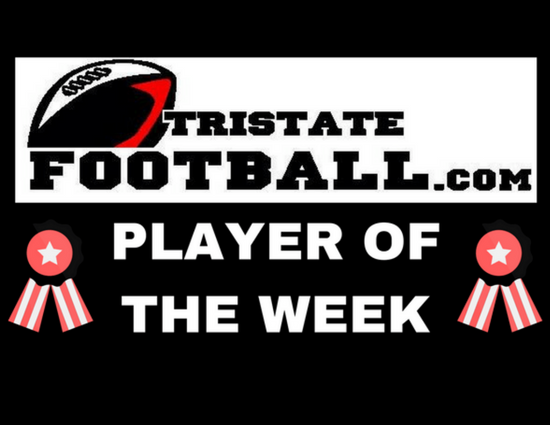 TriStateFootball.com is proud to once again present its Player of the Week for the 2017 regular season. Players were nominated from the Cincinnati, Dayton, Northern Kentucky and Eastern Indiana areas.
Each week a small group of nominees will be selected from a large list of some of the area's top performances and will be included in an online voting poll to determine a winner. The poll will launch weekly on Sundays. Voters can vote once per hour, per IP address through Thursday night at 6PM E.T weekly.
Once a player won, they will be ineligible to be nominated a second time. All of the season winners will be recognized and receive a plaque at the TriStateFootball.com Year in Review Show in February (more details announced during postseason).
Here are this week's nominations…
Drew Altemuehle, Sycamore, QB – Was zoned in on 9-of-11 pass attempts for 207 yards and three touchdowns as the Aviators got past Middletown.
John Bivens III, Alter, RB – Ran for 237 yards and three touchdowns as the Knights stormed past Fenwick.
Cole Burdick, McNicholas, QB/DB – Threw for 260 yards and three touchdowns, also had an interception in helping the Rockets get past Purcell Marian.
Jaydon Culp-Bishop, Troy, RB – Was workhorse with 33 carries for 241 yards and touchdown as the Trojans avenged two losses to Miamisburg a year ago.
Jack Dobrozsi, Lakota East, RB – Found the end zone five time on 23 totes for 202 yards as the Thuderhawks ran past Oak Hills.
Keith Fisher, Clark Montessori, WR/DB – Had six receptions for 116 yards, two touchdown catches and an interception as the Cougars eked out a 14-6 win over North College Hill.
Logan Flatt, Butler, RB – Ran the ball 16 times for 184 yards with four touchdowns and returned a kickoff 81 yards for a score as the Aviators soared past Stebbins.
Matthew Fox, St. Xavier, RB – Had 116 yards on the ground, three receptions for 46 yards and a pair o trips over the goal line as the Bombers rocked Moeller, 30-7.
Collin Genslinger, Valley View, RB/LB – Carried the ball eight times for 159 yards and two touchdowns as the Spartans routed previously unbeaten Franklin.
Alec Grandin, Centerville, QB – Threw for 238 yards and four touchdowns in the victory over Springboro.
Jason Griffin, Batavia, RB – Had 133 yards with three touchdowns and also reeled in a 39-yard catch for a score as the Bulldogs took a big bite out of Fayetteville-Perry.
Davon Hartmann-Starks, Badin, RB – Racked 249 yards from scrimmage (181 rush, 68 rec) with three touchdowns and had three solo tackles as the Rams ran all over Roger Bacon.
Fisher Hayden, Simon Kenton, WR – Reeled in seven receptions for 134 yards and three touchdowns in the Pioneers' thrilling win over Highlands.
Blake King, Milford, QB – Went 18-22 for 215 yards and three touchdowns as the Eagles glided by Loveland with ease.
Tyler MacDonald, Bishop Brossart, QB – Threw for four touchdowns and ran for another as the Mustangs shutout Nicholas County.
Austin Moore, Preble Shawnee, WR/DB – Hauled in eight receptions for 177 yards with three touchdowns, had 220 all-purpose yards and an interception as the Arrows shot down Milton-Union.
Nelson Perrin, Scott, RB/DB – Carried the ball 14 times for 168 yards and two touchdowns, caught two balls for 54 yards, had 13 total tackles, recovered a fumble and had a pass break up as the Eagles won in overtime over Mason County.
Hayden Schrubb, Piqua, WR/DB – Had three receptions for 100 yards all went for touchdowns and hand an interceptions as the Indians knocked down Xenia.
Colin Shaw, Indian Hill, WR/DB – Caught three passes for 152 yards including 61 and 67 yard touchdowns, also had an interception in the Braves' scalping of Reading.
Jake Shirey, Little Miami, WR – Amassed 193 yards on 11 touches and found the end zone four times (two rush, one rec, one punt ret) as Little Miami improved to 4-1.
You can send your weekly nominations to us on twitter @TSFootball or by email.