Team of the Week: Week 5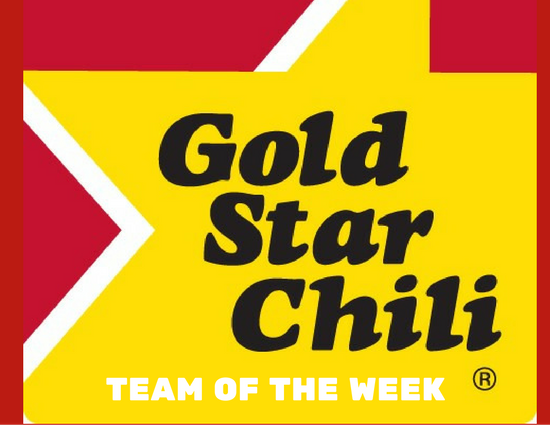 Gold Star Chili and TriStateFootball.com are partnering once this year to present the High School Football Team of the Week during the 2017 regular season. Each week 8-10 schools will be nominated from the Greater Cincinnati area to be included in an online voting poll to determine a winner.
The voting is open now until Thursday night at 6PM Eastern. Voters can vote once per hour, per IP address.
Once a team has won, they were ineligible to be nominated a second time. All of the winning teams will receive a trophy to be presented at their school by Gold Star Chili.
Taking advantage of the TSF-only deal at Gold Star this week:
Free regular 3-Way with the purchase of a regular 3,4 or 5-Way – PRINT COUPON
Here are this week's nominations:
ALTER (4-1)
The Knights stayed perfect inside GCL Co-Ed North Division play with a 46-22 win at Fenwick.
ANDERSON (5-0)
For the third time in four contests the Redskins' D held their opponent without a TD as Anderson shutout Withrow, 44-0.
BADIN (4-1)
Badin got the best of Roger Bacon as they took down the Spartans 41-21 and tallied 619 total yards of offense.
BEECHWOOD (4-1)
The Tigers blanked Holy Cross 62-0 in a nice bounce-back effort on Friday night as they scored 42 points in the first quarter alone.
CONNER (3-2)
Despite battling some key injuries, the Cougars held off NewCath in a 35-27 road victory.
EDGEWOOD (4-1)
The Cougars got a huge SWOC win by taking down Harrison 28-17 in last week's U.S. Marines Battle of the Gridiron Series matchup.
LAKOTA EAST (4-1)
Lakota East remains in the hunt in the GMC after they defeated Oak Hills in Week 5, 42-28.
LAWRENCEBURG (5-1)
The Tigers won their fifth straight contest, beating Batesville 34-27 at home in a key EIAC showdown.
SIMON KENTON (6-0)
Simon Kenton erased a fourth-quarter, double-digit deficit to beat Highlands 35-30 and remain undefeated.
WINTON WOODS (5-0)
The Warriors picked up a huge road win and stayed unbeaten as they upset La Salle at Lancer Stadium, 18-15.
You can send your weekly nominations to us on twitter @TSFootball or by email.
*Check out of this year's winning TEAMS OF THE WEEK.