McKee throws four TDs to lead Wayne over Springfield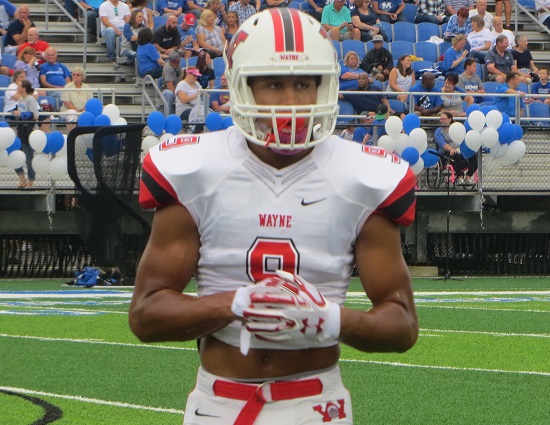 Wayne senior Rashad McKee threw for 326 yards and four touchdowns to lead the Warriors to a ,28-13, win Friday night at home.
Junior Steven Victoria was McKee's favorite target tonight as he caught 10 passes for 186 yards and caught one of McKee's four passes. Senior L'Christian Smith was second on the team with 86 yards and two touchdowns.
Springfield opened the scoring in the first quarter when senior Caleb Johnson caught a touchdown pass from senior Leonard Taylor.
Wayne answered a few minutes later when Smith scored the first of his two touchdowns on a 25-yard reception from McKee. The Warriors took the lead with eight minutes left in the second quarter when Victoria scored his touchdown on a 42-yard pass.
Springfield sophomore running back Tavion Smart scored on a 4-yard run, but still trailed by one in the second half after the extra point was missed.
Wayne was able to shut out Springfield in the second half and outscored Springfield 14-0.
Senior Brody Lundeen lived in the backfield of Springfield and recorded eight tackles with two-plus sacks. Senior Alex Reigelsperger recorded one and a half sacks.
Springfield senior quarterback Leonard Taylor threw for 200 yards with a touchdown, but threw three interceptions.
Springfield junior Michael Brown-Stephens led the team with 85 yards, and Johnson recorded 75 yards to go along with his touchdown.
Springfield is still in the playoff race as they visit Fairmont next week in the season finale. Wayne will be on the road against the undefeated Trotwood-Madison as one of the toughest tests for Trotwood-Madison this season.
RECORDS: Springfield (6-3), Wayne (7-2)
UP NEXT: Springfield visits Fairmont (6-3); Wayne at Trotwood-Madison (9-0)
Springfield 7 6 0 0
Wayne       7 7 7 7
Springfield: Taylor 8-yd pass to Johnson
Wayne: McKee 25-yd pass to Smith
Wayne: McKee 42-yd pass to Victoria
Springfield: Smoot 4-yd run
Wayne: McKee 29-yd pass to Smith
Wayne: McKee 20-yd to Mullins