NKY Football Round-Up: Week 10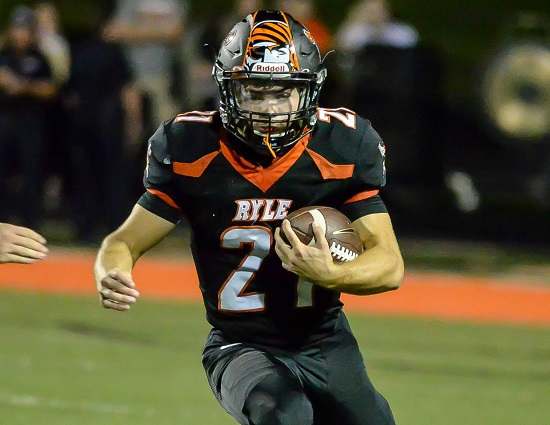 The regular season came to an end on a rainy Friday night in Northern Kentucky. We take a look at how each of our ranked teams in action fared in Week 10.
No. 1 CovCath 49, Campbell County 13
CovCath goes undefeated this season a perfect 10-0 over Campbell County. Defense played a huge factor in this win as CovCath only let the Camels score 13 points. The Colonels' offense led by quarterback A.J. Mayer, who accounted for two passing touchdowns on the win. – COMPLETE STORY
No. 2 Ryle 43, Dixie Heights 13
The Ryle Raiders didn't have a letdown coming off a big win over Simon Kenton last week and they handled Dixie Heights with ease this week. Jacob Chisholm led the way with another great performance on offense leading to his team to a major victory.
No. 4 Beechwood 34, NewCath 6
Beechwood nearly pitched a shutout against the long-time rival as they cruised to a 34-6 win the regular-season finale. Logan Castleman scored on a 7-yard catch and a 14-yard run to help the Tigers to a 21-0 halftime lead and they never looked back. – COMPLETE STORY
No. 6 Scott 23, No. 7 Lloyd 22
A pair of district winners squared off in a great playoff tune-up, but it was Scott that prevailed with a one-point victory. Nelson Perrin came up with a key interception in the game's final drive to seal the deal for the Eagles.
Fredrick Douglas 28, No. 8 Conner 3
Conner couldn't get enough points on the board to beat Fredrick Douglas. Weather played a factor in this game for the Cougars but not for Fredrick Douglas as they scored 28 points. Conner could only manage 25 rushing yards in this contest. Conner finishes the season 4-6.
+++
Highlands 36, Boone County 12
Bad weather played a part in this game as Highlands won the battle up front and running the ball. Running backs Larry Wilson and Cooper Schwalbach both eclipsed 100 yards rushing as they took down Boone County to pull back to .500 and finish the regular season at 5-5.